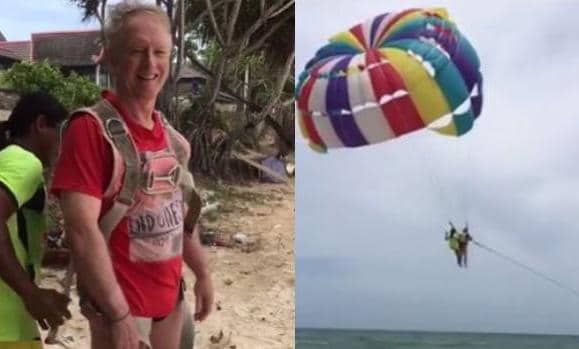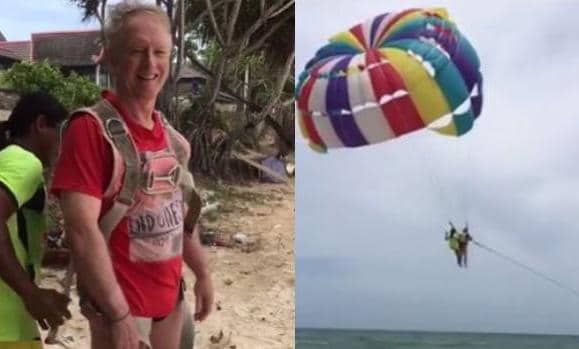 Roger John Hussey a Perth, Australian vacationing tourist plunges to his death while parasailing in Thailand. Two operators charged with his death.
Two local Thai men have been arrested in connection to the death of vacationing Perth, Australian man, Roger John Hussey, 71, who plunged more than 100 feet (30 meters) to his death into the sea after his parasailing harness failed after lifting off.
The incident happened at Kata Beach, 860 kilometers south from Bangkok, Wednesday.
Eerily the Perth businessman who was on day 12 of a vacation with his wife was observed smiling and rearing to go moments before setting off as his wife filmed him.
The video, as filmed by wife, Budsabong Thongsangka and subsequently posted on Facebook showed her smiling husband being strapped into safety gear.
From there, Hussey and another man, not wearing a harness are then pulled by boat, their parachute lifting them into the air above water reported Australia's news.com.au.
13 seconds in tragedy struck as Hussey is seen falling from the air into the sea.
นักท่องเที่ยวชายชาวออสเตรเลียวัย 71 ปี ทราบชื่อนาย ROGER JOHN HUSSEY ขณะกำลังเล่นเรือลากร่มบิน ที่หาดกะตะ จนท.คุมตัวตนขับเรือและผู้ช่วยสอบ.. pic.twitter.com/YM8d3v7kAW

— เรื่องจริงผ่านเลนส์ (@K5_Rescue) July 12, 2017
Beachgoers rushed to help Hussey, who was reportedly having difficulty breathing after he was pulled from the sea. He died a short time later, Karon Police Station duty officer Police Lieutenant Suwisit Khirirak told local media.
Thai police charged the boat operator and driver Monthian Jandaeng, 45, with reckless driving causing death. (see above twitter thread). Also charged was parasilor Rungroj Rakscheep, 38.
Both men said told police that Hussey accidentally pulled on a hook which unstrapped his harness. This caused him to fall to the sea below.
Officers said Mr Hussey had "red marks on his body" from when he is believed to have hit the water.
Mr Hussey's body was sent for a post-mortem examination to establish how he died as it is not known if he drowned or was killed by the impact.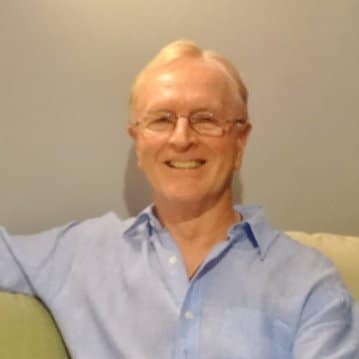 The couple had been holidaying in northern Thailand's Chiang Mai before traveling to Phuket. They were reportedly scheduled to travel back to Australia on Friday.
Hussey was a well known Perth businessman. According to his Facebook account, he was self-employed and had studied at the University of Western Australian, Oxford University and Stanford University.
The respected company director graduated with a Masters degree from the University of Oxford in 1971 after finishing law school in Australia.
He then established Century Holdings Ltd, "an ASX-listed industrial company (Chair and CEO) which grew from start-up to $250million in Group revenue in Australia and Asia'', according to his LinkedIn profile.