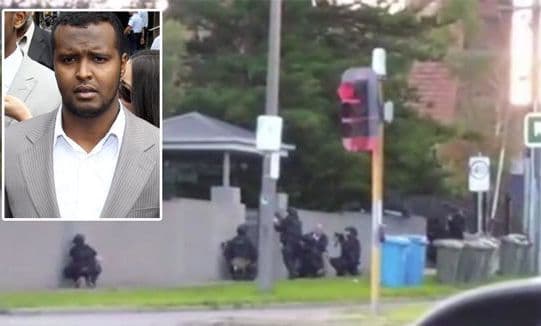 Yacqub Khayre is identified as the Melbourne terrorist who held a woman hostage as authorities seek to determine the extent of his terror ties. 
Yacqub Khayre has been identified as the suspect in the center of a deadly Melbourne, Australia hostage drama which saw the 29 year old Somali immigrant take a female hostage at 'The Buckingham' apartment complex in Brighton, over the weekend.
The incident led to a building worker of Chinese heritage being killed along with three responding police officers being injured, with the captured woman ultimately freed after cops shot the armed man dead.
At the time, a special task force fired off up to 30-40 bullets at the gunman as he emerging from the up-market complex firing at police officers.
Police later told of the slain worker having 'been at the wrong place at the wrong time'. The unidentified man was killed when Khayre first arrived at the residential unit.
The Age reported that the unnamed woman taken hostage – aged in her 20s or 30s – was also an employee at the serviced apartments. That said a report via news.com.au told of Khayre having booked for the woman's time through an escort agency earlier in the day when he took her hostage.
At one point during the two hour long siege, Khayre called the Channel 7 newsroom in Melbourne saying: 'This is for IS (Islamic State) and this is for al-Qaeda.'
Station workers told of hearing a woman screaming in the background.
Two dead in Melbourne siege https://t.co/4HEYtubTWQ #Brighton #7News pic.twitter.com/zkHy3OzTs1

— 7 News Sydney (@7NewsSydney) June 5, 2017
Khayre was revealed to have a longstanding criminal record, including a 2012 violent burglary incident leading to the man being sentenced to five years prison. He was also acquitted in a 2010 trial where it was alleged Khayre along with three other men had plotted a terrorist attack at Sydney's Holsworthy army barracks in 2009.
Notice of the planned heist came after an investigation uncovered money being transferred from Australia to the Somalian terrorist group known as al-Shabaab. The money trail led authorities to the suspects, and their plan was foiled.
At the time prosecutors argued Khayre had travelled to Somalia to look for clerics to give their blessing for the plan.
The man's legal team argued that he was looking for religious enlightenment and harbored no plan to wage jihad in Australia.
While Khayre was deemed not guilty, three of his co-accused were found guilty of planning the terrorist attack as 'payback' for Australia's military action in the Middle East.
Khayre's uncle told The Sydney Morning Herald that he believed his nephew's 2009 trip abroad was when the 'weapons and military training may have happened.'
Police are treating a siege in Melbourne as a terrorist attack. #Studio10 pic.twitter.com/hbi6FepHG2

— Studio 10 (@Studio10au) June 5, 2017
Khayre later carried out a violent home invasion which resulted in him being sentenced 5 years years. During that incident, the court heard Khayre carrying out 'gratuitous violence' on a young woman before punching and head-butting her father. 
Upon his arrest the man was found to be in possession of a meth pipe and under the influence of ice and too incapacitated to follow police directives upon his arrest.
According to Australia's sun herald, Khayre had been on parole, having been released in November when he stormed a Bay St apartment complex Sunday afternoon.
Ironically at the time of his parole, Khayre was deemed a low risk person of interest by anti-terror police.
While ISIS claimed responsibility for this weekend's attack, Victoria's Commissioner Graham Ashton warned that the militant terror group's claim were 'the sort of thing they jump up and say a lot' with police saying there was no evidence to indicate Khayre was acting on a message from overseas.
Told Ashton: 'He is someone certainly known to us from his background but certainly as of yesterday there wasn't anything that we had that suggested that he was planning on embarking on this, that this was anything more than a spontaneous act.'
That said Ashton divulged that police were treating the incident as 'an act of terrorism'.
Subsequent to Sunday's hostage crises, Melbourne police raided the man's Roxburgh Park residence where he lived in Melbourne's north with his mother as they seek to validate the extent of any terror relations the man may have had.
Sunday's attack came a day after the London Bridge attacks in which seven individuals were murdered, three suspects slain by police and with 48 injured. To what degree Melbourne's attack may have been preempted by London's attack, if at all, isn't necessarily understood….
Exclusive: The #brighton gunman was Yacqub Khayre, once accused of taking part in an Islamic terror plot to attack an Australian army base pic.twitter.com/EFfxdVEoS9

— Paul Tatnell (@PaulTatnell) June 5, 2017