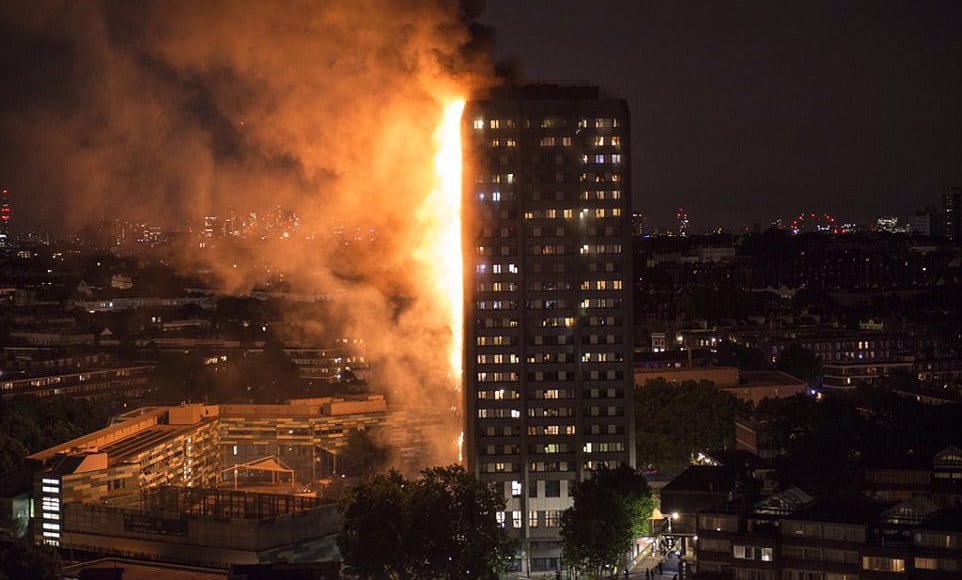 Grenfell Tower fire: A London 27 storey building with previous fire warning hazard risks in blaze as residents remain trapped.
A building that had previous reports of fire hazard warnings is ablaze with residents of London's Grenfell Tower building trapped as some desperately jump through windows for their lives.
Local news told of the 'horrendous' blaze striking the 27-storey Grenfell Tower in Latimer Road, White City, in the early hours of Wednesday morning, only to soon engulf the whole building.
Initial reports tell of several people being treated for a 'range of injuries' including illness from smoke inhalation. One neighbor said he believed someone had jumped from the block. Early morning reports told of fatalities occurring at the building that housed 600 residents.

A report via the bbc told of the fire starting on the second floor before spreading to the roof of the 120-flat block, with 200 firefighters struggling to bring it under control.
Panicked residents trapped high in the enormous tower were heard screaming for help as they leaned out of their windows and tied bed sheets together in an attempt to reach the ground. 
Police, 40 fire engines and over 200 firefighters and helicopters rushed to the scene from surrounding London fire stations. London Ambulance Service also confirmed more than 30 patients having been taken to five hospitals, with more than 20 ambulance crews on the scene.
At the time of the fire starting, Nick Paget-Brown, the leader of the Kensington and Chelsea council, said there had been hundreds of residents at home, many asleep.
Paget-Brown said he did not know whether people were trapped within the building: 'That's a matter for the emergency services.'
The cause of the fire is has yet to be divulged at known. 
Grenfell Tower fire still burning in W London. Entire building aflame. Met people who evac'd. & saw top story flat lights blinking earlier. pic.twitter.com/NmrPoocAFo

— Ousama Itani (@itanio) June 14, 2017
RT BBCBreaking: "I just see flames burning and tragically hear people crying for help" – #GrenfellTower eyewitness… https://t.co/suM481xuep

— JENNIE (@jennyxkiem) June 14, 2017
Told Tim Downie, who lives nearby the building, via Sky News: 'The acrid smell is just horrendous. The building has pretty much burnt out, there are just a few bits that are still not burning.'
Adding, 'Every single window is gutted,'
'There is debris falling off it. The heat was extraordinary. The fire has wrapped itself around the block. People on the street said it started on the fourth floor and spread all the way up and around.'
Offered The London Fire Brigade: 'Crews continue to work hard at tower block fire in North Kensington. Fire is from 2nd to top floor of 27 storey building.'  
Firemen were inside trying to get people out of the building, which was built in 1974 and part of the Lancaster West Estate. 
Residents have been asked to shine torches and phones out of their windows so the fire brigade knew there was someone who needed rescuing.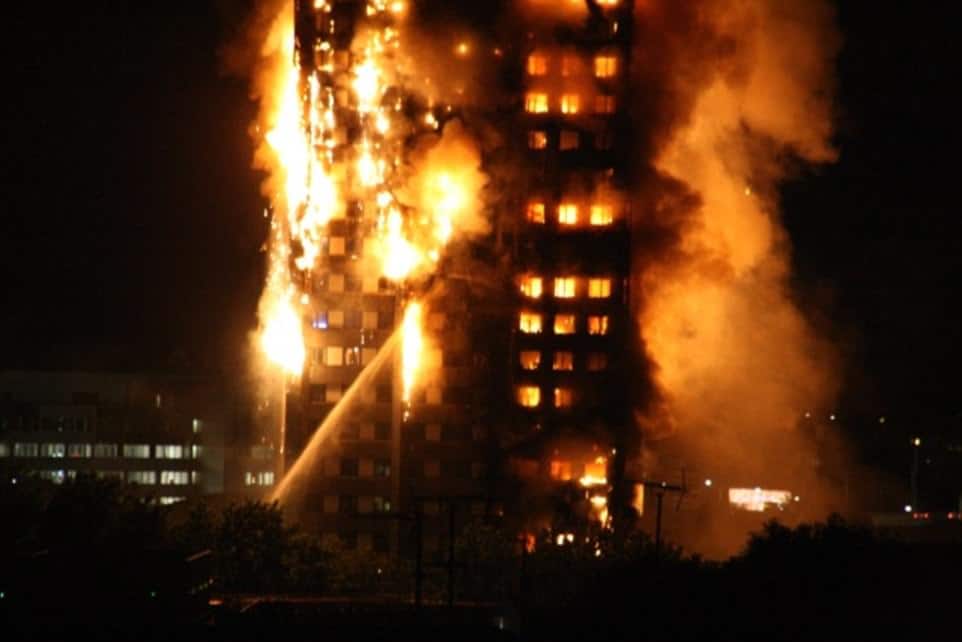 ?? LONDRES : Le gigantesque incendie de la #GrenfellTower n'est toujours pas maîtrisé. Au moins 30 blessés. pic.twitter.com/a3aZqM53y6

— Infos Françaises (@InfosFrancaises) June 14, 2017
Notice of the blaze reported the dailymail came after The London Fire Brigade received multiple calls to the fire which spread from the second floor to the top floor of the 27 floor building.
Told Assistant Commissioner Dan Daly: 'Firefighters wearing breathing apparatus are working extremely hard in very difficult conditions to tackle this fire. This is a large and very serious incident and we have deployed numerous resources and specialist appliances.'
'The Brigade was called to the fire at 12.54 and is still at the scene. Fire crews from North Kensington, Kensington, Hammersmith and Paddington and from surrounding fire stations are in attendance. The cause of the fire is not known at this stage'.
Last November #GrenfellTower residents wrote this, warning that a catastrophic fire could occur due to negligence https://t.co/HItqG5U1o5 pic.twitter.com/g21PCaaeTn

— Ruairi Casey (@Ruairi_Casey) June 14, 2017
While officials have yet to say what caused the inferno, a wordpress blog published over a year ago via The Grenfell Action Group cited concern with Lancaster West Estate management failure in their duty of care and willfully allowing 'our residential amenity to decline in unacceptable ways.'
Added the blog post published January 2016, '….of Nowhere is this better demonstrated than in our landlords failure to deal with a serious health and safety issue that recently developed at the entrance/exit to Grenfell Tower. This matter is of particular concern as there is only one entry and exit to Grenfell Tower during the Improvement Works and the potential for a fire to break out in the communal area on the walkway does not bear thinking about as residents would be trapped in the building with no way out!'
Added the blog in a November 2016 post: 'It is a truly terrifying thought but the Grenfell Action Group firmly believe that only a catastrophic event will expose the ineptitude and incompetence of our landlord, the KCTMO (Kensington and Chelsea Tenant Management Organisation), and bring an end to the dangerous living conditions and neglect of health and safety legislation that they inflict upon their tenants and leaseholders.
'The Grenfell Action Group believe that the KCTMO narrowly averted a major fire disaster at Grenfell Tower in 2013 when residents experienced a period of terrifying power surges that were subsequently found to have been caused by faulty wiring.'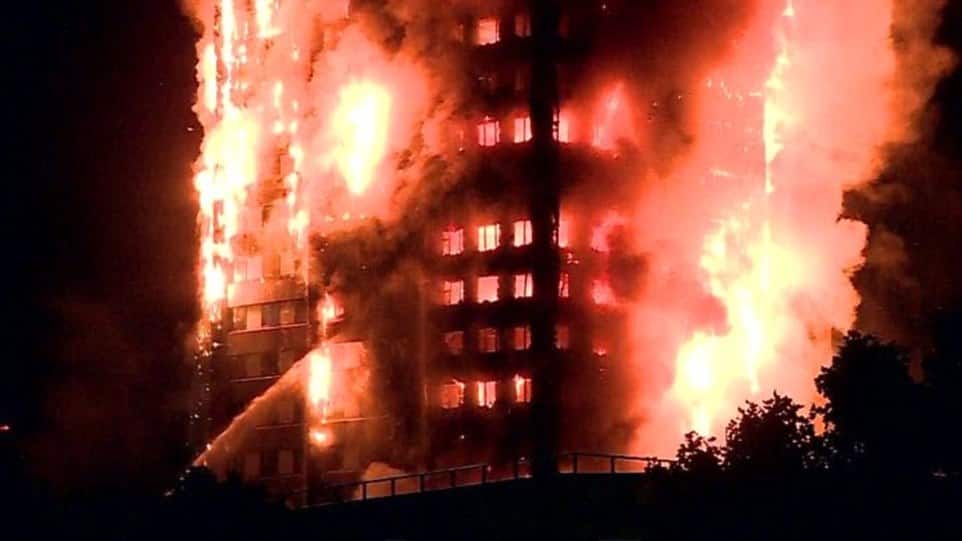 At least 30 people have been taken to hospital following a massive blaze at a tower block in London #GrenfellTower https://t.co/KZgP8u7p5Y pic.twitter.com/pWMX6Aqi7h

— ITV News (@itvnews) June 14, 2017
Fire is getting worse and people are still screaming for help#grenfelltower pic.twitter.com/tafB2Cp6tD

— Fabio Bebber (@biobber) June 14, 2017