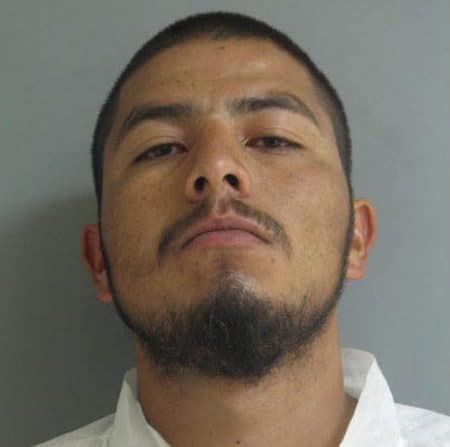 Arlington Heights chainsaw attack: How an Illinois husband attempted to murder his estranged wife's new boyfriend with a chainsaw. 
Talk about a close call. One Illinois man is lucky to still be alive and better still, have his arm intact after after being targeted by the husband of his estranged wife whom he was now dating with a chainsaw.

It all happened on Monday as Jose A. Jaimes-Jiminez, 27 waited outside his wife's workplace in Arlington Heights, with the man becoming enraged when he saw the woman leaving with her new love interest.
From there, the estranged husband reported the chicagotribune rammed his car into the boyfriend's vehicle before attacking him (wait for it…) with a chainsaw, nearly severing his arm, according to prosecutors during Jaimes-Jimenez's initial court hearing in Cook County, Wednesday. 
Told Judge Joseph Cataldo, 'This was almost a scene from a horror movie.'
Assistant State's Attorney Maria McCarthy called the crime 'horrifying' and 'premeditated.'
She said Jaimes-Jimenez, of Arlington Heights, first met the victim on Friday — three days prior to the attack — when Jaimes-Jimenez saw his wife with the victim in a store. Jaimes-Jimenez argued with the man and told him they would talk later, McCarthy said.
'The defendant thought about it all weekend,' the prosecutor said, adding Jaimes-Jimenez kept a chainsaw in his vehicle for his work for a tree service company.
It was then that the plan was hatched.
The prosecution claimed Jaimes-Jimenez had waited in the parking lot of his wife's workplace with his hood up and, and upon when seeing his wife and her boyfriend get into the boyfriend's car, Jaimes-Jimenez rammed that car with his. The boyfriend exited his car and ran toward the building as Jaimes-Jimenez chased him with the chainsaw.
It's when the boyfriend stumbled and fell that Jaimes-Jimenez sliced his love rival's arm with the chainsaw, severing the bones in the forearm and leaving it hanging just by skin and a tendon, McCarthy said.
Police said the victim also suffered cuts to his torso, right hand and elbow. He needed surgery and has since received several blood transfusions.
That said the boyfriend is expected to survive the chainsaw attack, officials said.
McCarthy said Jaimes-Jimenez might have killed the victim had the boyfriend not managed to kick Jaimes-Jimenez in the groin and then flee into his girlfriend's building place of work.
From there, employees locked the doors and called 911.
The wife, who'd remained in the victim's car, who was not injured.
The husband later said he removed his clothes to make it clear to police when they arrived that he was no longer armed.
The man's chainsaw was found nearby on the ground.
Jaimes-Jimenez, who was provided a Spanish translator in court, has no prior criminal record, officials said, save that he was twice cited for driving without a license, charges which were later dropped.
Since his formal arraignment, Jaimes-Jimenez was held in custody in lieu of a $2.5 million bond, where he now faces a first-degree attempted murder charge, aggravated battery and aggravated battery with a deadly weapon. Indeed.