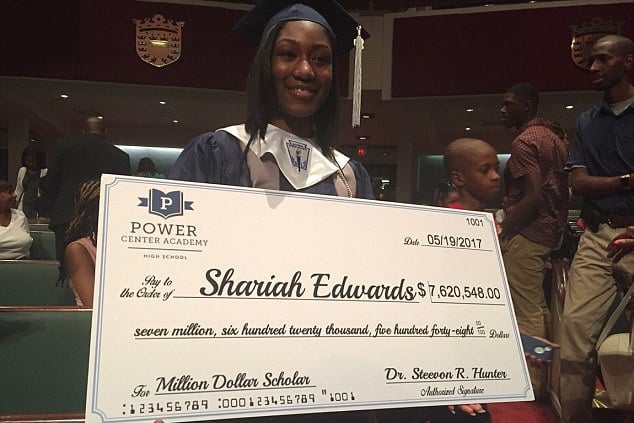 Shariah Edwards a Power Center Academy high school graduate is accepted by 149 colleges, offered $7m in scholarships. But what if she was white?
Shariah Edwards a 17 year old black senior graduating from Power Center Academy High school has a lot of thinking to do after being accepted by over 149 colleges across the country and having been offered more than $7.6 million in scholarship money.
Overwhelmed by the deluge in offers, the Memphis, Tennessee straight A graduate has the unenviable task of having to figure out which school acceptance offer to accept.
Told Tamara Woods-Wormley, Shariah's college counselor via cbsnews, 'She has totally blown us away'.
Adding, 'I gave her a list of colleges from A to Z that don't have application fees … every day she would come into the office and ask to send transcripts here or there.'
Responding to the deluge of offers, Shariah said she never expected the outcome.
According to Shariah, the high school senior simply wanted to maximize her options for higher education and relieve the financial burden on her family. Her goal was to become a Million Dollar Scholar, a title her school uses to encourage students to apply for scholarship money — either through merit programs or privately — to help them go to college. If they earn at least $1 million in offers, they are presented with a symbolic check at graduation. 
To keep track of admissions and scholarship offers, Shariah was obliged to provide application letters through Woods-Wormley. From there the letters were verified and recorded in a spreadsheet.
According to cbsnews, Shariah was the highest earner of the 145 students in the class of 2017, which Power Center Academy says got more than $30 million in total scholarship offers. A sum that may have had something to do with the school being predominantly black and acceding to affirmative action policies?

According to Woods-Wormley, all of the schools Shariah was accepted to are four-year institutions with schools literally all over the country, from Regis University in Colorado, to Tuskegee University in Alabama, to Johnson and Wales in Rhode Island. 
Explained Shariah, 'I didn't want to limit myself, so I did research and applied to the ones I was interested in,'
Adding, 'I was amazed, because I didn't think I would get that many acceptances.' 
That said the pay-off didn't come without the graduate almost exclusively honing on her studies (welcome to the real world of getting ahead).
Told Shariah via wmcactionnews5: 'I feel blessed, I feel like I deserve it, worked so hard these past four years, sleepless nights, a lot of work, work, AP classes, honors classes'.
According to the graduate, Shariah is still in the process of narrowing down where she wants to ultimately go to college. That said, Shariah has conceded that Tennessee State University is one of her top choices. 
Yet to be understood is what Shariah Edwards plans to study.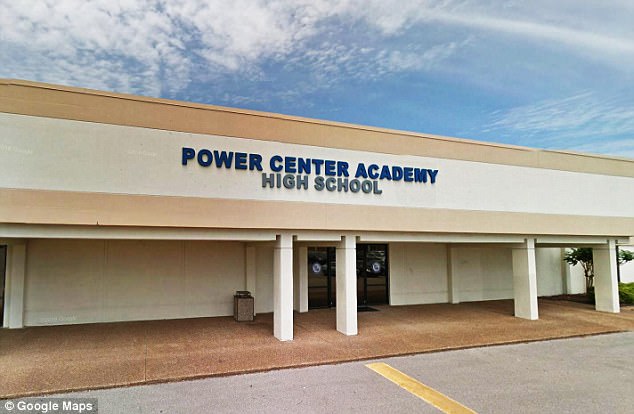 And then there were these comments on the web that made me wonder, see what you think?
'The amount of scholarship money received is because she applied to so many schools. $7M divided by 149 schools averages to just under $47k per school. That wouldn't even cover two years of tuition at some schools. Hopefully, she will chose a state school and get a free ride.'
'There ought to be some kind of clearing-house for scholarships, to prevent any one student from applying to, and sucking-up, so many all alone when the different funds don't know the person has already been granted scholarships. Doing so would be much like why Oxford and Cambridge universities in the UK came together to prevent people from hogging places by applying to both schools at once, and place-blocking other good candidates.'
'She wouldn't have received all that aid if she was white.'