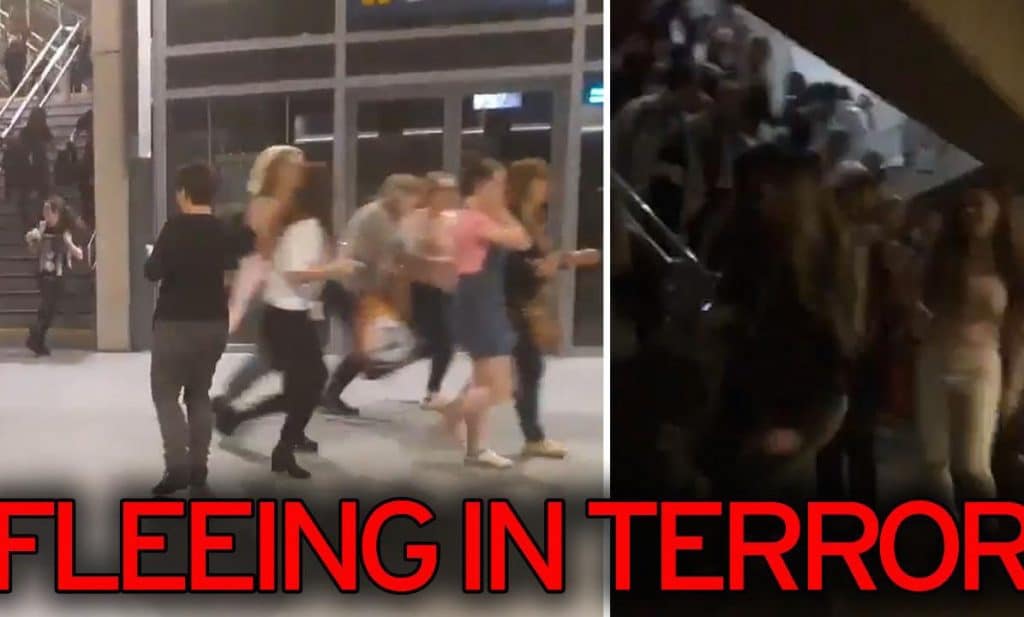 Manchester Arena explosion during Ariana Grande concert kills 22 dead injures more than 59 people as police suspect suicide nail bomb attack. But why?

Greater Manchester police have confirmed the deaths of 19 individuals and more than 50 people injured during an explosions at Manchester Arena during an Ariana Grande concert.
A report via the UK's guardian told of police being called to the concert venue just on 10.35pm, Monday night, May 22, after an unidentified explosion went off.
Until further notice, police were treating the incident as a terrorist act.
Further updates the following morning, circa 7.15 am local time quoted Chief constable Ian Hopkins confirming that 22 people had died, including children with a further 59 being injured.
Police told of the attack being carried out by one man, with authorities investigating if he was part of a wider network. The man died at the scene after detonating an explosive device – a suicide bomber.
A report via CNN told of the explosion occurring after the concert was ending and while people were leaving.
Witnesses said a loud explosion was followed by screams, panic and a stamped of people trying to leave the crowded building, which is one of the largest indoor arenas in the world. At the time more than 20 000 people in were attendance at the sold out concert, including many teenagers.
There were also reports early on of multiple explosions, but many witnesses have since described hearing only one blast.
Was Salman Abedi radicalized before Manchester Arena bombing?
Why? Salman Abedi i'd as Manchester Arena suicide bomber. ISIS agent?
How David Leavitt Manchester Arena attack journalist became hated by the internet
JUST IN: Two explosions at Manchester Arena contained nails, U.S. law enforcement source tells CBS News https://t.co/2vnMEne0IE pic.twitter.com/2MIou1hoac

— CBS News (@CBSNews) May 23, 2017
"You could smell the burning," witness describes Manchester Arena after reported explosions https://t.co/2vnMEne0IE pic.twitter.com/wklB0C2Ehw

— CBS News (@CBSNews) May 22, 2017
Video shows chaos inside Manchester Arena after the house lights came on following tonight's Ariana Grande concert. https://t.co/t3V36IND2B pic.twitter.com/Imuwkro9mG

— ABC News (@ABC) May 23, 2017
Told concert goer, Evie Brewster via the dailymail: 'Ariana Grande had just finished her last song and left the stage when a huge explosion sounded,'
'Suddenly everybody started screaming and running for the exit.'
A statement via Ariana Grande's reps said the singer was not one of the casualties.
A report via the UK's Sun told of the explosion occurring in the foyer area of the arena, with police tentatively saying the explosion was a 'nail bomb attack'.
NBC News reported that the attack was carried out by a suicide bomber wearing a backpack bomb. Citing U.S. sources, the media outlet cited police saying there is 'increasing confidence' it was a terror attack, while forensic evidence pointed to a bomb in a backpack. Not necessarily understood is who may have orchestrated the attack or why?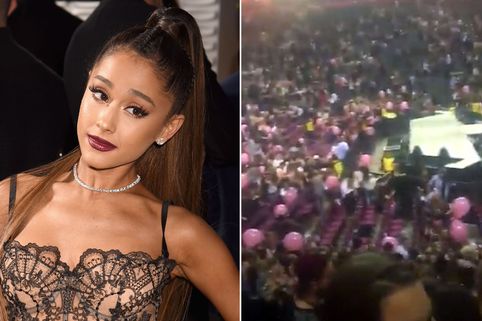 These are the people that are currently missing at #ManchesterArena share to find them so they can get home safely. #Manchester pic.twitter.com/66uxKhLvz1

— Kate1996 (@KateeR1996) May 23, 2017
Wrote one concert goer on her Facebook wall, Abby Mullen: 'Peoples skin/blood & faces where everywhere including in my hair & on my bag. I'm still finding bits of god knows what in my hair. I am fine & back in my hotel I hope everyone involved and in front of me is okay.'
Told Chris Parker: 'There was nuts and bolts flying everywhere, and also human flesh. It was just one bang and a white flash. I treated a woman called Pauline. I've got blood on my hands. It was like a war zone inside where the box office is.'
Told Emma via BBC Radio in Manchester, there were 'body parts everywhere'.
Adding, 'It was definitely a bomb the whole building shook. Body parts were everywhere, a torso, an ear. It was the worst thing I have ever seen. Bodies were everywhere.'
If confirmed as a terrorism incident, it would be the deadliest attack in Britain by militants since four British Muslims killed 52 people in suicide bombings on London's transport system in July 2005.
The blast also came two and half weeks ahead of an election in which Prime Minister Theresa May is predicted by opinion polls to win a large majority.
Manchester's Victoria station, which backs onto the arena, has been evacuated and all trains cancelled.
Social media users have reported seeing multiple arrests around the city, but police have not confirmed if these are linked to the incident.
British police carry out precautionary controlled explosion on device near Manchester Arena: https://t.co/0hF25pDG7M pic.twitter.com/vcBu0kqfgy

— Reuters UK (@ReutersUK) May 23, 2017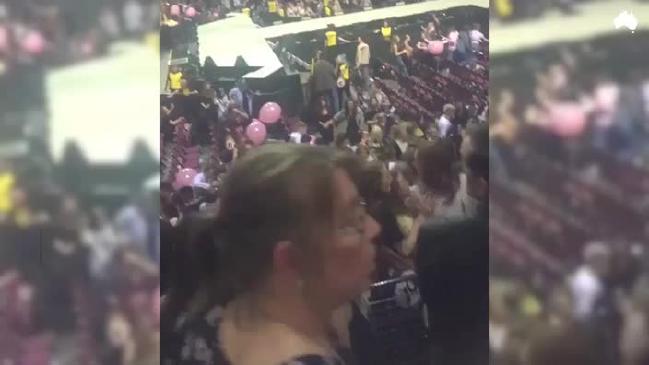 People died. They died at a place where they should be the happiest they have ever been. I absolutely hate this world #ManchesterArena

— Abi Newman (@AbiNewmanx) May 23, 2017
EXPLOSION AT MANCHESTER ARENA AND EVERYONE RAN OUT SO SCARY? pic.twitter.com/pJbUBoELtE

— ♡♡ (@hannawwh) May 22, 2017
What's happened in Manchester arena? We just literally left and there has been a massive explosion

— Ryan (@Ryan_EFC1878) May 22, 2017