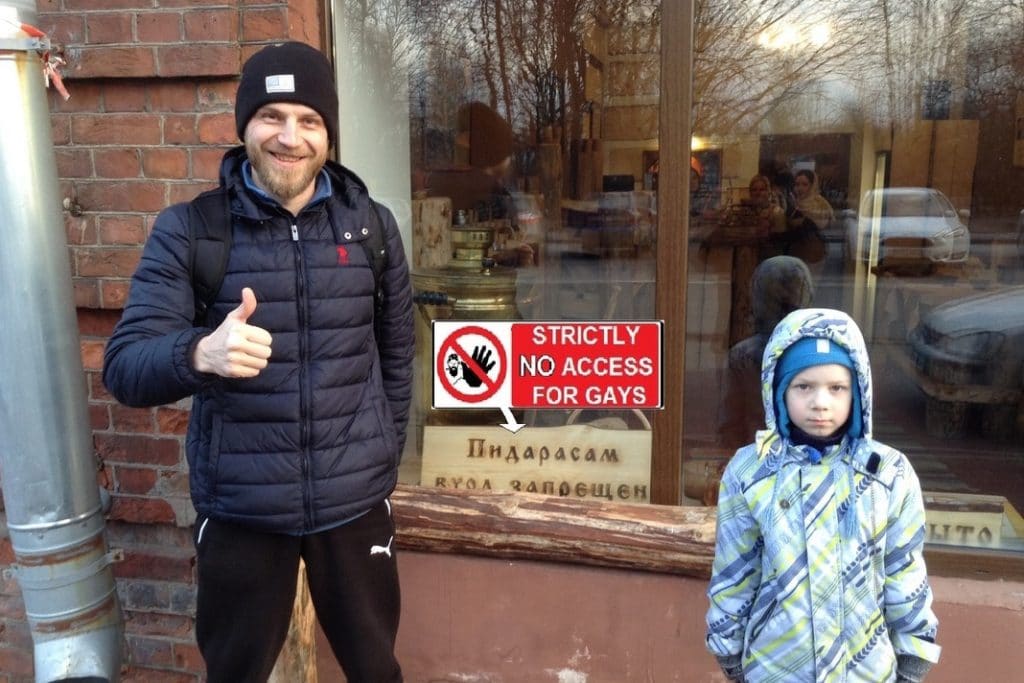 German Sterligov bans gays from his Russian store chains. An influential multi-millionaire store owner has banned homosexuals as the state declines to take action.
Causing disconcert are the actions of 'devoutly' religious Russian millionaire, German Sterligov who has plastered signs in front of chain stores that he owns banning homosexual customers from entering his business.
Reads a sign to one of Sterligov's natural food stores, 'Bread and Salt,' in central Moscow, 'No entry for f***ots'.
The banning comes despite a report via news.com.au pointing out that Russia decriminalized homosexuality in 1993, two years after the fall of the Soviet Union.
Despite Russian law prohibiting sexual discrimination, prejudices still run deep with much of the gay community existing underground.
Previous reports tell of Sterligov, 50, an orthodox Jew becoming a millionaire after opening a mercantile exchange shortly before the Soviet Union's demise.
From there, the nationalist businessman turned devoutly religious before retreating with his family to rural Russia to sell organic farm produce. The former protege of Russia's young market economy dropped out of the business world and started raising sheep and other livestock on two farms.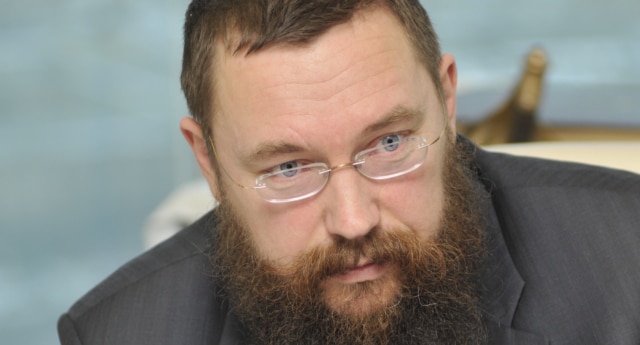 'Our planet is full of filth and sick humans,' Sterligov told Reuters Television at a country fair outside Moscow.
Adding, 'In front of our eyes is the historical experience of Sodom and Gomorrah when God burned these towns.'
Addressing the farm fair, Sterligov praised President Donald Trump, who since taking office has revoked his predecessor Barack Obama's landmark guidance to public schools allowing transgender students to use the bathroom of their choice.
'We thank him. May God give him health,' Sterligov said.

Responding to retail chain's disregard for the law and antagonistic rebuke, Yulia Gorbunova, a Human Rights Watch researcher, said the retailer's measure sent a dangerous message in a country where homophobia remains prevalent.
'It seems like they are promoting homophobia in an already homophobic society and it only leads to rising tensions,' she told Reuters Television. 'The state certainly has a responsibility to stop that and step in.'
Alyona, a young assistant in one of Sterligov's Moscow stores, said she shared the chain's stance on homosexuals 'as a true Christian'.
'It's our guarding talisman,' she said.
Define Christianity?
Russia's President Vladimir Putin has denied he discriminates against sexual minorities. Nevertheless it is not necessarily understood if any measures have been adopted against the overt discrimination of gay customers at Sterligov's stores and how this too might foster other outlets to adopt similar measures?
Noted a previous report via the moscowtimes after German added a sign at one of his stores in St Petersburg in April: 'LGBT activists from advocacy group "Vykhod" (Coming Out) have already appealed to local police officers to remove the sign. The group's lawyers are currently considering whether to press charges of "inciting hatred" against the shop, the activists wrote on Facebook.'