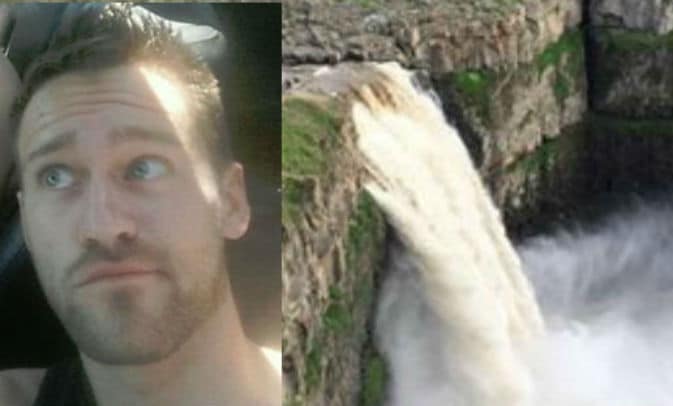 Cade Prophet selfie death: Palouse Falls State Park tragedy: Seduced by nature or the allure of posting the perfect photo that would raise his social cache?
Cade Prophet a 25 year old Spokane, Washington man has been identified as the individual who fell off a cliff while trying to take a perfect selfie at Palouse Falls State Park with his girlfriend before falling to his death.
The incident happened around 2:30 Monday afternoon, with Prophet loosing his footing and slipping from a cliff. Witnesses said the Spokane man fell 40 feet below, before rolling into the river and not having being seen since.
Leading into the man's attempted rescue, dive rescue crews had been assessing the safety of the water before launching a search effort.
Prophet's body was located on Tuesday, after hours of searching Monday.
A report via krem2 told of friends identified the fallen man as 25-year-old Cade Prophet. He worked at a local car dealership in Spokane.
While Prophet's body has been located, it has not yet been recovered as of Tuesday night. The area is difficult to access, officials said.
Search crews had to take several extra steps to ensure their own safety.
Ironically, Prophet's death came just hours before having posted on Facebook, the 'excitement' of the day noted khq.com.
Read one post, 'Beautiful morning for a trip to Pallouse Falls!'
Because of the dangers, authorities urge people who visit Palouse Falls to be safe around the cliffs, and not to get too close to the edges.
A report via NBC Right Now examined the issue of safety at Palouse Falls State Park, specifically the question about the lack of fencing around the more dangerous areas of the park.
Late in December of 2015, park officials at Palouse Falls put up temporary fencing, blocking the popular but dangerous trails people and animals often used. But by April of last year, by popular demand the fences were gone, with visitors complaining that the fencing prevented them from accessing too much of the park.
That said, officials guarded against the ever present dangers.
'I can't tell them they can't be here, it's a park,' said Capt. Rochleau. 'But these cliffs are dangerous and it's not the first time we've been out here.'
With no fencing, the only protection between hikers and the edge of the cliff were the existence of warning signs scattered around the park.
That said, even signs warning of imminent danger couldn't always deter 'curious' visitors wanting to get a thrill or that once-in-a-lifetime photo where they would then share said images on social media, serving to redefine themselves, and lift their social cache, sometimes at great peril to their very own existence.
And first responders say the beauty of the park is what gets curious visitors into trouble at Palouse Falls.
Reiterated Capt. Rochleau, 'It's beautiful, but it can be treacherous'.
Officials told of the last known fatal fall at the park, which was accidental, happening in 1975 when a woman plummeted 500 feet.
In the aftermath of Prophet's tragic death, friends shared their condolences on social media.
One man wrote, 'It's never easy to lose someone, especially when that person was a big part of your life. Not being able to come to you for advice or any problem I have is going to hurt. I already miss you more than I ever thought I could. RIP Catorade. You affected so many lives around you. Love you man.'
Another said, 'He was literally my best friend, I've never met anyone like him before. We worked together, played together… I just was video chatting him yesterday morning before he went to the falls.'
Friends describe Cade Phophet as the life of the party. Always energetic and fun. One friend even told me he once survived a bear attack! pic.twitter.com/sxpI7xx0fV

— Ryan Simms (@KREMRyan) May 31, 2017