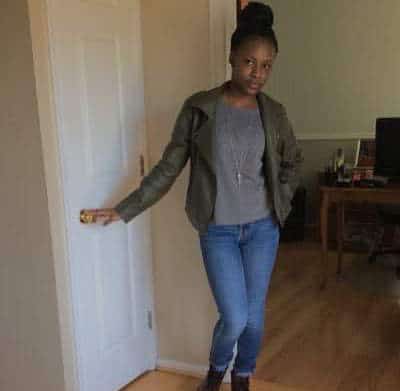 Trinity Carr guilty of fatally beating Amy Joyner Francis during high school bathroom attack, second girl innocent while third guilty of misdemeanor conspiracy. 
A Delaware judge on Thursday convicted Trinity Carr, 17, one of three teen girls involved in the beating death of Wilmington, high school student, Amy Inita Joyner-Francis, with criminal negligent homicide.
The ruling comes after a week of testimony in the non jury trial of three then 16 year old girls charged in the death of Amy Joyner-Francis. All three were tried as juveniles.
Along with convicting Carr, the Delaware newsjournal reported that two other girls were charged with third-degree criminal conspiracy, with Family Court Judge Robert Coonin declaring one of the girls, Chakiera Wright, innocent while finding the other girl, Zion Snow, guilty. 
'It was not a fight between two teenagers squaring off to settle a mutual grievance,' told Justice Coonin. '(Carr) stuck the first blow without warning, carried on a relatively brief but violent attack … and she had to be pulled off her victim.'
Coonin also pointed to threatening messages posted by Snow on social media saying 'we gonna get her' – demonstrated Carr and Snow were planning to attack Joyner-Francis.
 'I used a close fist' Trinity Carr charged in killing of Amy Inita Joyner-Francis
 Who's to blame? Amy Inita Joyner school girl beaten to death by gang of girls over boy
Joyner-Francis was 16 years old when she died April 21, 2016, following a violent encounter with Carr at Howard High School of Technology. Dozens of girls watched the confrontation as it unfolded in the school's second-floor bathroom, with at least two recorded segments of it on their cell phones.
The prosecution had played video clips of the beatings, which showed Carr punching and kicking a prone Joyner-Francis after she had fallen to the floor. After onlookers pulled Carr away, Joyner-Francis could be seen clinging to what appeared to be Carr's shirt.
Joyner-Francis died a short time later after her breathing became labored and she lost consciousness while lying on the floor in the handicap bathroom stall.
Murdered by 3 classmates over a boy. Those monsters should have been tried as adults for beating her mercilessly at school #AmyJoynerFrancis pic.twitter.com/D3ab5hLkg9

— Bianca Styles (@Swtladee) April 13, 2017
3 classmates charged with fatally beating Amy Joyner-Francis will head to trial today. @JessicaMasulli has details: https://t.co/crzeq5BBfJ pic.twitter.com/nYP7D8conv

— Brittany Horn (@brittanyhorn) April 3, 2017
A report via AP cited defense attorneys arguing that the death of Joyner-Francis, who had a rare heart condition undetected by her doctors, was unforeseeable. They also suggested that she was a willing participant in a fight between 'mutual combatants.'
Prosecutors argued Joyner-Francis was not looking for a fight but trying to avoid one, and that she would not have died had she not been assaulted.
'Distress, the unexpected nature of the attack, the brute ferocity of it raining upon her, all led to Amy's death,' Deputy Attorney General Sean Lugg said during closing arguments this week, adding that the alleged assailant showed 'a level of barbarism that reasonably would result in the outcome.'
Attorney John Deckers, representing Carr, argued that she shouldn't be held culpable for Joyner-Francis' death because a reasonable person would expect the consequence of a school fight 'is not death, but rather discipline.'
A witness for the defense, Dr. Richard Ringel, a professor of pediatrics at Johns Hopkins School of Medicine, said the severity of Joyner-Francis rare condition made it impossible to conclude whether Joyner-Francis likely would be alive today.
'It might have been the next day or sometime down the road,' he said.
Coonin indicated how long she might lived had the fight not occurred wasn't relevant to the charges. The evidence, he said, shows 'beyond a reasonable doubt that the death of Amy Joyner-Francis was caused by the action of Trinity Carr.'
Sherry Dorsey Walker, former Wilmington councilwoman who represented Joyner-Francis' family, as a spokesperson, said 'the message has been sent that there are consequences to your actions.'
Adding: 'We're living in a culture that's so gratuitous, when we watch movies or television and we see such gratuitous violence, maybe it's something that's embedded in our children so we probably need to look at the media and we need to look at what we're doing as adults, to set better examples for our children'.
All three girls charged in the case opted not to testify.
Carr and Snow will be sentenced on May 23.