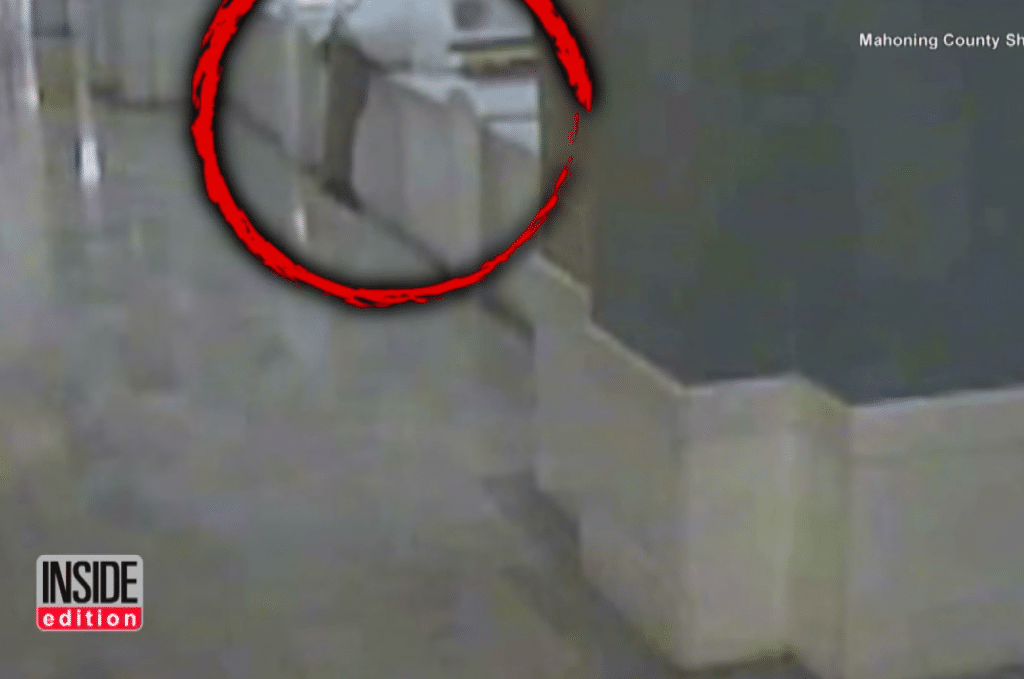 Robert Seman triple murder suspect leaps to his suicide death before trial was meant to get underway this week. Had seemed in good spirits leading into highly publicized trial. 
Robert Seman Jr a 48 year old Ohio man accused of repeatedly raping a 10 year old girl and later killing her and her grandparents has jumped to his suicide death prior to the commencement of his upcoming trial this week.
The man's death Monday morning, came whilst being escorted along a fourth floor courthouse, when suddenly surveillance camera captures the moment Seman, dressed in civilian clothes and with no restraints darts to the right and leaps over a balcony as accompanying sheriff's deputies helplessly watch him leap to his death below.
At the time, Seman was being led from a courtroom to a holding cell after attending a brief status conference at the Mahoning County Courthouse in Youngstown when he leaped to his death.
According to AP, Seman's suicide came a day before jury selection in his death penalty trial after the accused child rapist allegedly burned the home of his victim's grandparents, killing them and their their ten year old granddaughter.
Told Sheriff Jerry Greene told the Youngstown Vindicator: 'According to a couple of the attorneys and basically everybody there, it seemed like he was in pretty good spirits,'
Adding: 'He was talking about the future of his trial, and he just decided to jump.'
Of note, a worker at the courthouse told the media outlet that the impact of Robert Seman's body hitting the marble floor of the courthouse after falling four floors shaking the building.
Leading up to his much publicized trial, Seman faced the prospect of the death penalty had he been convicted.
A March 2015 report said that the home fire that killed 10-year-old Corrine Gump, her grandfather, William Schmidt, 63 and her grandmother, Judith Schmidt, 62 was likely the result of Seman fueling a blaze with gasoline at the grandparent's home.
Prior to the alleged rape and triple murders, Seman had been romantically involved with the ten year old girl's mother, Lynn Schmidt. 
At the time of his arrest, burn marks were found on Seman's body. 
Seman's aggravated murder trial was scheduled to begin Tuesday 35 miles (56 kilometers) away from Youngstown in Portage County.
Leading into his trial, Seman's attorneys successfully argued that he could not get a fair trial in Youngstown because of pretrial publicity. A Mahoning County judge declared a mistrial last September because a potential juror had prematurely concluded that Seman was guilty and discussed details about the case with fellow jurors.
Assistant Mahoning County Prosecutor Dawn Cantalamessa told wfmj that Seman 'knew' the evidence was against him.
'He knew the evidence against him. Every witness we talked to in preparation for the case. They didn't know why he was not pleading guilty or not asking for some kind of plea  so this is very telling to anyone out there,' Cantalamessa said.
Cantalamessa and Seman's defense attorney, Tom Zena would later say they were both said they were stunned that Robert Seman took his own life, with Zena indicating that his client had seemed in good spirits.