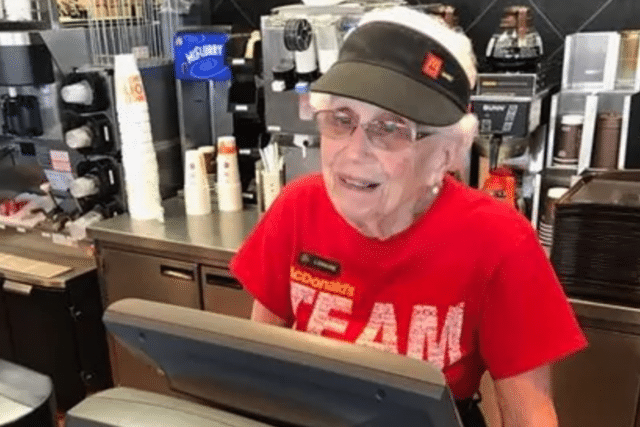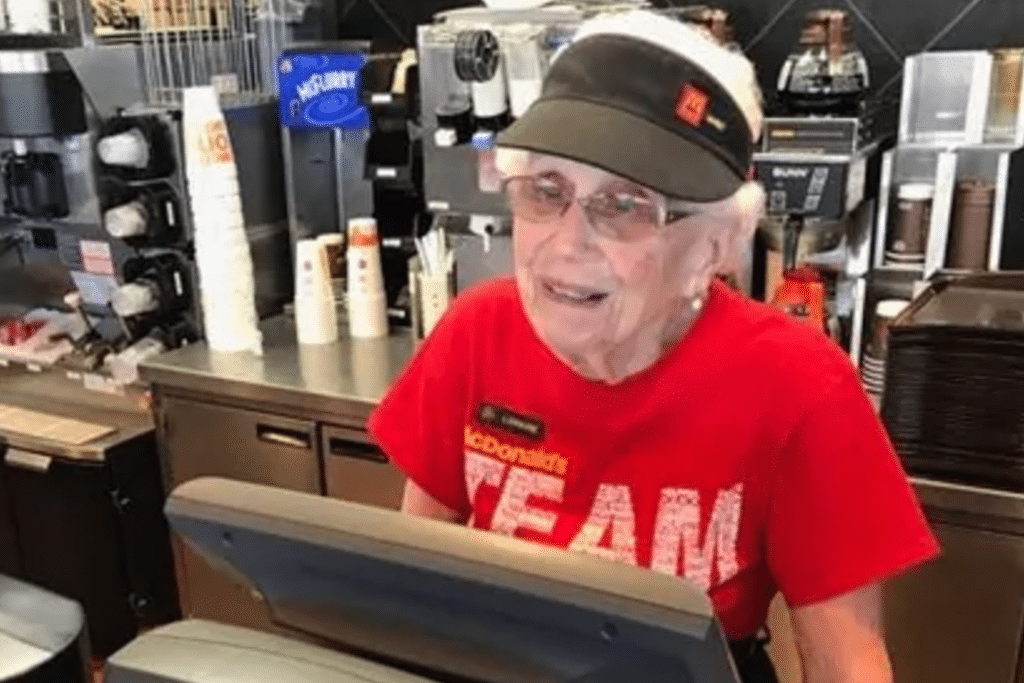 Loraine Maurer a 94 year old McDonald's employee celebrates having worked 44 years for the fast food chain and what ultimately kept her from retiring. 
Since 1973, Loraine Maurer a 94 year old McDonald's cashier has been working at various franchise Evansville, Indiana locations. A feat that saw fellow workers and franchise owners recently throwing a party for the hard working nonagenarian who shows no inclination of retiring. 
Maurer started the job when her husband retired on disability but now four decades later is happily working at the North Green River location closest to her church. 
On Thursday, to celebrate 44 years of service with the eponymous fast food vendor, Loraine acknowledged her milestone with family, friends customers, coworkers and members of her church who came to the party at the restaurant.
The grandmother of six, and great grandmother of seven spoke to how much her customers and coworkers meant to her after the death of her husband Kenneth in 1980. 
 "If you don't like your job, it's a job, but I love it," Maurer told People. "The people, the clientele, that's why I stuck with it."
Her favorite menu item is in fact the filet of fish. Though working breakfast she says "there isn't anything I don't like". This early bird wakes at 3 am for her Friday and Saturday, 5 am breakfast shifts. Maurer often is picked up and dropped off from her shifts by coworkers and regular customers. 
Citing the community she feels, it is the people Maurer says make her work enjoyable.
Reiterated the cashier who has never been interested in moving up management ranks, "My customers make my life.'
Adding, "I have traveled with them, gone to ball games with them. They're friends, not just customers." 
Told owner Katie Kenworthy via ABC news: "She has lots of very loyal costumers who come especially to our restaurant to see her."
"After all these years, she remains committed to serving her customers with one of the most delightful smiles around". 
Reflecting on retirement Maurer who works two shifts a week said, "I would miss it too much,"
Adding, "I don't want to get depressed and it's not that I don't look forward to going to work. … It's not a job."
Then again one is apt to assume, that Loraine Maurer is unlikely depending for her life necessities at having to work for McDonald's, especially if sometimes one measures the things a minimum wage can never buy….