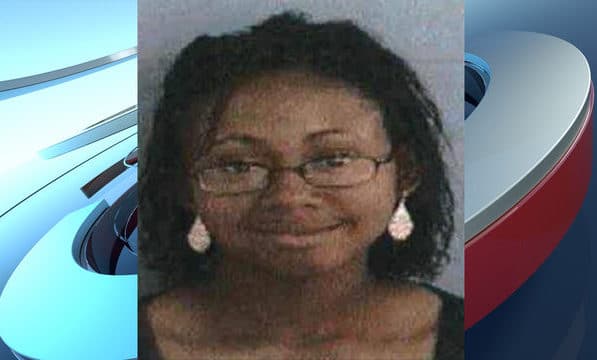 What led to Kanesha Godin a Fountain, Colorado mother abandoning her children while on a 'getaway trip'. Held on two counts of felony child abuse.
Kanesha Godin a 25 year old Fountain, Colorado mother has been arrested on suspicion of felony child abuse after allegedly locking her two toddler children in a bedroom so she could take a getaway trip out of town.
The mother's arrest came after Godin turned herself in to authorities Tuesday subsequent to a warrant for her arrest being issued.
Notice of the mother's abandoning her children, aged 3 and 4 came after a Godin asked a friend to pass by and check in on her children.
According to the Denver Post, Godin had provided 'specific instructions' to the friend, explaining how the toddlers should be fed along with have their diapers changed. 
Godin told Fountain police that the neighbor was 'providing child care throughout the day and night'.
But another friend found the children to be 'malnourished' and decided that there was in fact no neighbor caring for the youngsters, at which point she contacted the police. 
Upon arriving at the house on March 8th, police found the children covered in their own filth. An arrest affidavit described the room having an overwhelming smell of feces and urine. One child's crib was covered in urine and feces.
The light in the bedroom did not work and the thermostat was turned up to 90 degrees. Police said the children appeared malnourished.
Neighbors told Fox 21 that Godin drank frequently and on one occasion went to the liquor store leaving her children home alone.
A former babysitter also said the child's room had a padlock on the outside of it. 
She said the children's room was often dirty and one time had 'feces on the wall'.
Cbsdenver reported Godin telling police that she left Colorado on March 3, flying to North Carolina to be with her mother who had just had surgery. She was scheduled to return on March 17.
A report via the dailymail tells of Godin being a decorated soldier, with medals in army commendation, achievement, good conduct, national defense service, humanitarian service and army service ribbon. 
She also received an Iraq Campaign Medal with Campaign Star and had a parachute badge. 
The North Carolina native has been with the military for more than seven years.
Fort Carson officials said they're cooperating with Fountain Police on the investigation.
Godin's children have since been released to their father who told police he and Godin had been estranged for more than a year. Yet to be understood is why the mother failed to reach out to the father prior to taking a leave of absence….
Kanesha remains incarcerated on two counts of felony child abuse.