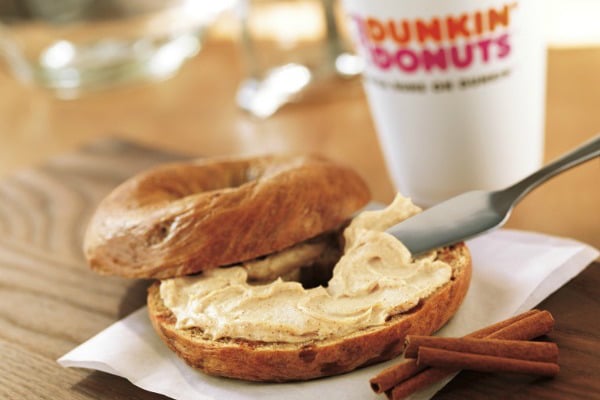 Jan Polanik wins a settlement from Dunkin Donuts over fake butter. Because a customer deserves to get what they believe themselves to be ordering. 
Jan Polanik a Worcester, Massachusetts man has won a settlement against Dunkin Donuts after the fast food vendor failed to give him butter with his bagel.
The settlement comes after two lawsuits were filed in Suffolk Superior Court in March accusing some 20 Dunkin' Donuts franchises throughout Central and Eastern Massachusetts of using a butter substitute on its bagels, reports the Boston Globe.
Polanik's suits argued that he ordered a baked product with butter but instead received a butter substitute between June 24, 2012, and June 24, 2016.
Of question is why Polanik continued ordering the baked product with the butter-like fake-out for such a long period of time. Nevertheless the aggrieved man decided he had been 'duped' long enough and sought to bring Dunkin Donuts to account.
Polanik's lawyer admitted the complaint was "minor" but said he sued to stop such deceptive practices, reports The Boston Herald, which added that the attorney for Dunkin' Donuts said it has since changed the 'butter-serving protocol.'
Explained attorney, Thomas Shapiro via The Boston Globe.: 'The main point of the lawsuit is to stop the practice of representing one thing and selling a different thing. It's a minor thing, but at the same time, if somebody goes in and makes a point to order butter for the bagel . . . they don't want margarine or some other kind of chemical substitute.'
Pursuant to the settlement, Dunkin Donuts released the following statement:
Dunkin' Donuts has released the following statement about the lawsuit:
'The majority of Dunkin' Donuts restaurants in Massachusetts carry both individual whipped butter packets, and a butter-substitute vegetable spread'.
The terms of the settlement are not known yet because it hadn't yet been filed with the court, reports Newsday.
In Dunkin' Donuts' menu descriptions on its website, the bagel selection does not indicate butter content but rather focuses on the bagel and cream cheese option noted patch.
Dunkin' Donuts explained to The Globe in 2013 that butter is kept refrigerated, which makes it difficult to spread onto a bagel. So they'd use margarine most of the time.
"For food safety reasons, we do not allow butter to be stored at room temperature, which is the temperature necessary for butter to be easily spread onto a bagel or pastry," Dunkin Donuts said in 2013.
Which proves the ambit, 'the customer is always right'. As long as s/he fight for her/his rights. Indeed.
Kind of wonder how Jan Polanik deals with other real-life crises like this. https://t.co/zfUATpywjV via @BostonGlobe

— Mike Popovich (@mpopovichREP) March 31, 2017
It is so bizarre that some guy sued Dunkin' Donuts over butter on his bagel and won. https://t.co/OuJ9lMsx6A pic.twitter.com/vhvSrvquNj

— upgrūv (@upgruv) March 31, 2017