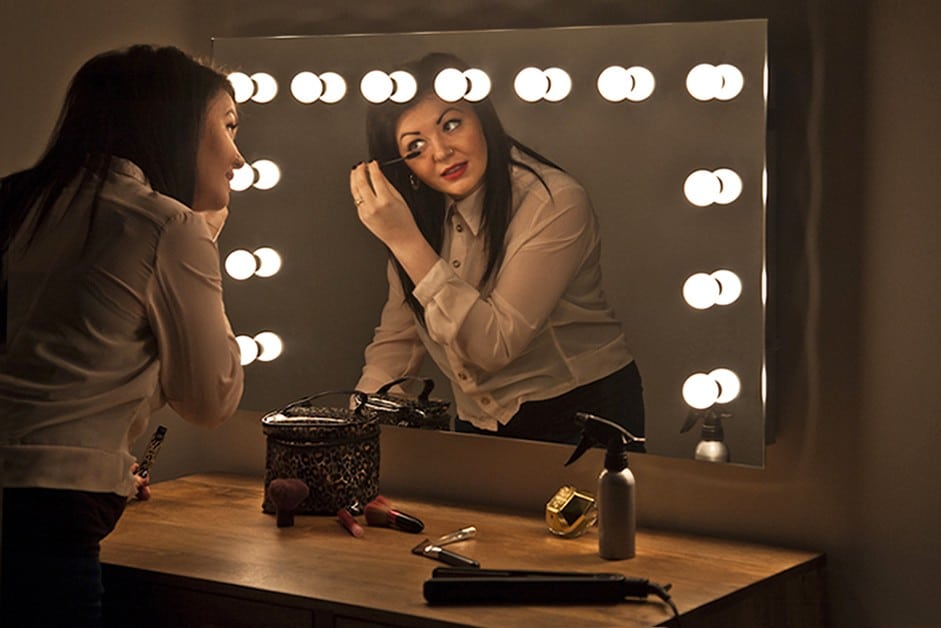 Makeup Mirror with Lights: How women at home are now replicating Hollywood style make up schemes. A how to primer explained. 
If you have been to a movie celebrity's dressing room, you will appreciate the makeup mirror they use. You can replicate this design at home by enhancing your makeup mirror with lights. The enhancement of your mirror with lights ensures your face is evenly illuminated, and allows you to apply your makeup as expected. Here are several ways to enhance your makeup mirror with light.
Use of natural light
If possible, you should use natural light as it is the easiest and cheapest means of lighting your Hollywood mirror with light for best makeup application.  To use natural light, ensure you place your vanity mirror close to a window to ensure natural light gives your face an even and a transparent wash of illumination.  Although natural light is an unforgiving form of light in stressing every imperfection, you will be specific on whatever you want to improve or remove from your face.
Use the correct wattage
With a Hollywood mirror with lights, your makeup can be applied perfectly making you look your very best. The mirror comes with ten LED bulbs, each with twenty-five watts and a three-meter power cable and a dimmer switch.  The wattage of the bulb you choose is not equivalent to the quality of your makeup lighting.  Anything producing soft light is a suitable lighting for Hollywood mirror.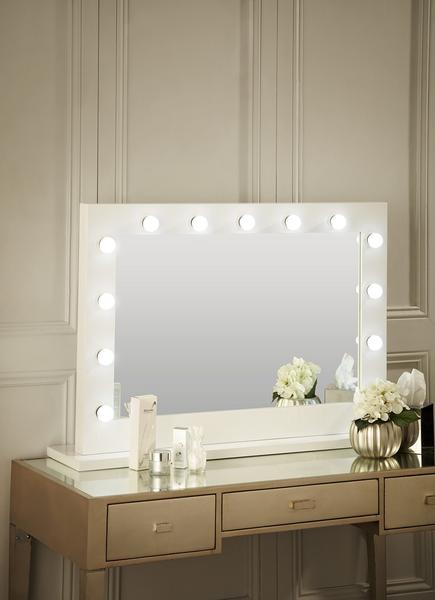 Use many sources of light
A makeup mirror that is not surrounded by LED lamps, you can use other means to improve your makeup mirror with lights.  One of the ways is utilizing bathroom vanity fixture, but using the light on both sides of your face is the best, as all the area of your face is lit up.
Do not use overhead light alone
You can enhance your makeup mirror with light by avoiding the use of overhead light alone, as it concentrates shadows over your eyes or other areas, making the application of your makeup difficult.  The best solution is to combine overhead light with even illumination for precise lighting on your face.
Use light with high color rendering index
When choosing your Hollywood mirror with lighting, your perception of different colors is crucial. You might see if a particular foundation is matching your skin when using low color rendering index, only to notice the color does not match after getting in natural lighting. Place your makeup Hollywood mirror with light in the bathroom, ensure you use light with high color rendering index. It is recommendable to use light with color rendering index above 80. Besides, for better lighting, you can use incandescent light to enhance your vanity mirror.
Therefore, it is important to utilize the above factors to improve the lighting of your makeup mirror so as to achieve the desired outcomes when applying your cosmetics.