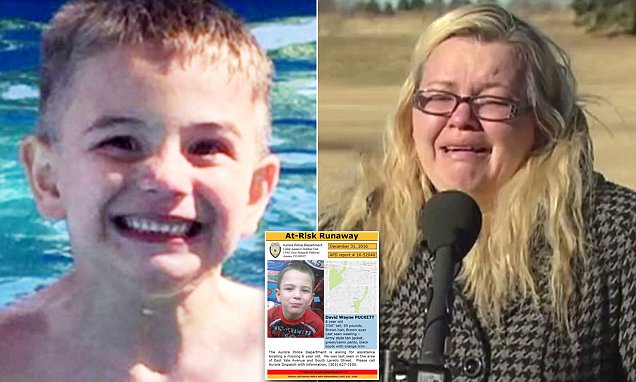 David Puckett a missing six year old Aurora, Colorado boy remains missing as an amber alert is issued after disappearing new year's eve.
A massive search is underway after six year old Aurora, Colorado boy, David Puckett went missing from his family home.
The boy tell the boy's parents hasn't been seen since New Year's Eve circa 5.30 pm after apparently wandering away from the family residence on the 15700 block of East Amherst Place.
Police also said someone outside the family had seen the boy the day he went missing, with police declining to elaborate on who that was or where or when the sighting was made.
Police described the missing toddler as 'at-risk' due to a slight learning disability.
Aggravating matters is the fact that temperatures have dipped below freezing since then. Colorado Bureau of Investigation in turn issued an amber alert for the missing Aurora toddler. 
In a public appeal the boy's mother, Stephanie Puckett said her son left home in just a light coat.
Told the mother: 'David, he is a good kid,' 
'I am worried, with how cold it is, that something really bad might have happened to him. 
'The coat he is wearing, it is not a very thick coat,' 
David Puckett dead: How did 6 year old Aurora boy end up drowning?
RT #AmberAlert #FindingDavid #DavidPuckett #missing #Aurora #Colorado boy possibly abducted #Denver #BroncosCountry #BroncosNation #Broncos pic.twitter.com/CI2IkLd2sO

— Locatethemissing.com (@MissingCases) January 3, 2017
The Aurora Police Department has raised awareness by tweeting the hashtag #FindingDavid while providing updates on search efforts.
During a police briefing, authorities said they were using a bloodhound from their K-9 unit, while Denver Police Department Air One Helicopter said it was equipped with an infrared system. 
The FBI have also been aiding the police department in conducting 'thorough' neighborhood searches while providing extensive resources.
Volunteers have begun gathering at Olympic Park to search for the boy in groups.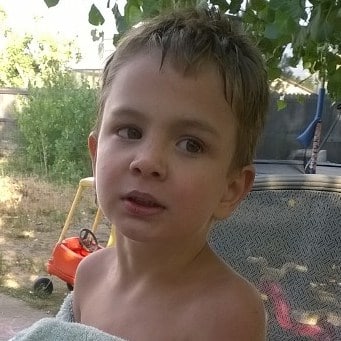 Of note, Crystal McKoy, a spokesperson for the Aurora Police Department, said there is no foul play suspected at this point.
Told McKoy: 'It is still an active and ongoing investigation. At this point we believe he just wandered off.'
There is reportedly one confirmed instance of David previously wandering away from school, Dartmouth Elementary School. 
David is about 4 feet tall and weighs 48 pounds. He has light brown hair and blue-green eyes. 
He was last seen wearing green camouflage pants, a black T-shirt, orange boots and a tan girl's coat, according to police.
Reiterated Officer McKoy: 'Thank you to everybody who's been involved. It takes a community to bring a positive result, so continue to share our posts.
'If you think you've seen something it doesn't hurt to call the tip line.
'We will make these efforts to speak with you.' 
Told Aurora police Chief Nick Metz on Sunday, 'there was no evidence of a kidnapping.'
Adding: 'That could change as the investigation moves forward.'
The reward for information leading to finding David come Monday evening notes the denverchannel was increased to $10,000 on Monday night.
There are three tip lines set up to answer calls, and can be reached at 303-739-1870, 303-739-1865, and 303-739-1868
@AMBERAlert for 6-yr-old David Puckett. Last seen near Olympic Park in Aurora on Sat. Black boots, green/camo pants, tan jacket. @AuroraPD pic.twitter.com/4GqVk0uMMh

— CBI (@CBI_Colorado) January 2, 2017
#FindingDavid Reward increased to $10,000. By calling us at 720.913.STOP you remain anonymous & eligible for the $ https://t.co/jFT8MXGKss pic.twitter.com/sPgFNFsr6M

— MetroDenverCrimeStop (@CrimeStoppersCO) January 3, 2017