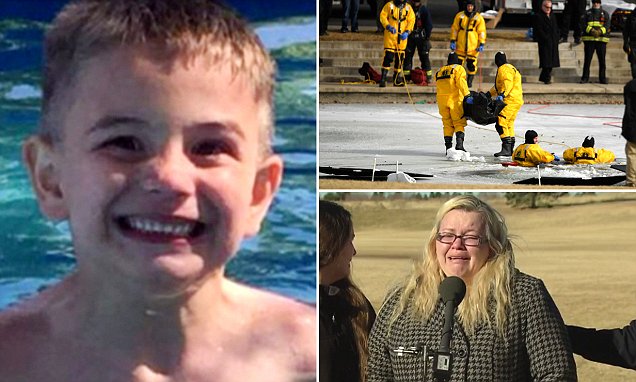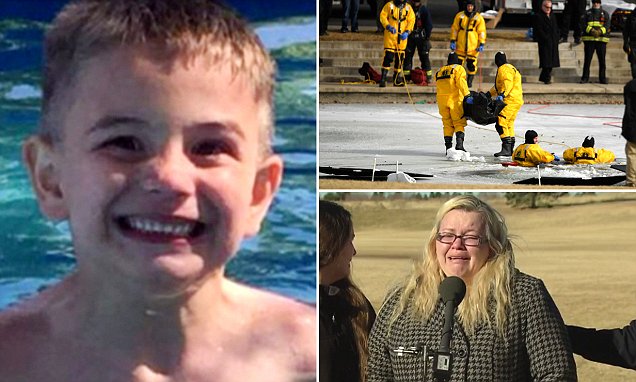 David Puckett dead: How did a missing six year old Aurora, Colorado boy come to wander from home and end up drowning in a nearby lake? 
Tragedy has come to the fore with authorities saying Tuesday that they believe they have found missing six year old Aurora, Colorado boy, David Puckett, who is feared to have drowned.
Notice of the missing boy's discovery came after divers came across the body of a child in an icy pond just two blocks from the family home the boy had wandered off from on New Year's eve, Saturday.
While search crews have yet to identify the found body, Police Chief Nick Metz told of family and authorities bracing for the worst.
Told Metx during a Tuesday morning press conference: 'Because of our suspicion I had the unfortunate experience of having to inform David's family of what we found,'
'We did let the family know that it was going to take some time before we could have a positive identification on the person.'
Metz said bloodhounds had picked up a scent, leading to search crews to the pond not far from the family home. 
At first, search crews didn't believe the boy would be in the pond,since there was no break in the surface. Nevertheless decided to send divers once bloodhounds honed in on the pond. 
So far, police say there is no indication of foul play, but the pond is nonetheless being treated as a crime scene. 
Where? David Puckett missing 6 year old Aurora boy vanishes
RT #AmberAlert #FindingDavid #DavidPuckett #missing #Aurora #Colorado boy possibly abducted #Denver #BroncosCountry #BroncosNation #Broncos pic.twitter.com/CI2IkLd2sO

— Locatethemissing.com (@MissingCases) January 3, 2017
The FBI, volunteers and Denver-area law enforcement agencies also have been helping search for the boy. Police say he has wandered off before. 
On Monday, authorities raised the reward for information leading to David to $10,000.
Police described Puckett as 'at-risk,' due to a slight learning disability. 
An amber alert had been issued once temperatures had dipped below freezing, with the missing child's mother Stephanie Puckett s pleading for help in public appeal for her son's safe return.
Told the mother at the time after mentioning David had left home in just a light coat, 'David, he is a good kid'.
Adding: 'I am worried, with how cold it is, that something really bad might have happened to him.'
Adding: 'The coat he is wearing, it is not a very thick coat'.
In the hours since a search was underway, Aurora Police Dept spokesperson, Crystal McKoy said there was suspicion of foul play at this point.
Told McKoy at the time: 'It is still an active and ongoing investigation. At this point we believe he just wandered off.'
Police have yet to say whether they are treating David Puckett's suspected drowning death as a murder or a case of negligence on the parent's behalf.