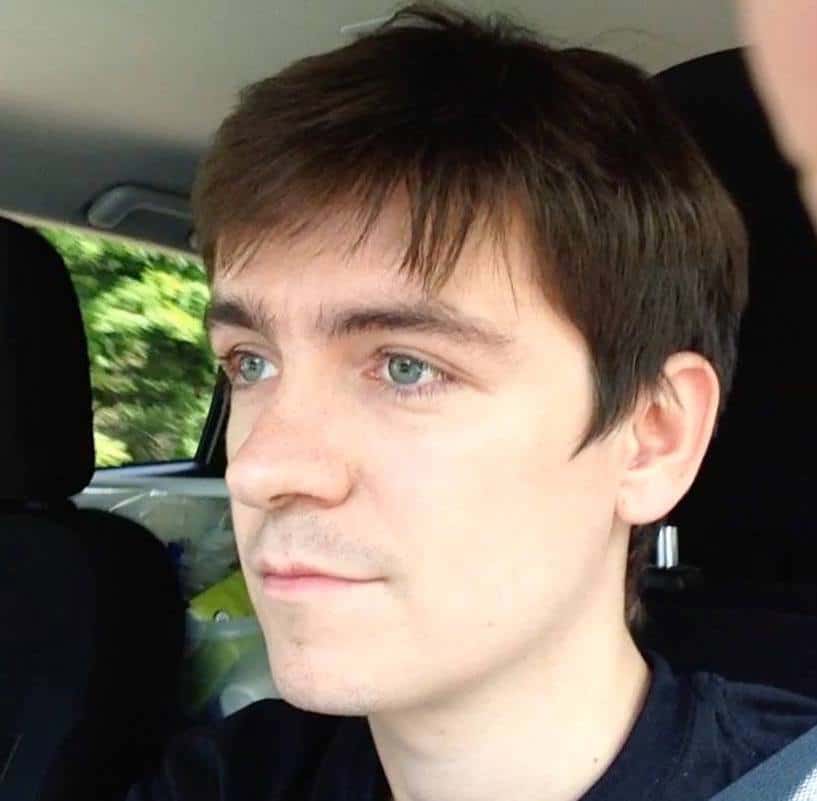 Alexandre Bissonnette Facebook page; Was the Quebec Mosque shooter a time bomb? A white nationalist who favored French Canada secession and autonomy.
While Quebec City, Canada authorities have yet to say what may have motivated 'lone wolf'  Quebec Mosque terrorist, Alexandre Bissonnette, the shooter's Facebook page hints at possible White Nationalist aspirations.
Local reports tell of the 27 year old shooter being a political science and anthropological student at the University of Laval, the oldest French-language university in North America.
Bissonnette, who was not previously known to police, lived with his parents in a single-family home on Tracel Street in the Cap-Rouge district, where police conducted a search Monday.
Ironically, Bissonnette's father is listed in the sales deed as an investigator, the Montreal Gazette reported.
During Sunday night's attack at Quebec's largest mosque, the Quebec City Islamic Cultural Center, Bissonnette fatally gunned down six men between the ages of 39 and 60.
To date, five men remain in critical condition in intensive care at the city's Hôpital de l'Enfant-Jésus.
Twelve others had less serious injuries and another 39 escaped from the mosque unharmed. 
In the aftermath of the shooting, pundits have been asking what could have led to the seemingly 'low key' student exacting a rueful attack on the Muslim center.
Perhaps in a bid to further understand Bissonnette's state of mind a regard of the man's Facebook page hints at possible clues.
Alexandre Bissonnette charged: Xenophobe who trolled Syrian refugees
Why did Alexandre Bissonnette, Mohamed Khadir launch Quebec Mosque terror attack?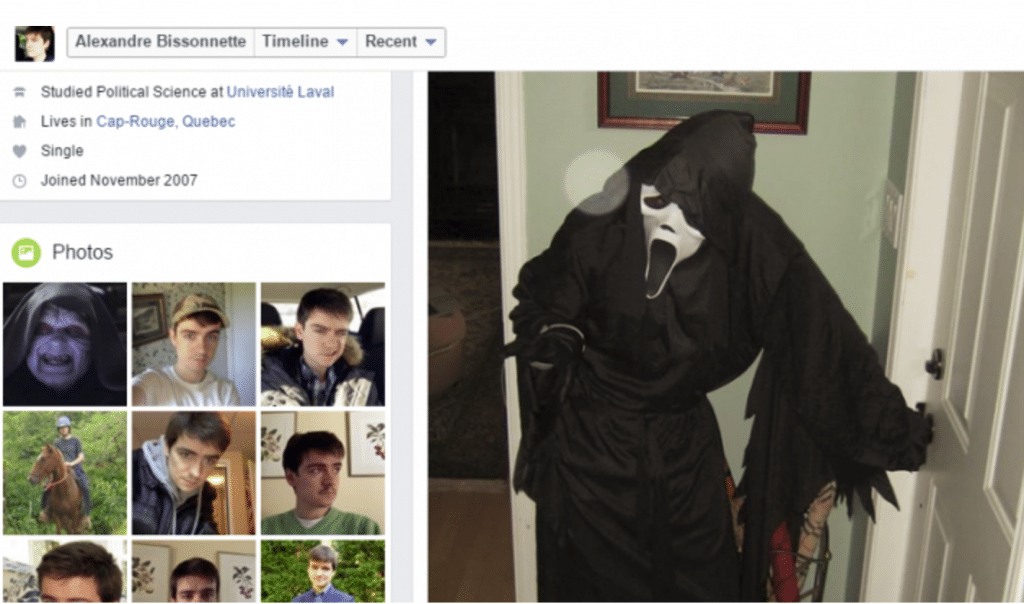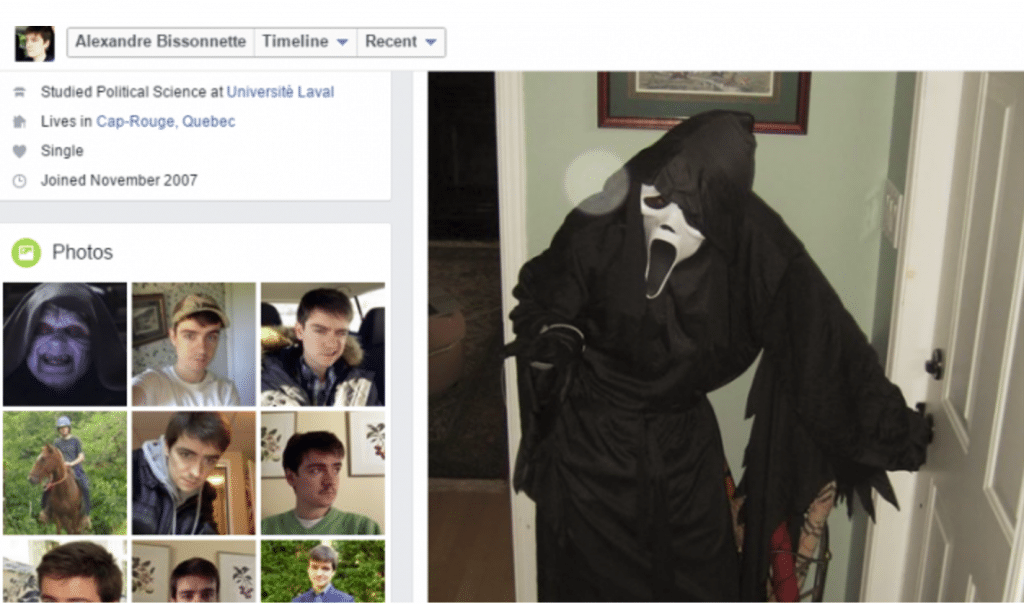 A cache of the shooter's Facebook page shows the shooter's account depicting numerous understated pictures of the man.
Images show Bissonnette playing video games, and generally having fun. There is very little religious or provocative information posted by Bissonnette.
Notes emptylighthouse:'Bissonnette's music tastes included Weezer and Katy Perry, as well as German band Rammstein. Some of the books he liked were on chess theory. He also like the Feminist Movement of Laval University. He also liked Donald Trump on Facebook. He also liked Christian site Reasonable Faith, which describes itself as "an intelligent, articulate, and uncompromising Christian perspective on important issues concerning the Christian faith today." He also liked George W Bush, and the NDP of Canada.'
Yet it's upon a closer regard of some of the pages the political science student also liked that hint at what rankled the 'revolutionary's' mind, keeping in mind Quebec's long running aspirations for secession from the rest of Canada for its own state.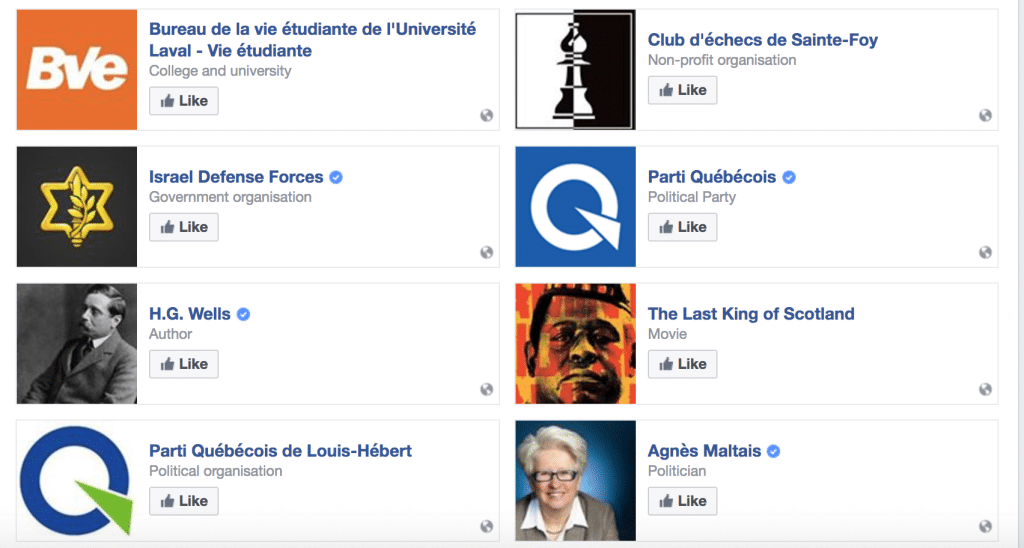 An assortment of pages marked as liked include that of the page of French nationalist right wing political leader, Marine Le Pen, Israel Defense Forces, the Parti Quebecois de Louis-Hebert and Parti Quebecois, a political group that has always favored secession from Canada and the autonomy of its own regions from Canada's English speaking West.
Bisonnette also lists himself as a fan of Yes secessionist, local politician, Agnes Maltais. Also worth noting is Bissonnette's liking the page of, Generation Nationale.
Notes the group on their page: 'Fruit of a singular and secular history, Quebec, "this only corner of the world where we can be fully ourselves", to paraphrase René Lévesque, must preserve the strong bond that unites all of his fellow citizens. That is, belonging to a national community.'
'This idea of belonging to French America constitutes the foundation and the particularity of our society; That is why it guides and shapes our collective vision of the world. Of course, this sense of belonging is not exclusive: it must allow any newcomer, willing to live in harmony with the traditions and values that forge our society, to make of it an integral part.
Due to some pernicious effects due to a globalization subject only to the financial sector and the drift from multiculturalism, our identity and our cultural heritage are hampered. Generation Nationale is therefore a dynamic vehicle intended to promote the national idea to our compatriots and especially to our youth.'
Also worth noting is Bisonnette's liking the page of conservative politician, John McCain along with the late author who challenged Muslim doctrine, Christopher Hitchens along with newly elected Republican president, Donald Trump whose rise to prominence has been followed by calls for nativism and sequestering Muslims.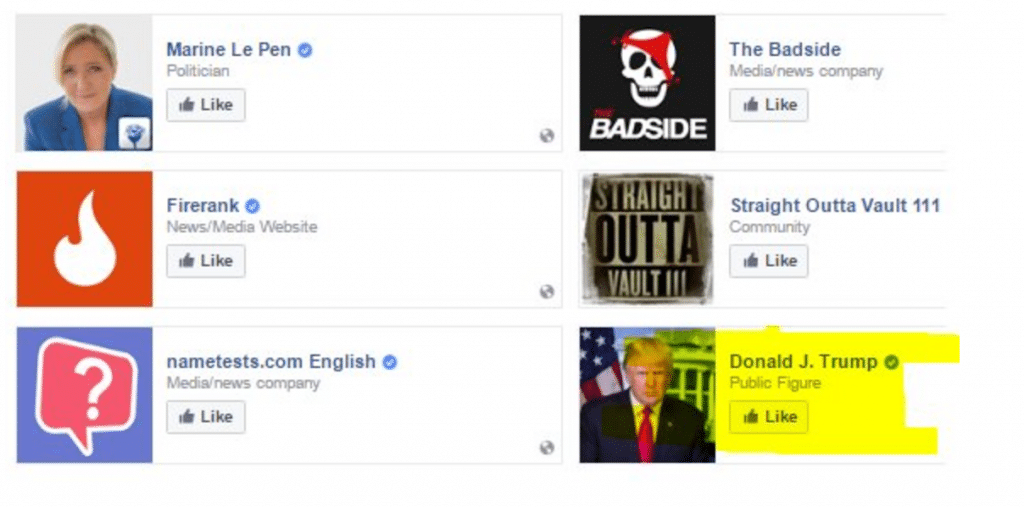 A report via Le Journal de Quebec cited a former classmate of the shooter saying, 'Apart from his twin brother, I did not see him with other people.'
Mikael Labrecque Berger also told of Bissonnette being an 'unpopular nerd,' who wasn't always taken seriously by classmates.
Adding: 'He replied to insults, but never with physical violence," Labrecque Berger said, adding that he and his twin brother didn't integrate with other students. They were usually only seen together.'
The former classmate, who had only seen him once since high school, went on to say he didn't know about any politics or beliefs that could have sparked the shooting.
That said, another former classmate, Jean-Michel Allard-Prus, who studied politics with him said Bissonnette, harbored right-wing political ideas, pro-Israel, anti-immigration sensibilities.
Told Allard-Prus: 'I had many debates with him about Trump. He was obviously pro-Trump.'
A report via heavy also notes the 'Welcome to Refugees – Quebec City' group posting on Facebook that it was also aware of Bissonnette prior to the shooting, saying he is 'unfortunately known to several activists in Quebec City for his pro-Le Pen and anti-feminist identity positions at Université Laval and on social networks.'
Of note, Francois Deschamps, a committee member for the group, told La Presse he jumped when he saw a photo of Bissonnette.
Told the man: 'We see a lot of what extreme right-wing people do and say,'
He said Bissonnette made statements on their page, 'acting like a troll.'
Along with anti-immigrant and other right-wing beliefs, Bissonnette also made anti-women's rights remarks, Deschamps said.