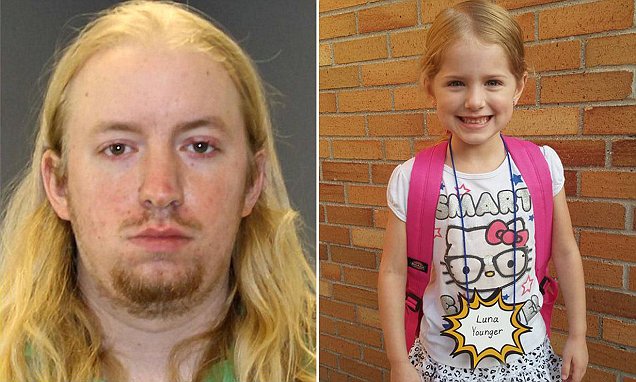 How Thomas McClellan set on his five year old step-daughter Luna Younger after having earlier in the day having had an argument with the child's mother.
Thomas McCellan a 25 year old Michigan man has been arrested after stabbing his step daughter to death after 'snapping' when the five year old year girl demanded something to eat.
Appearing in court this week, prosecutors told how the man repeatedly stabbed the toddler before setting her body on fire after telling her step-father that she was hungry.
In an arrest affidavit, McCellan from Holt, admitted knocking Luna Michelle Younger to the ground, sitting on her hips and stabbing her in the chest on Nov. 1 after she wouldn't leave his room.
According to Detective Chuck Buckland of the Ingham County Sheriff's Office, McClellan then wrapped the girl's lifeless body in blankets, dumped alcohol on it and lit it on fire notes a report via the Lansing State Journal.
As the flames spread through the ground-floor apartment, the Delhi Township fire department were called in to extinguish the blaze.
During the hearing in the 55th District Court, a medical examiner said Luna was stabbed at least five times.
McClellan is charged with murder, first-degree child abuse and first-degree arson in the death of his stepdaughter at the family's Keller Road home.
If convicted, Thomas McClellan faces up to life in prison.
First responder Delhi Township firefighter Corey Drolett said that when he entered the apartment, he did not initially see Luna under the blankets.
When he finally found her body, 'I knew the victim had expired,' Drolett testified.
Although he knew she was already dead, Drolett passed her body through the window and instructed another firefighter to 'very lightly' perform CPR, he said.
Told the firefighter during testimony: 'Based on the situation [I] felt that would show [the mother] that we were attempting some effort.'
The murder came to happen while Luna's mother, Victoria McClellan, was at work, with the woman telling investigators she and her husband had been 'bickering' earlier in the day. 
She convinced McClellan to surrender to police and he was taken into custody about four hours after the initial 911 call.
A report via WDTN told of Thomas McCellan having no prior criminal history, was a graduate of Everett High School and worked at a restaurant in Lansing.
Younger's obituary described her as a 'happy kindergartener' who 'loved school.'
'Recess, math and lunch were the favorite parts of her day,' the obit reads. 'This sweet angel will be missed forever by her family and friends.'