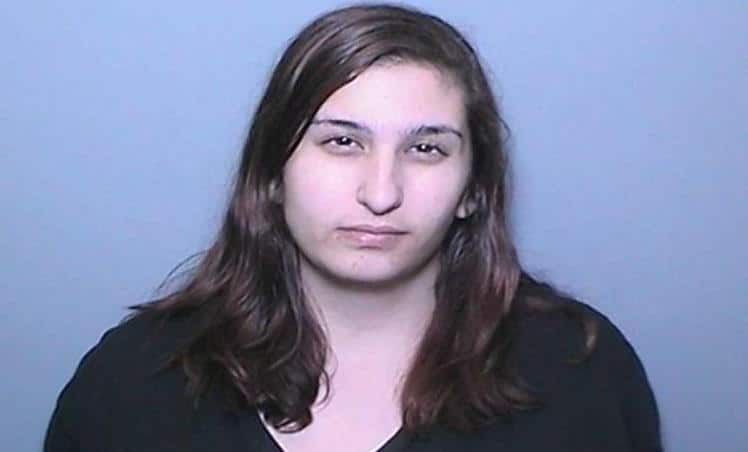 How Stephani Lawson framed her ex boyfriend, Tyler Parkervest after concocting a false Facebook account which she used to fabricate threats against herself.
Talk about bitter love. Stephani Lawson a 25 year old California woman has been arrested after creating a fake Facebook account which she used to have her ex boyfriend arrested four times.
Appearing in court, the ex girlfriend pled guilty to perjury and false imprisonment by menace, violence, fraud, or deceit after pretending to be her ex stalking and threatening her.
According to the Orange County District Attorney's Office, investigators said Lawson created the fake Facebook account solely try to frame her ex.
Noted prosecutors, 'Lawson posed as the victim and sent herself numerous threats' via the phony account. Investigators said according to filed police reports, Lawson claimed her ex violated a restraining order, stalked her while telling her over Facebook that he was going to kill her.
The ex girlfriend's ruse led to her ex-boyfriend Tyler Parkervest being arrested four times over four months last year along with facing multiple felony charges. In turn, prosecutors told how Stephani Lawson used her own devices to send herself even more threats just before the man's preliminary hearing in May.
From there Lawson testified on the witness stand claiming Parkervest had sent her intimidating messages in the two days before the hearing. Investigators looked into the testimony even as the case against him was set to go to trial.
According to a filing obtained by City News Service, prosecutors off the back of Lawson's false accounts accused Parkervest of stalking, intimidating, kidnapping and beating her.
The ex girlfriend's undoing came when screen grabs of the threats the woman had shown investigators on her phone caught the particular attention of a DA associate.
'One of my DA colleagues looked at it and said, 'It doesn't look right,' and that triggered in our mind, 'Maybe we need to look into this further,' Deputy District Attorney Mark Geller told the News Service.
Geller even went so far as to say he 'didn't have any doubt' that he would have been able to get a conviction against Parkervest had investigators not reviewed the case further.
Investigators said they later secured search warrants for Facebook and T-Mobile records proving Lawson's allegations were fake. A process which the DA told required his office constantly imploring a reluctant Facebook and T-Mobile to follow through on.
Upon finally receiving the necessary documents, the DA's office was able to show that the threats sent from Doe's account indeed came from Lawson's own phone and IP address.
U.S. Marshals arrested Lawson in her current hometown of Las Vegas in September, and a judge dismissed the charges against her ex on Oct. 6 at prosecutors' request.
As part of a felony plea deal, Lawson received a one-year county jail sentence. The ex girlfriend was also ordered to pay restitution penalties to Parkervest and spend three years on probation.