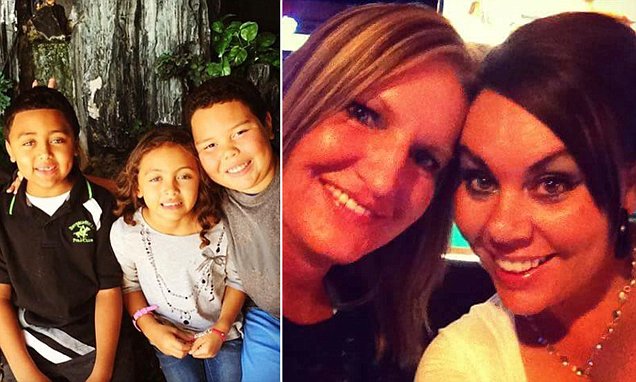 Melissa Armstrong has eased a dying mother and her best friend's concerns as she is now set to adopt the woman's three children days ahead of Christmas. 
Melissa Armstrong a 42 year old Milan, Illinois mother of two has agreed to the wishes of her dying best friend as she is now set to legally adopt the dying woman's three children.
The adoption comes as Sara, 36 is in the final stages of ALS in hospice care and isn't expected to make it to Christmas.
The soon to be adoption comes as Sara feared that her three children, Cayden, 11, Micah, 9 and Amara, 8 would end up being split into different homes upon her passing away.
The decision to bring terminally ill mother's three children into Missy Armstrong's fold comes as the women have been inseparable over a decade after first meeting in 1999 while attending cosmetology school.
Told Melissa Armstrong via WQAD: 'She said she can deal with the fact that she's dying, but she can't deal with the fact that her kids will be split,'
Adding: '(We) automatically became best friends,'
'She would do it for me.'
Upon telling Sara that she was going to take care of her kids, Armstrong said, 'She just balled and was like are you kidding me and she said 'you swear' and I said 'yeah'.'
As Missy Armstrong prepares to take on the challenge of taking on three new children, one of her close friends of 11 years, Rhonda DeBruyn, is lending a helping hand. 
With Melissa working seven days a week, receiving $900 a month from SSI, the mother of two is ineligible for food stamps or other government assistance because her income is over the threshold.
DeBruyn posted a status on Facebook asking for gifts to be donated so the growing family can have a great holiday.
Told DeBruyn: 'My main focus was to make sure that the kids had a good Christmas because I wasn't sure that Sara was going to be here.'
Since posting the status, donations have been pouring in for the family notes the dailymail.
'I know there`s good people out there, but to see it happen for me is just kind of overwhelming,' Armstrong shared.
'They deserve it, they really do, it`s been a rough road.' 
Armstrong currently lives in a three bedroom home, which is not large enough for the growing family. 
'Missy is needing a ton of support…we have a deadline for the 5 bedroom house she plans to purchase by Dec 26th and have a goal to reach for the down payment which is due that day,' DeBruyn said in a Facebook post. 
'Her current 3 bedroom will not be enough room for her growing family. We are not even a 1/3 of the way to our goal. 
'Once we get her into her new house, then everything left over that we raised will go to future financial expenses…Every little bit helps.' 
To donate, an account has been created at the Southeast National Bank under Melissa Armstrong. 
In addition, a benefit will be held on January 7th at Gunchies in Davenport, Iowa to help for the family's financial expenses.