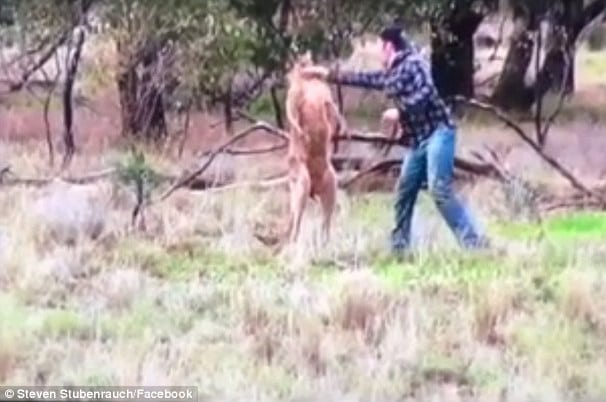 Man punches kangaroo in the face to save dog being strangled: Video goes viral showing a man and a 6ft tall kangaroo engage in Australia's outback.
Video footage (see below) has emerged of the moment a man running up to an upright 6-7 foot tall kangaroo who could be seen aggressively tussling with a dog in Australia's Outback being punched in the snout/face.
The dog owner sensing that his pet dog might be in danger from the aggressive marsupial who appeared to be in the mix of attempting to strangle the man's dog with his long forearms, had run over in a bid to save his dog, 'Max.'
Standing toe to toe with the boxing like kangaroo, the dog owner, yet to be identified punches the kangaroo, leaving the animal off kilter.
According to a report via the dailymail, the video was captured by a friend, who'd shot it from the safety of his vehicle.
A regard of one Facebook user, Steven Stubenrauch who posted a longer version of the video writing on his wall: 'My buddy from Australia sent me this. Them roos are wild as hell.'
The two men along with the owner's dog had been out on what appeared to be a hunting trip in rural bushland when Max at one point found himself in a headlock from the kangaroo.
During the course of the video, a narrator can be heard speaking, 'The big buck actually has hold of the dog, not the other way round. As (the man) runs in, we realize this could get dangerous.'
Having knocked the upright roo off balance and allowed Max to escape, the dog owner can be heard instructing his dog to get back to the truck as the man now turns to run to safety.
In the background the narrator can be heard imploring the owner, 'to let it go Tom. Let's go!'
The kangaroo after a few seconds, whether because it was confused, rattled, itself shaken soon after bounces away.
Yet to be necessarily understood is what led to the kangaroo and the owner's dog interacting and whether the roo was being the aggressor or simply protecting what it believed to be its turf as the hunting crew made their way….
To date the video has been seen more than 3.5 million times since being posted yesterday.