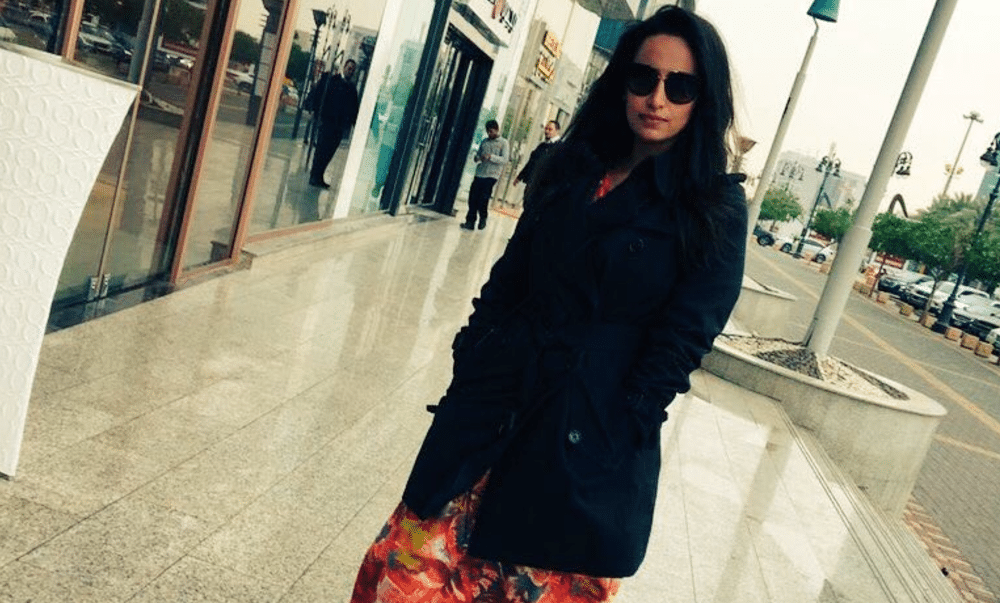 Malak Al Shehri a Saudi Arabian Muslim woman is to be lashed by morality police after an image of her not wearing religious garb went viral causing outrage.
Malak Al Shehri a Muslim woman is set to be lashed after inciting the contempt of morality police in Saudi Arabia after daring to appear in public without wearing a hijab.
It wasn't until the woman posted images of herself not wearing the required formal religious wear whilst in the capital city of Riyadh that Shehri soon found herself the target of death threats.
The punishment comes after the conservative Muslim country enforces a stick dress code for women which along with forbidding them to appear in public without wearing a hijab or abaya (a traditional body covering) bars them from driving and mixing with the sexes.
The woman's arrest according to the local al-Sharq newspaper quoted a Riyadh policeman who said Malak Al Shehri was detained after a complaint was filed by the religious police.
Told the policeman, Colonel Fawaz al-Maiman: 'Police officers have detained a girl who had removed her abaya on al-Tahliya street, implementing a challenge she announced on social media several days ago.'
The incident led to the woman facing calls to be executed after she was pictured wearing a black jacket over an ankle-length orange and pink dress and boots notes a report via the dailymail.
اخيراً انسانة طبيعية في شوارع السعودية !! ?✨ #نطالب_بالقبض_على_المتمرده_انجل_الشهري pic.twitter.com/88xxxIgnd8

— مها#الداعية (@DE_X77) November 29, 2016
A Saudi woman went out yesterday without an Abaya or a hijab in Riyadh Saudi Arabia and many Saudis are now demanding her execution. pic.twitter.com/gPMOz5bRAr

— Anon (@dontcarebut) November 29, 2016
The post had drawn heated and blunt reactions.
Demanded one individual: 'The least punishment for her is beheading her.'
Another posted on social media: 'Kill her and throw her body to the dogs', while one said 'we want blood' after the picture went viral.
Following news of her arrest, one Twitter user said: 'We demand utmost punishment, for the state has rules that she did not respect.'
A report via IBT tells of Al Shehri initially posting the photo to her Twitter account @AngelQShe, but soon deciding to delete the tweet and the entire account after the death threats began flooding in.
Told one woman who dare not disclose her real identity after retweeting the initial image: 'So many people retweeted it and what she did reached extremists, so she got threats. She deleted her tweets but they didn't stop, so she deleted her account.'
That said, some social media users have since praised Malak Al Shehri for her 'bravery' and expressed their support.
One person, posting under the username @MajedAbboud, wrote: 'I'm amazed by the courage and the resilience of Saudi women'.
Farah Aqqad added: 'Its about time to protest against this discriminative abaya prison against women #shout_for_freedom'.
Another wrote: 'Bravest girl on earth…hope she is okay', while one compared her to a modern day Rosa Parks. 
All women in Saudi Arabia – local and foreign – are legally required to wear an abaya – which is a traditional full-body covering.
While Muslim women are mandated to wear a headscarf or hijab, foreigners are not legally obliged.
The incident comes as Muslims who have since migrated or fled to Europe in the face of ongoing Middle East conflict have since demanded wanting Sharia law, while Germany's Angela Merkel now plans to make wearing the burka in non avoidable public domains finable.