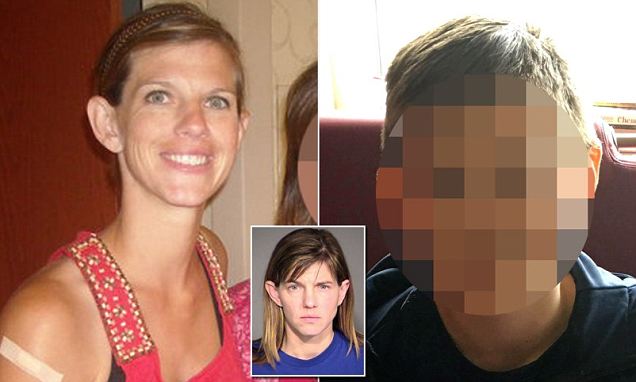 What led to Tiffany Alberts Indiana mother injecting fecal matter into her 15 year old son's IV tube during cancer treatment for leukemia? 
Tiffany Alberts a 41 year old Indiana mom has confessed to injecting fecal matter into IV bag of son while the boy was receiving cancer treatment.
The admission has led to the mother facing seven felony charges, six counts of aggravated battery and one count of neglect of a dependent resulting in serious bodily injury — for grossly interfering in her boy's medical care, WLFI reported.
The mother's arrest came after medics observed the woman's 15-year-old son suffering from a series of inexplicable infections, high fever, impenetrable headaches, constant vomiting, while undergoing treatment for his leukemia, leading into an investigation of what 'could have gone wrong.'
Doctors at the Riley Hospital for Children said their biggest concern was that they may have missed their best opportunity to conquer the boy's leukemia while dealing with complications stemming from the infections.
According to court documents, after having moved the son to another room and installing surveillance cameras, staff at the Wolcott hospital told of witnessing Alberts on several occasions injecting an unknown substance into her son's IV bag.
Following a series of blood cultures, tests came back positive for organisms that are usually found in fecal matter.
Indiana mom who injected feces into son's IV during cancer treatment gets 7 years
A saga of family tragedy and health woes:
During initial interviews with police, Tiffany Alberts denied any foul play. The Indiana mother told cops she only added water to her son's IV to 'flush the line' because the 'medicine that was given to him burned'.
The mother eventually confessed to injecting stool into her son's lines, on six different occasions, citing her desire to get her boy moved to another unit with better treatment options as her cause. Do you suppose?
Of note, a report via the dailymail tells of Alberts, who is listed as a special education teacher on her Facebook page, and her family having suffered several tragedies over the years including the loss of her husband Jason (pictured below) in May.
It wasn't until a month later, that the woman's teen son who suffers a mild form of autism was diagnosed with leukemia in July.
Alberts' 13-year-old daughter was diagnosed with follicular adnexal carcinoma cancer that was removed this spring.
Reacting to news of the mother's interfering with her son's recovery, Sandy Runkle of the Prevent child abuse Indiana told of such behavior being rare while conceding of instances of abuse happening from 'time to time.'
Perhaps non coincidentally the woman's 15-year-old son's health improved once his mother was barred from his room. Doctors also said the boy could have easily died of septic shock on more than one occasion, adding he's not quite out of the woods yet — he may still die from his leukemia after the long delay in his treatments and therapy.
Yet to be necessarily understood is if there had been previous instances of child abuse prior to the boy being admitted to hospital at the hands of Tiffany Alberts?