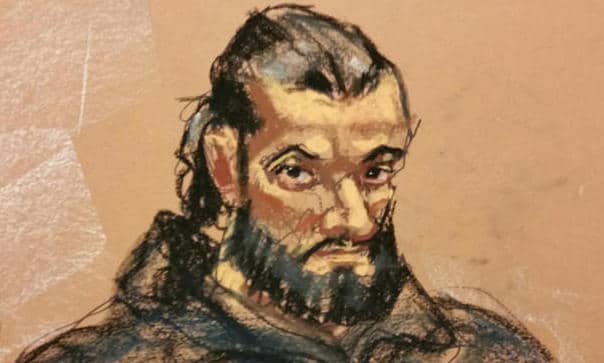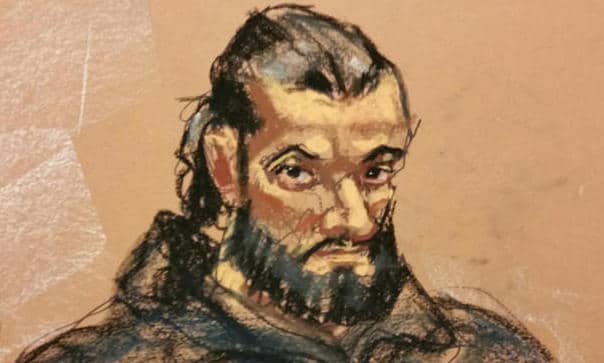 Mohamed Rafik Naji arrested: Brooklyn man who traveled to Yemen and Turkey in 2015 believed to have sought ISIS terror attack in NYC's Times Square involving garbage truck.
Mohamed Rafik Naji a 37 year old Brooklyn Uber driver was arrested on Monday after allegations that the man planned to join Islamic terrorist group ISIS with the goal of setting up a bombing terror plot at NYC's Time Square.
The man's arrest on federal terror charges come after Naji, a US legal resident allegedly traveled to Turkey and Yemen between March 22, 2015 and September 9, 2015 in a bid to join ISIS.

Intercepted communications allege Naji purportedly expressing support for a Nice style attack with a garbage truck in Times Square.
According to the nydailynews, the Brooklyn local revealed his support for the terror group on his Facebook page, including a photo of an ISIS flag, videos of jihadists engaged in fighting, and a YouTube link of an ISIS spokesman exhorting attacks on Western targets, according to filed court papers.
Last summer, Naji allegedly expressed support to an informant for carrying out a deadly attack in Times Square with a garbage truck crushing pedestrian just like the ISIS truck attack in Nice, France in July.
Told Naji allegedly to the informant, July 19: 'They (ISIS) want an operation in Times Square,'
'They want an operation in Times Square, reconnaissance groups already put out a scene, the Islamic State already put up scenes of Times Square … I said that was an indication for whoever is smart to know.'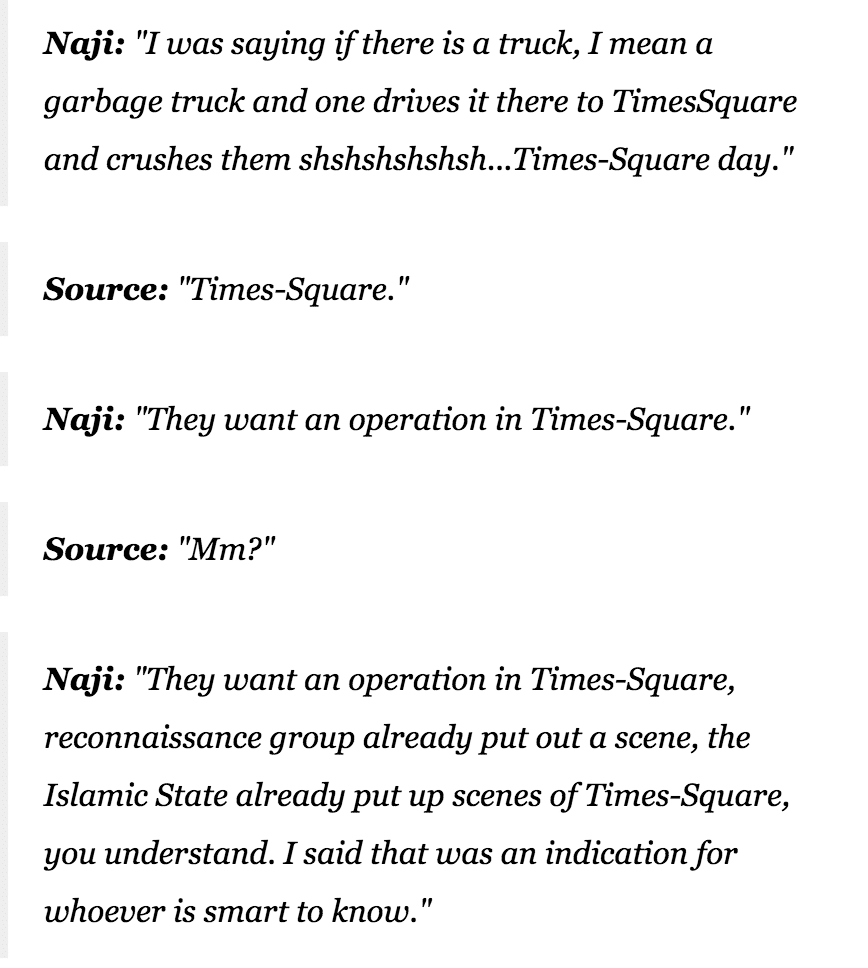 Responding to Mohamed Rafik Naji's arrest, Gov. Cuomo said in a statement that New Yorkers 'must remain vigilant in the face of hate and intolerance' while noting authorities do not have any specific terrorist threat at present.
Defense lawyer Susan Kellman cautioned against jumping to conclusions about the Times Square comments attributed to Naji, saying: 'We don't know if he actually said those words if or if they were fed to him by the confidential source.'
According to Brooklyn U.S. Attorney Robert Capers, Naji exhibited 'persistent efforts' to join ISIS. Naji apparently made it to the ISIS battlefield in his Yemeni homeland.
Evidence supplied by Capers includes Naji purportedly emailing his wife from Yemen in March 2015 where the man wrote that 'it's very hard to get in I'm on my 5 (sic) try … keep trying if not m have to go from somewhere else.'
Yemeni Brooklyn resident arrested over ISIS support. Travelled to Turkey & Yemen to join ISIS.https://t.co/pv3RgZYrnN

— Haykal Bafana (@BaFana3) November 21, 2016
In another email sent from Yemen, dated April 21, 2015, Naji purportedly wrote another email with the subject line, 'First day on the job'. 
The email allegedly came with an attached video in which gunfire could be heard, according to the complaint unsealed in Brooklyn Federal Court.
Another email purported to show Naji sending a selfie to his wife 'in which he is wearing all black clothing, including a tactical vest in which a large knife handle is visible.'
The unidentified wife was also wiring thousands of dollars to Naji to support his adventure.
Upon his arrest, Mohamed Rafik Naji was charged with attempting to provide material support to a terrorist organization.
The feds made the arrest three days before Thanksgiving as the NYPD remains on high alert for an ISIS inspired attack at the holiday parade. ISIS recently published an alarming article in its English language magazine calling the parade an 'excellent target.'
While the Thanksgiving Parade is not mentioned in Naji's complaint, court papers note that 'jihadist propaganda has long counseled followers to commit acts of violence like the one describe by Naji.'
Pursuant to Naji's arrest, prosecutors asked for the Brooklyn native be detained in federal custody pending a trial, saying he is a 'flight risk' and poses a 'danger to the community.'
Magistrate Judge Robert Levy on Monday ordered Naji held without bail.
Naji has a wife and three children in Yemen, and another wife with whom he is estranged in New York.