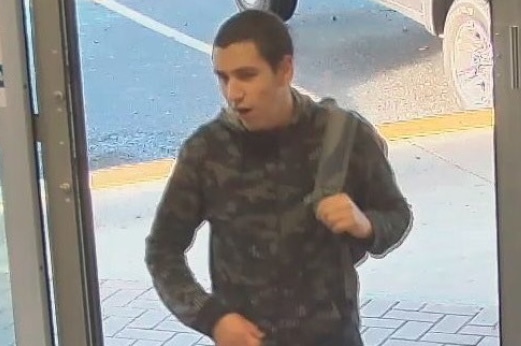 How did Gabriel Klein a transient mystery man come to target two schoolgirls at Abbotsford Senior Secondary? Police release photo in hope of spurring information.
British Columbia, Canada police on Thursday issued a photo of Abbotsford school stabbing suspect, 21 year old man, Gabriel Klein.
The image was captured by a security camera at an undisclosed location just hours before the attack at the high school, police say.
Yet despite the issuance of the image, police say they have more questions than they have answers.
'We need to determine who knows him, who knows of him, his history and anything about him for that matter,' said Staff Sgt. Jennifer Pound, spokeswoman for the Integrated Homicide Investigation Team.
Added Pound: 'Evidence suggests this attack was random,'
'We do not believe the suspect has ties to the school, to the two girls, or to the Abbotsford community."
Reiterated Pound who hopes the release of the photo will inspire someone who knows Gabriel Klein to step forward: 'There is very little information we have on Mr. Klein and for that reason we are asking for the public's assistance.'
'It is rare that we don't have a lot of those details about an individual, but from what we can determine he does not have a criminal record,' she said, adding that, because he appears to be homeless, it's 'difficult to canvas individuals who may know him.'
Why? Gabriel Brandon Klein stabs 2 Abbotsford students. Letisha Reimer dies.
.@HomicideTeam: Gabriel Klein, 21, has no fixed address. Frequents Vancouver area and has been in area since February/March. pic.twitter.com/eueaYr5HlZ

— Lasia Kretzel (@lkretzel) November 2, 2016
What we know so far about the suspect in the #Abbotsford school stabbings pic.twitter.com/geGzHKoBUb

— Simon Little (@simonplittle) November 2, 2016
In the aftermath of Tuesday's stabbing tragedy, which saw the assailant seemingly randomly walk onto school grounds and begin stabbing his victim, Gabriel Brandon Klein has officially been charged with second-degree murder and aggravated assault following.
One victim, identified as 13-year-old Letisha Reimer, died of her injuries in hospital.
The second victim, a 14-year-old girl, remains in hospital in stable condition. Police said the teen, Emily Isaak, aged 14, will have a lengthy and emotional road of recovery ahead.
A report via globalnewscanada tells police having few details about Klein and what may have motivated the 21 year old.
Originally from Alberta, the 21-year-old has been in Vancouver since February or March of this year but has no fixed address.
Edmonton police had not been made aware of any connection between Klein and the city as of Thursday. The Calgary Police Service told Global News it had not as of yet become involved in the investigation.
Of note, a report via cbcnews has confirmed that a man of the same name and age as Gabriel Klein faced four traffic charges in Calgary between 2014 and 2015.
The charges were three counts of tampering with a vehicle and one of boarding public transit without a valid pass.
That man did not appear in court for any of the charges. He was convicted and a warrant was issued for his arrest.
Klein was supposed to make his first court appearance on Wednesday but was unable to leave his cell on his own and was being restrained. He will next appear in court on Monday.
Investigators are asking anyone with information or contact with Klein, whether through social media or email, to please contact the police, IHIT or Crime Stoppers.
There is a memorial outside Abbotsford Senior Secondary and it continues to grow. pic.twitter.com/5q1SakhNeQ

— Greg Harper (@GS_Harper) November 3, 2016
A memorial for the two victims has been growing outside Abbotsford Senior Secondary School.
Flowers and gifts are being placed outside the school by students, teachers, parents and residents from around the Lower Mainland. Candles are also being lit to remember the two victims.
Police ask anyone with information about Gabriel Klein to call the homicide tip line at 1-877-551-4448, or call CrimeStoppers to remain anonymous.
The school will be closed until Monday.
Photo of Gabriel Klein taken just hours prior to the Abbotsford Senior Secondary Attack. Have info? Call #IHIT pic.twitter.com/rzrs8j60Fx

— IHIT (@HomicideTeam) November 3, 2016
Girl killed in double stabbing at school #Abbotsford identified as Letisha Reimer, age 13. Gabriel Klein, 21, on 2nd degree murder charge. pic.twitter.com/TfOnzGVaic

— Sonia Deol (@soniadeol1) November 2, 2016