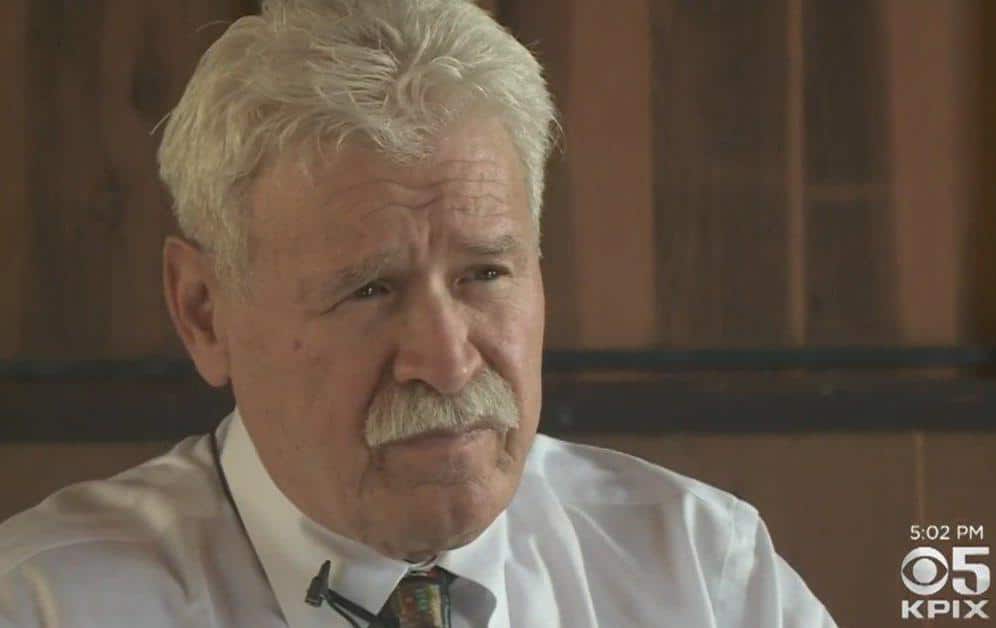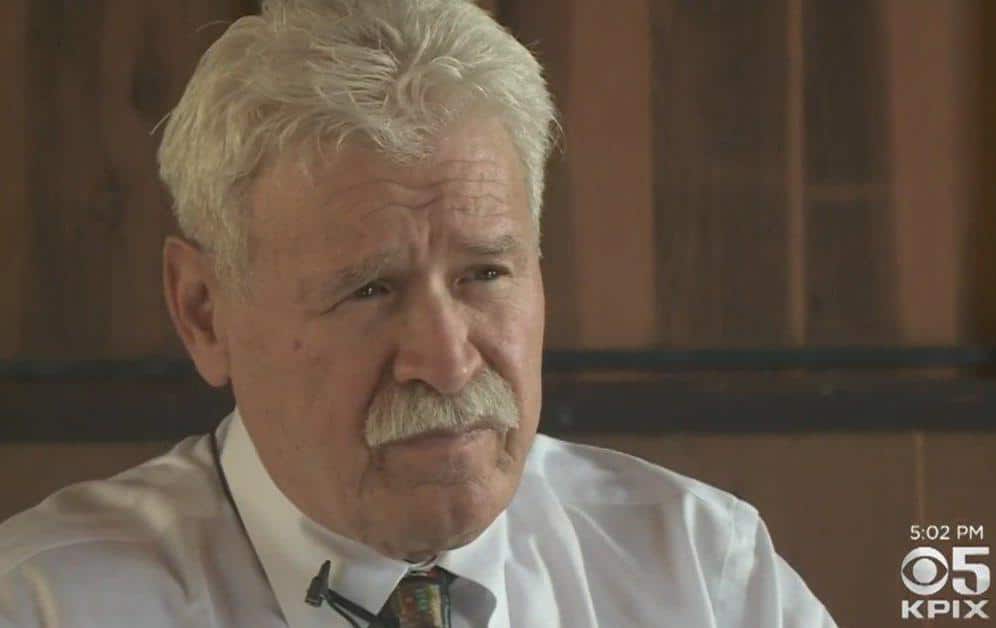 Frank Navarro suspended: Has a San Francisco school made the right decision to suspend a history teacher for comparing Donald Trump to Adolf Hitler?
Fissure has come to the fore after Californian history school teacher Frank Navarro came to be suspended after comparing Donald Trump's rise to power to that of Adolf Hitler.
Suspended with pay at the school he has taught at for over 40 years, Mountain View High, the San Francisco school teacher's ouster came after concerned parents contacted school administrators to complain after recent comments.
The teacher, a scholar of the Holocaust was sanctioned by the school's principal, Dave Grissom and school superintendent Jeff Harding after parents said the teacher called Trump and Hitler one and the same. A claim that Frank Navarro disputes.
Told the teacher via the SF Gate: 'This parent said that I had said Donald Trump was Hitler, but I would never say that. That's sloppy historical thinking.'
According to Navarro, the teacher said his lesson plan was based on historical fact and that Hitler's persecution of Jews and rise to power having 'remarkable parallels' to the president-elect's statements about Latinos, Muslims and African Americans during his bid for the presidency.
Reiterated Navarro: 'I told school officials, 'I'm not pulling these facts out of my hat. It's based on experience and work, and if I'm wrong, show me where I'm wrong. And then there was silence."
The history teacher stressed having made comparisons about how the two leaders rose to prominence including rhetoric about deporting foreigners and restoring greatness to the country. 
Added the history teacher: 'I think it makes sense. It's factual, it's evidence-based. It reminds students that history is real,' Navarro said.
But the school officials said given the climate following the election, the lesson was inappropriate.  
'Regardless of their political affiliation, many of our students show signs of emotional stress,' Grissom told parents in a letter. 
In making his decision to suspend Navarro, the school principal said the school has an obligation to be an 'emotionally safe environment' for students. 
That said, Grisson said that the school must also protect teachers and staff when unsubstantiated claims are made against them.  
Grissom said that the suspension is a 'time out' for Navarro.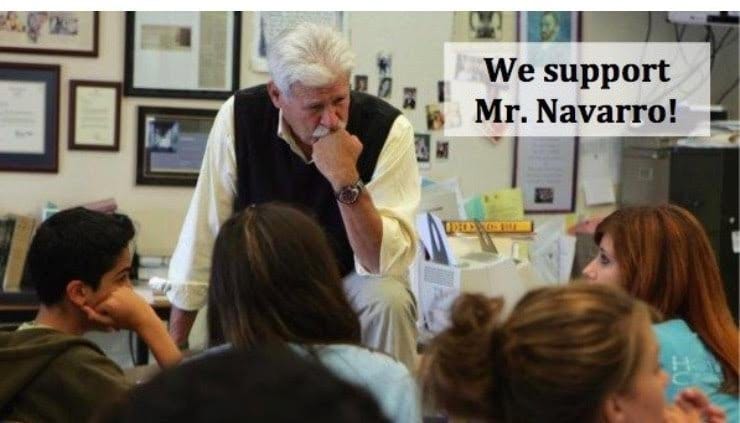 According to a since launched Change.org petition, Frank Navarro contends that it is his duty as a history teacher to ensure students are aware of bigotry and to point it out.
Notes the petition in part: '….it is dangerous and disgusting that the administration has decided to punish him for drawing parallels between two similarly dangerous moments in history,'
'Trump has openly built his platform on bigotry and blatant fascism. The KKK and other hate groups have endorsed him, and the number of hate crimes have sharply increased since the start of his campaign. To silence Trump's critics is to reward indifference, ignorance, and intolerance. We demand that the MVHS administration revoke Mr. Navarro's leave and publicly apologize for attempting to intimidate a respected educator. We will not stand for censorship and respectability politics.'
Told Navarro: 'I feel strongly about this: to stand quiet in the face of bigotry and to turn your eyes away from it is to back up the bigotry, and that's not what I, or any history teacher, should be doing in our work.'
Officials in the interim say they would wrap up an investigation into the claims soon.  
News of the teacher's suspension by way of the student newspaper, The Oracle led to 'outraged' parents and students saying Navarro should never have been suspended.
'Emails started flowing in to the principal late that night,' Navarro told the paper. 
The petition, which seeks to have an apology made to Navarro and his suspension lifted, as of late Sunday evening EST had received more than 20 000 signatures.
Wrote Frank Navarro's daughter in the petition: 'What Mountain View High School has done to my father is wrong. Discussing the connection between Trump and Hitler is important and relevant to history and the painful situation we are in now in this country.'
She added that her father was set to retire in June and that the school will be losing a beloved teacher.  
What do you think? Was Frank Navarro out of line to draw comparisons between Trump and Hitler, was he politicizing personal views or was the school wrong to capitulate in the face of criticism of a teacher's attempts to draw parallels as to overt bigotry and the support of racially intolerant points of views?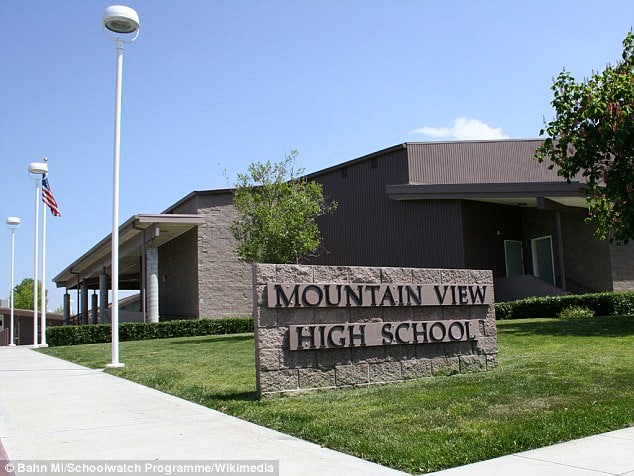 If #Obama got #NobelPrize surely history teacher Frank Navarro suspended for exposing parallels b/t #Trump & #Hitler deserves it? @CNN #US https://t.co/uoTq2tDVqi

— Ronan Tynan (@RonanLTynan) November 13, 2016
One parent tried to shut up Frank Navarro, but this badass teacher's lesson is now going viral. https://t.co/kXnk3XC1um

— Anthony Breznican (@Breznican) November 13, 2016