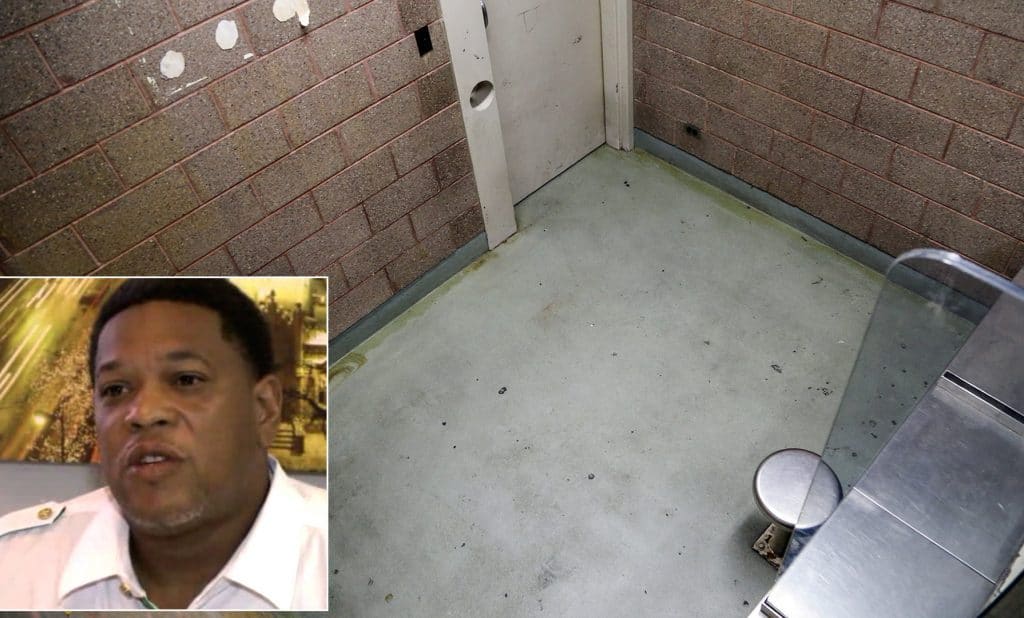 How did Farad Polk a father visiting his son at Chicago's County Cook jail end up being locked in a jail cell for 32 hours? Settles for $600K.
Farad Polk a black man who was accidentally locked up in a Chicago jail for 32 hours has been awarded a $600 000 settlement after filing a lawsuit.
The payout comes after Polk went to visit his son at Cook County Jail in July 2014 when he was told to 'go down the hallway and turn to the right.'
Doing as he was told, the father passed through a heavy steel door, with the door slamming shut behind him, only to find himself in a 8-foot-by-8-foot cell that was used as a visiting room for super-maximum security prisoners.
Because it was the weekend, the room was not being used at the time. Guards could not hear his cries for help.
Told Polk via NBC: 'I'm sitting there waiting for five minutes and say, 'This ain't right,'
'So as I turned around to buzz out, there was nothing to buzz out. It's just a room.'
The father was eventually rescued by Chicago Fire Department personnel after he broke a sprinkler head.
By then, Farad Polk had been trapped in the room for more than one day without food, water, bedding or a toilet, with the man in turn suing for emotional trauma.
Farad Polk feared he would not see grand kids again, describes being trapped in jail for 32 hours @fox32news pic.twitter.com/ZljZVbOYeK

— Craig Wall FOX 32 (@craigrwall) July 14, 2014
The father went on to say he could hear voices from outside the door as he continued banging away, with the man wondering whether it was an act of willfulness or pure negligence?
Ironically, upon his rescue the man was cuffed and questioned, adding insult to injury.
Of note, prior to his 'accidental' incarceration, the father told of having come to Cook County Jail every weekend for the last year to visit his son.
Told Sheriff's Department spokeswoman Sophia Ansari upon announced the settlement with Polk on Monday: 'As we said at the time of this very unfortunate incident, we are so very grateful Mr. Polk was found safely,'
'We are pleased that this matter has been resolved.'
Responding to the settlement the father said he feared he would die in the room, while Cook County Jail spokeswoman Cara Smith said Polk's experience was 'the perfect storm' and part of 'a set of bizarre circumstances.'
What do you think? Just an accident? A set of bizarre circumstances, carelessness on behalf of staff or a set of time worn preconceived prejudice's against minorities and black men that ensures that they many of them often spend time locked in jail?