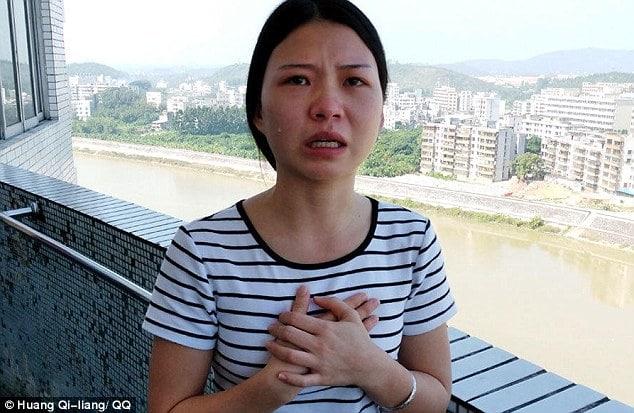 How Cao Mengyuan a mainland Chinese 19 year old teen turned to social media where she offered to sell herself to pay for her mother's medical treatment.
Cao Mengyuan a 19 year old Chinese teen has sold her body on social media in a bid to raise money to for her cancer stricken mother's treatment.
In a Chinese social media post the teen told of needing to raise as much as 350 000 Yuan ($51600 USD) or whoever offered the highest bid in return for the winner having the right to 'use her body at will.'
A report via the dailymail tells of an insider disclosing a 'generous boss' responding to the advertisement and agreeing to help the daughter cover her mother's medical bills.
That said the source declined to tell what the man intended to do with the daughter.
A report via  QQ.com told of Cao Mengyuan posting an online ad titled, 'I am selling myself' on Chinese social media platform, WeChat.
In her post, the daughter Cao claimed she was born and raised at a rural household in Gaozhou city of southern China. 
She said her mother was 45 years old and had been a farmer all her life.  
She also said her mother had been diagnosed with skin cancer recently and had been admitted into the Gaozhou People's Hospital for almost a week.
She added that her mother's health was deteriorating and serious infection had started developing on her right thigh. 
Cao said that to treat her mother's illness, they would need about 350,000 Yuan however her mother did not have medical insurance and her family would not be able to afford the cost.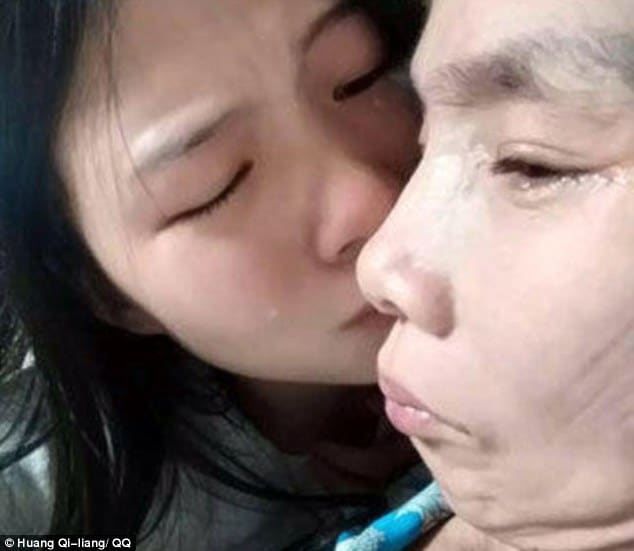 Wrote the daughter in her post: 'I wish that a kind-hearted person could buy me, so my mother can undergo the operation.'
The message went on: 'After the transaction, I am willing to work at the will of the buyer in return. I will do whatever the buyer asked me to do. I never go back on my word.' 
At the end of the post, Cao wrote: 'Everything I said is true. I will sell myself to the highest bidder.
At the bottom of the post the daughter left her contact number.
In her post which has since unsettled social media users, the daughter said she was the eldest of five children and that she was responsible for her family's misfortune.  
Local reports describe the daughter dropping out of high school due to her family's poor financial situation and currently working as a laborer picking up casual shifts.
She earned less than 1,000 Yuan ($147 USD) every month to support her family members, including her elderly father and young siblings. 
In addressing the mother's deteriorating health, doctors at the Gaozhou People's Hospital suggested the Cao's mother, Wu Zhaofang, be transferred to a larger hospital.
However, Cao and her family couldn't afford to do so. 
Wrote one social media user: 'If I were her, I might do the same thing.'
Another one said: 'Rich kids can spend 350,000 yuan in a few months, while it's astronomical for a poor family.'
While another reflected: 'Although she's innocent, I really don't think we should encourage such behavior.'
Huang Qiliang, the founder of a Chinese charity, told the dailymail that Cao's story was true.
Mr Huang runs Gong Yi Pai Ke, an nonprofit organization which helps connect donors with people in need of medical funds and tuition fees.
He told the tabloid that he visited Cao and her mother at Gaozhou People's Hospital on November 6. 
Mr Huang also said that a 'generous boss' had agreed to pay all the medical bills for Cao's mother after seeing Cao's post.
Mr Huang declined to reveal what the man intended to do with Cao. 
However, he added: 'It has been settled. She doesn't have to sell anything now.'
Cao's mother is expected to receive operation in the future.