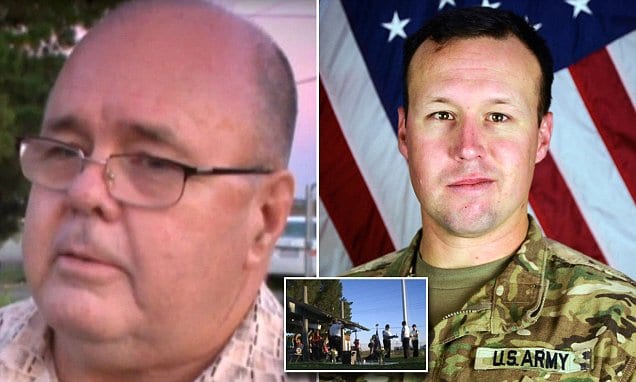 Army Sgt. John Perry family booed on American Airlines: Did passengers go too far expressing their contempt after being made to wait for a Gold Star family? 
Stewart Perry the grieving father of an Army solder killed in Afghanistan has told of his family being booed by American Airlines passengers after they flew in to meet his son's body coming home.
Sgt. John Perry a 30 year old combat instructor was killed in a suicide attack at Bagram Airfield on Saturday, along with Pfc. Tyler Iubelt and two American contractors.
A report via KOVR-TV told of Perry stumbling upon the suicide bomber short of his target and possibly saving the lives of hundreds.
Having gone to retrieve his son's body's remains, the father told via the Army Times of first class passengers jeering at the man and his family after learning their plane had been delayed to make way for Sgt. John Perry's family.
Upon the plane landing, the captain told passengers to remain seated so the Perry family could leave first to make their connection on to Dover Air Force Base in Delaware where they were scheduled to collect their son's remains.
Told the father: 'When he made that announcement, there was some hissing and some booiing behind us.'
Although, Perry, a Marine veteran, doesn't remember the captain telling everyone the reason they had to stay seated, the father said the captain nevertheless mentioned 'military personnel.'
Stewart Perry went on to mention passengers being aware at the time there was a Gold Star family on board.
Recalled Perry: 'The woman sitting directly behind us touched me on the shoulder and asked if I was the father of the soldier killed in Afghanistan.'
Flag retirement ceremony for Sgt.John Perry of Stockton,Ca. killed by suicide bomb at Bagram Airfield, Afghan.Survived parents/sister Salute pic.twitter.com/PpMViTRaqH

— I love my U.S.A (@WEdwarda) November 18, 2016
In an alternative interview with the Stockton Record, Stewart Perry said he didn't know if the passengers knew there was a Gold Star family on board, with the father saying the captain told passengers a 'special military family' had to leave first.
Reiterated the father, 'It was just disgusting behavior from people in first class. It was terrible to see.'
'To hear the reaction of the flight being delayed because of a Gold Star family, and the first class cabin booing that was really upsetting, and it made us cry some more.'
In coming forward Stewart Perry has told of his outrage and the 'lack of care from people who don't serve,' while critiquing what he calls increasing disrespect towards military service members.
Sgt. John Perry will be laid to rest at Arlington National Cemetery.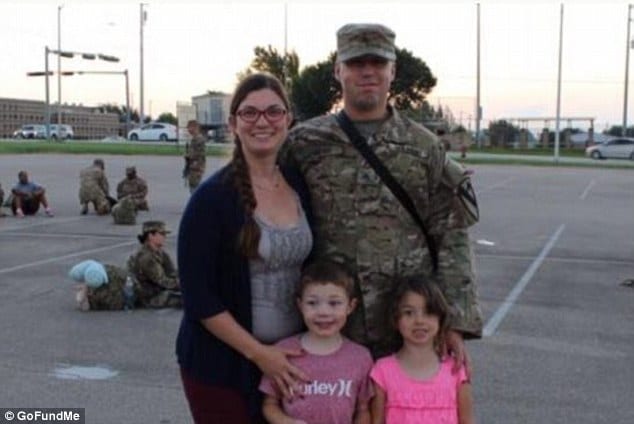 And then there were these comments on the web that caught my eye, see what you think?
Disrespect for the military goes back at least to Viet Nam. There has been destruction of veteran's grave markers, the flag, the anthem and disruption of veteran's funeral services. All of this protected disgracefully by the courts under "Freedom of Speech and Expression".
We Vietnam Vets got that kind of welcome home. But this Vet gave his all to our country must be respected and honored. Thank You Sgt. Perry for all that you have done for our Country. You are our Hero.
The liberal 1st class passengers know nothing of sacrifice …. bet the 'working class' in the back of the plane never boo'd. This is why Trump won!
Is there video of it?  I know we hate opposing political parties but we do come together with the military.  Someone died serving this country and their parents were booed?  Not believing that for a second. How would the people on the flight know why they were on the plane? Don't believe that at all.
As an American…I am ashamed of people who seem to believe that they are "entitled" to be disrespectful…and that they always have an excuse to back up their "entitlement". Have we no empathy? To the Perry Family…I am so, so sorry that your son was killed. I am sorry that your son paid the ultimate sacrifice keeping every person in America free.
I'm a veteran, but there is enough information available for people to see that there is no reason to join the military so the 1% can deepen it's pockets in the middle east. We are not fighting for freedom in the middle east. We are fighting so that Bush family, the Rothschilds, etc can deepen their pockets with Oil money and Arms Sales. People are tired of it. Stop being blind patriots and start thinking. This kid did not die for a worthy cause. He died making rich people richer under the guise of statism. Wake up America!