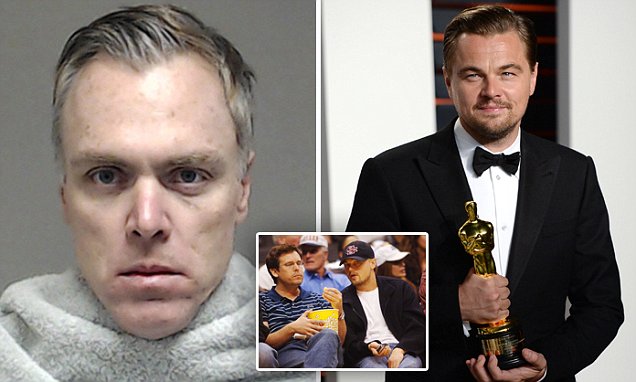 Adam Farrar Leonardo Decaprio step brother explains in an exclusive how he wants his younger brother to take him back after cutting him off. Torture and regret in Hollywood.
In an exclusive, Adam Farrar the elder step brother of actor Leonardo DiCaprio has told of wanting to reunite with his younger sibling after cocaine drug addiction led to the siblings falling out.
Living a hand to foot mouth existence, the 45 year old elder brother has told via the dailymail of his desire to reconcile with his multimillionaire brother after drug addiction led to DiCaprio refusing to speak to Farrar.
In a sobering account the elder brother tells of his younger brother refusing to return calls and ostensibly casting himself out of the elder brother's life as he struggles to make due in the fickle business of entertainment scene painting.
While DiCaprio has managed to parlay a successful acting career which has led to the actor accumulating vast riches, including a $18.5 million Beverly Hills mansion, a $10 million Malibu beach pad and a $15 million New York penthouse, along with his own palm-fringed private 104-acre island off Belize.
Adam Farrar's home notes the recovering addict is a rented ramshackle cottage in a rundown suburb of LA – with a garden full of weeds.
Leonardo DiCaprio is turning his $1.75 million, 104-acre private island in Belize into a luxury eco-resort. https://t.co/En6JZ6huMt

— Mindful Living (@mdnfuliving) November 17, 2016
Reflects the brother: 'We were once so close,'
Adding, 'I loved him and I still do. But we've not spoken in a couple of years. The last time I saw Leo was at his birthday party a couple of years ago.
'I'd been invited by another friend. Leo was pleased to see me and gave me a hug. But when I try to call him, my messages go unanswered. He has a whole team around him now and it's impossible to penetrate that wall of hangers-on.'
Farrar's heavy drug use (he insists he is now clean) notes the exclusive has left Farrah's face and slight body gaunt from after years of drug abuse.
With his partner Charity, Farrar tells of struggling to make ends meet, with the couple's ten-year-old Normandie, cared for by Leonardo's father George and Adam's mother, Peggy, after she was removed from her father's care in 2014.
In choosing to come forward to the dailymail, the elder step brother tells of deciding to break a lifelong vow of silence to say how his younger brother's fame, the drugs and the temptation that came with his celebrity lifestyle, tore their relationship apart.
Offers the elder brother of DiCaprio who these days has immersed himself in environmental causes: 'Leo wants to save the world but he seems more concerned about the environment and climate change than he does about his own brother. It hurts.'
Baby Leonardo DiCaprio with his mom and dad, 1976. pic.twitter.com/TLDLXHNwf9

— History In Pictures (@HistoryInPix) November 16, 2016
Although the step brother's are not genetically related, Farrah tells of the brothers growing up 'having a bond that was thicker than blood'.
Reiterates Farrar: 'I loved having a little brother, and we got along really well,'
Adding: 'Leo was very light blonde when he was young, and he used to get mistaken for a girl, though his hair grew darker with age. He was always a good-looking kid.'
From there the elder step brother recalls growing up episodes which he describes as childish tantrums.
Explains the elder step brother: 'A couple of times Leo tried to run away from home after arguments. I remember him as a six-year-old packing his clothes in a suitcase and marching off down Hollywood Boulevard. I wanted to run after him but his mum said, "No, no. If he wants to run away, let him."
Eventually the younger brother came home.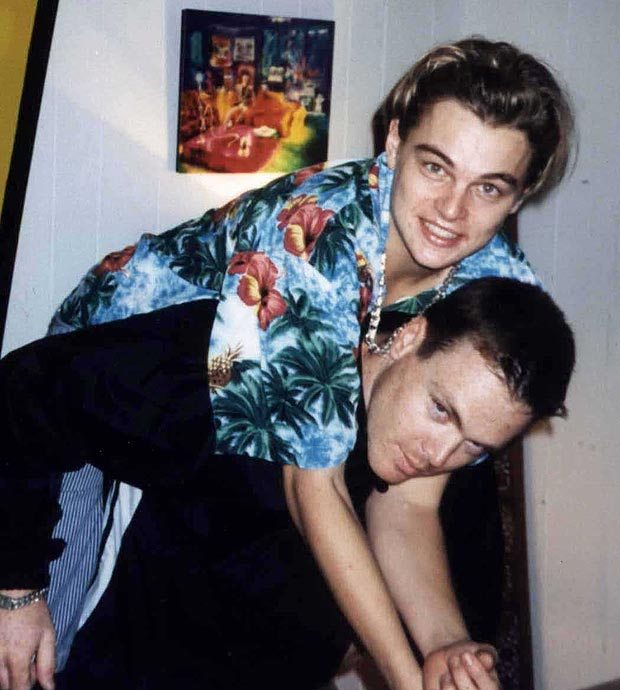 From there the reader is offered an account of the two former close brothers playing video games together, riding BMX bikes, and 'playing handball for hours against a parking lot wall,' along with the brothers busking for cash during bouts of  breakdancing downtown.
An account of the two brothers growing up in Los Feliz in the 1970s, tells how 'things could be wild.'
Explains Farrar: 'Leo and I would see people smoking marijuana and snorting cocaine. I think that exposure left Leo with an aversion to drugs. It bothers him if anyone lights up a joint around him.'
Close as the brothers may have once been, the elder step brother hints of the two brothers 'not always treated equally'.
Explains the stymied elder brother: 'Leo was George's son, and he naturally showed more affection to Leo,'
'At Christmas, Leo would have a big pile of toys, and I'd have just a couple of gifts in the corner. Leo was sent to private school, while I went to the local state school. Our parents gave us love but I felt Leo was favored.'
Happy Birthday to the love of my life, Leonardo DiCaprio! ❤️ pic.twitter.com/9aMpvTsbUQ

— Boy Crushs (@myboycrushs) November 11, 2016
The reader is then told Farrar leading the way into show business.
Starting at the age of six the elder brother tells of being asked to audition for a commercial and a string of adverts, along with minor TV roles. Roles that the elder brother reckons influenced his younger brother to try his luck too.
Offers Adam Farrar: 'Leo saw what I was doing and that's what got him interested in acting. He hated school and when he saw I was making good money and you could be schooled on set, he asked if he could do it too.
'Leo started acting when he was about nine or ten, starting with a Matchbox toy car commercial, which led to other jobs, and though he wasn't an overnight success, he stuck with it, because the alternative was homework. As a child actor he only had to study a couple of hours a day on set.'
As things developed the younger brother's career soon eclipsed that of his elder brother's, with the younger Leo landing a role on the American television series Growing Pains then, at 16, being picked by Robert De Niro for This Boy's Life, which led to Dicaprio staring in series of critically-acclaimed independent films.
Yet it wasn't until the Titanic came along in  1997, taking in $2.5 billion at the box office that turned DiCaprio into a worldwide sensation.
Reflects Farrar: 'Leo was actually convinced he'd made a terrible mistake with Titanic. He was convinced it was going to be a flop. Then he became the biggest star in the world.'
As DiCaprio's star soared, his brother became his de facto bodyguard, best friend, and 'party buddy' notes the dailymail, while running his growing fanclub from the family garage.
Soon after Adam Farrar squired the role of being a central ring-leader in his younger brother's cache of new high profile industry friends, which included Spider-Man star Tobey Maguire, Ben Affleck and Mark Wahlberg.
Tobey Maguire and Leonardo DiCaprio bowling, 1989. pic.twitter.com/mzPCg5h4d3

— History In Pictures (@HistoryInPics) November 17, 2016
Success and fortune led to DiCaprio dating a string of supermodels including Giselle Bundchen, while shunning drugs; his brother, in contrast concedes becoming engulfed by endless parties with their offers of 'free women and free cocaine'.
Asked if he blames his younger brother's success for his decline into addiction, Farrah insists no.
Offers Farrar: 'It was a heady world and I embraced it. I'm a grown man and I'm responsible for my own actions. I don't blame Leo for that.'
Parlaying onto his brother's success, Farrar began touring as part of his younger brother's entourage, the parties, the toys, the gifts along with endless 'freebies,' and of course the endless 'drugs' which Farrah took to with abandon and relish.
By 2008, Adam Farrar's marijuana and cocaine habit had turned into a serious heroin addiction which in turn led to  his younger brother beginning to keep his distance.
Can you guess why?
Explains the down and out brother: 'I was arrested five or six times for petty theft, shoplifting from supermarkets, trying to support an opiate addiction of half a gram to a gram a day,'
Adding: 'Leo and I never had an argument. But he started surrounding himself with people that didn't want me around. He's the biggest star in the world and there's me, messed up on drugs. I was slowly shut out of his world.
'Finally I got tired of going in and out of jail. I've been off heroin since 2013.'
Nevertheless an outstanding warrant for driving with a suspended license led to Farrar being jailed in Texas for ten days in 2014.
Leonardo DiCaprio's step-brother is on the run from police https://t.co/9PCkgr3OCT pic.twitter.com/uBpFhjbq5H

— Daily Star (@Daily_Star) March 7, 2016
Also worth mentioning is an episode in 2013 which saw Adam Farrar on the run from police, staying with his brother for a couple of days before disappearing along with declining to return Dicaprio's calls 'who was worried sick over his elder brother.'
At the time, DiCaprio's reps released a statement saying that 'his younger brother has tried to stick by Adam but their relationship has become increasingly more difficult in recent years.'
Offered a source via the Sun in another episode in March of 2016 which saw Farrah missing a court date for petty theft: 'Adam continues to run away from responsibilities and it's going to land him in jail again.
'He's struggled before with drugs and although he makes promises to get clean, he gets caught up in something else.
'Leo is sympathetic but this is the latest in a long line of offenses and he's at the end of his tether.'
'He got fed up with Adam asking to borrow money and not paying it back. No one
knows where Adam and Charity have gone.'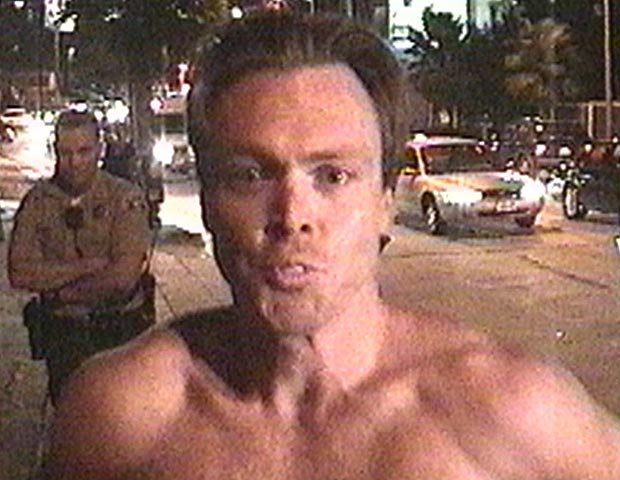 In his confessional (can we describe it as such?), Adam Farrah reckons he has publicly come out 'in an attempt to reach out to his brother and repair their severed relationship – and because he is desperate to see his daughter.'
While Farrar says he doesn't believe DiCaprio was directly involved with him losing custody of Normandie, he thinks the famous name swayed the judge in the case.
Laments the brother: 'I admit to making mistakes but Charity and I have not seen our daughter in two years. All we want is for Normandie to know her parents. In this town, the DiCaprio name and money counts for a lot. My mother used Leo's name in court and I am sure that influenced the judge. I don't want anything from my brother but I'm the only brother he has. I just want him in my life. And I want to see my daughter.'
Surprisingly the elder brother goes on to say far from envying his brother's riches and success,  he pities him.
Explains Farrar: 'I see his life now, the fact that he's still doing the partying and hanging out with models, and I feel sorry for him. He hasn't grown up.
'I've been with the same woman for 17 years and have a kid, but Leo's still a playboy.
'When he first got famous he told me how lonely it felt. How he didn't know who he could trust. I think that's part of why he is like he is now. He's seeking something to make his life complete. I hope for his sake he finds it.'
What do you think? Will Leonardo DiCaprio be reaching out to Adam Farrar anytime soon? Or is it painfully obvious as it is to this author why Adam Farrar's step brother was left little choice but to keep his distance.