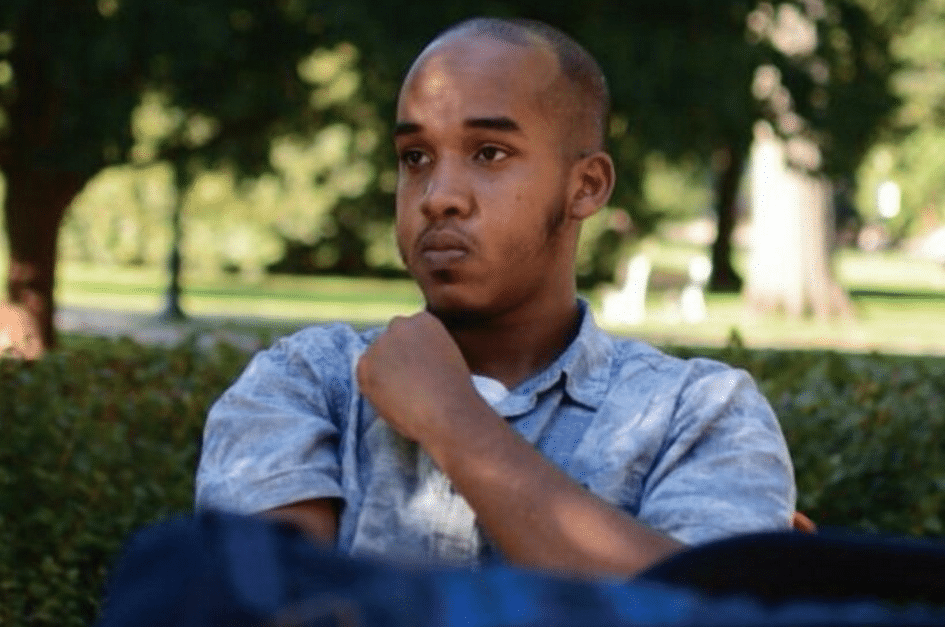 Abdul Artan Facebook post: A declaration of intent? Was one man's expression of rage towards the treatment of Muslims tantamount to terrorism? 
Laying credence to the notion that Wednesday's attack at Ohio State University which left eleven injured, one critically was a premeditated attack were Facebook posts that Abdul Razak Ali Artan made hours before.
The posts came shortly before the 18 year old OSU student/ Somali refugee drove into a crowd of passerby's on campus before then slashing at them with a butcher's knife.
Posted Abdul Artan on Facebook, two hours before this morning's 9.52am attack: "I am sick and tired of seeing [Muslims] killed & tortured EVERYWHERE,'
'I can't take it anymore. America! Stop interfering with other countries, especially the Muslim Ummah. We are not weak. We are not weak, remember that.'
The post notes a report via abcnews also invokes the name Anwar Al-Awlaki, a radical American-born al-Qaeda cleric, describing him as a 'hero.' Al-Awlaki was killed in 2011 but the cleric's call for action has been linked to several domestic terrorist attacks in the years after his death.
Continued the post: 'If you want us Muslims to stop carrying lone wolf attacks, then make peace,'
Adding: 'We will not let you sleep unless you give peace to the Muslims.'
The post, which was on a page that appears to have since been disabled, takes the form of a photo of a computer screen displaying a text document.
The attack comes as the Islamic terror group, ISIS has been urging its followers in recent weeks to copy the vehicle attack that took place in Nice, France, when 84 people were killed by a terrorist driving a semi-truck through a Bastille Day celebration. And it comes two days after the terror group published a video instructing followers on how to use a knife to attack non-believers.
Of note, ISIS is not mentioned in Abdul Artan's Facebook post.
In the interim, a report via foxnews told of law enforcement saying that the FBI was combing through Artan's digital history and devices to see if he had contact with any suspected terrorists and for any traces of terrorist propaganda.
The suspected shooter at OSU, Abdul Razak Ali Artan, was featured in the school newspaper in August: pic.twitter.com/o1bZ3uV7Ri

— al tompkins (@atompkins) November 28, 2016
Did Abdul Artan act on behalf of ISIS? Lone wolf attack?

Officer Alan Horujko to OSU Somali refugee attacker: 'Drop it or you're dead!'
Terrorism? Abdul Artan Ohio State University Somali refugee-student i'd in attack
The OSU rampage comes just three months after Artan was interviewed in OSU's college newspaper, The Lantern, where he discussed his troubles finding a place to pray on his new campus.
Told the Muslim man at the time: 'I wanted to pray in the open, but I was kind of scared with everything going on in the media. I'm a Muslim, it's not what the media portrays me to be,'
Adding: 'If people look at me, a Muslim praying, I don't know what they're going to think, what's going to happen. But I don't blame them. It's the media that put that picture in their heads, so they're just going to have it, and it — it's going to make them feel uncomfortable.'
Perhaps not surprisingly the revelation of the OSU attacker acting in homage to his Muslim faith has once again led to calls from commentators as to why the government continues to let Muslim immigrants into the country, with many arguing that vetting doesn't work, while others questioning whether the actions of one militant is necessarily representative of most Muslim attitudes?
Sources: Authorities reviewing Facebook post from earlier 2day to see if connected to #OSU suspect. Posting cites Anwar Awlaki & Burma (1/3)

— Mike Levine (@MLevineReports) November 28, 2016
Posting says: "I am sick and tired of seeing [Muslims] killed & tortured EVERYWHERE. … I can't take it anymore." (2/3)

— Mike Levine (@MLevineReports) November 28, 2016
Posting adds: "America! Stop interfering with other countries … [if] you want us Muslims to stop carrying [out] lone wolf attacks." (3/3)

— Mike Levine (@MLevineReports) November 28, 2016