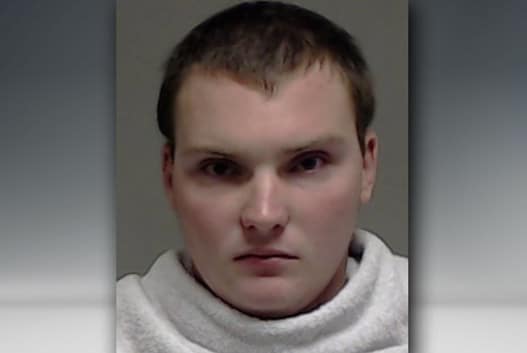 What led to Jordan Sullivan a 21 year old Texas husband shooting dead his recently married wife, 21 year old woman Kayley Winburn? 
Jordan Sullivan a 21 year old Texas husband faces one count of murder after shooting dead his newly married wife over the weekend.
A statement via the Collin County Sheriff's Office said they had arrested Jordan Andrew Sullivan circa 4.20 am Sunday morning in relation to the shooting death of his wife, 20 year old woman, Kayley Kathryn Winburn.
According to a report via wfaa, Sullivan was allegedly en route to hand himself in to police at the time of his arrest.
A police report told of the Winburn dying of a single gunshot wound to the head after her 21 year old husband shot her at their rural Collin County home along County Road 329 in McKinney. 
Upon arriving at the couple's home, an arrest affidavit noted deputies being met by a concerned family member outside the house.
Upon entering the home they discovered the deceased wife, along with a shotgun and rifle on a bed along with observing blood drops on the floor.
The arrest affidavit noted Jordan Sullivan allegedly having blood on his left forearm, his right hand and his t-shirt and jeans. He told deputies he had shot Winburn. Pressed, the husband declined to offer further details.
Deputies have yet to release a motive for the shooting.
Sources say Jordan Sullivan shot&killed his wife at their home, they just married a few months ago. He's now in jail for murder @FOX4 pic.twitter.com/9ykqYOXUa7

— Lynnanne Nguyen (@LynnanneFOX4) October 30, 2016
According to DallasNews.com, the couple had only been married for a few months. 
Neighbors interviewed by fox4news said they're shocked and saddened to learn of the murder.
Told one neighbor: 'That is so sad because they were so young, and she just seemed to be so sweet when I talked to her. That's sad. I hate to hear that. But if he's in jail, that's probably going to be the best thing for this neighborhood.'
According to posts on Twitter, Winburn was well loved.
'My heart goes out to Kayley Winburn and her family,' one user named Brooke wrote. 'Rest in peace beautiful angel.'
A Twitter user named Mallory Winburn, who appears to be the victim's sister, wrote: 'Rest in peace my sweet, beautiful sister Kayley. You will be terribly missed'.
Since his arrest, Jordan Sullivan remains remanded at the Collin County Jail on $250,000 bail where he waits formal arraignment.
Rest in peace to my sweet, beautiful sister Kayley. You will be terribly missed ❤️ pic.twitter.com/0Y3HpDYR7b

— Mallory Winburn (@mallorywinburn_) October 31, 2016