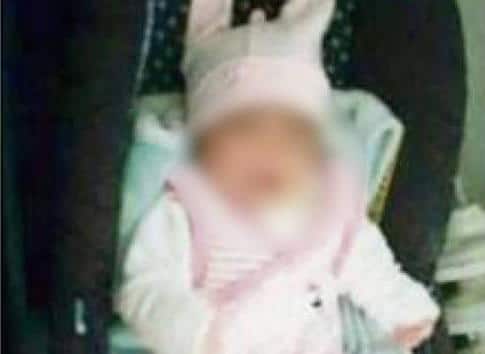 Duisburg German baby for sale Ebay: Authorities are now investigating a case of a seller trying to off-load a 40 day old baby girl as a possible case of child trafficking.
German authorities have yet to tell whether a one month old baby offered for sale on eBay for 5,000 Euros ($5, 505 USD) was real or a hoax.
Disconcert came to the fore after images of a black haired baby living in the West German city of Duisburg appeared on the auction site, dressed in a series of onesies under the banner title, 'Child, 40 days old named Maria … for sale'.
A report via the mirror tells of the ad being removed from eBay within thirty minutes after viewers posted messages condemning the purported sale, while reporting the 'breach' to administrators.
Pierre Du Bois, an eBay spokesman, said the site informed the police as soon as it became aware of the matter.
Told the rep: 'We received a lot of complaints from users and we immediately pursued the matter.'
'In such a case, we provide the authorities with all available information.'
He added that it wasn't clear whether the ad was real or a hoax, noting that eBay has had its fair share of fraudsters in the past.
'We immediately ban these providers,' Du Bois said. 'We have specially trained teams which keep track on such cases and quickly react.'
Social media commentators in the interim remain divided as to whether the advertisement for Maria was legitimate or not, an attempt at simply at a bad joke. Others questioned what prompted the idea to sell the child on the commerce auction site…while others expressed concern for the well being of the child, urging authorities to investigate the matter.
German media reports that Duisburg police have now initiated an investigation on suspicion of trafficking / child trafficking.