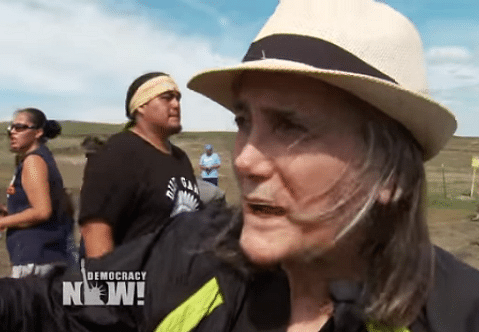 Amy Goodman North Dakota riot charges over Dakota Access Pipeline project. How new charges conflict with first amendment rights and the future of reporting.
Democracy Now founder and principal reporter Amy Goodman has told she intends to turn herself into North Dakota authorities on Monday after being charged with participating in a riot while filming Native American Indians anti pipeline protesters.
The charges, courtesy of North Dakota's State's Attorney Ladd Erickson come after the lawmaker previously dropped trespassing charges against the journalist, due to the difficulty of making such charges stick, choosing instead to up the ante against Goodman who on the day of filming was acting in her capacity as a reporter.
Both sets of charges stem from Goodman's coverage (which until then had been ignored by the corporate press, surprised?) of Native American's protests in September against the Dakota Access Pipeline project.
The protests against the $3.8 billion oil pipeline project comes over concern by indigenous groups over what they claim is the transportation of Bakken crude oil through sacred sites and burial grounds of the Standing Rock Sioux tribe. Tribe members also fear the project could lead to the polluting of the Missouri river, the source of their drinking water and millions of others should the pipe ever rupture.
Legitimate concerns one assumes that would curry the curiosity and news worthiness of a media outlet, and public interest, never mind if the individuals calling for action are historically detested indigenous groups.
The protests according to the nation commenced in April to scant media notice, escalating over the summer months, with the activist organization representing the 'largest mobilization of Native American activists in more than 40 years.'
Upon her arrival with Democracy Now film crews on September 3, Goodman came across protesters being pepper sprayed and set upon by dogs.
It's there that Goodman set about asking security contractors questions.
'Why are you letting the dog go after the protesters,' Adding, 'It's covered in blood!'
At the time, Morton County Sheriff's Department released a statement saying: 'Once protestors arrived at the construction area, they broke down a wire fence by stepping and jumping on it,'
'According to numerous witnesses within five minutes the crowd of protestors, estimated to be a few hundred people became violent. They stampeded into the construction area with horses, dogs and vehicles.'
Goodman's story, posted to Facebook on September 4th, has since been viewed more than 14 million times, before eventually being picked up by mainstream media outlets.
Three days after the segment aired, a report via the atlantic told of the Obama administration announcing a temporary ban on the pipeline project along with asking Dakota Access to 'voluntarily' cease construction altogether.
Responding to the upped charge against her, Amy Goodman told via Democracy Now:
'I came back to North Dakota to fight a trespass charge. They saw that they could never make that charge stick, so now they want to charge me with rioting,'
'I wasn't trespassing, I wasn't engaging in a riot, I was doing my job as a journalist by covering a violent attack on Native American protesters.'
On Monday morning, Goodman will be required to report to local authorities at the Morton County-Mandan Combined Law Enforcement and Corrections Center in Mandan, North Dakota. District Judge John Grinsteiner will then decide whether there is probable cause for the riot charge.
A decision which could have dire consequences for the freedom of journalists and reporters to explore stories of public interest and their ability to be protected under their first amendment rights to their point of view.
Asked by the Grand Forks Herald as to why Ladd Erickson was pressing ahead with charges which carry penalties and jail time, the lawmaker responded that he did not, in fact, consider Goodman a journalist.
Said Erickson: 'She's a protester, basically,'
'Everything she reported on was from the position of justifying the protest actions."
Reiterated Erickson via The Bismarck Tribune: 'I think she put together a piece to influence the world on her agenda, basically. That's fine, but it doesn't immunize her from the laws of her state.'
Which is to say, it's only journalism as long as Amy Goodman views agree with the corporate entities interests she's come along to question?
Notes the nation: 'She is not a journalist, because she harbors a strong perspective, and that perspective clashes with his own. By the same distorted logic, every muckraking news gatherer from Ida Tarbell and Upton Sinclair on through I.F. Stone, and, yes, today's Matt Taibbi (whose work Erickson apparently admires) was not a journalist but an activist flirting with arrest.'
Reacting to the charges, Carlos Lauría, senior program coordinator for the Americas at CPJ, said in a statement: 'This arrest warrant is a transparent attempt to intimidate reporters from covering protests of significant public interest,'
'Authorities in North Dakota should stop embarrassing themselves, drop the charges against Amy Goodman, and ensure that all reporters are free to do their jobs.'
But it's not only Goodman who faces the ire of the oligarchy and capitalist's self interests at the expense of the greater public, a report via IndieWire also notes documentary filmmaker Deia Schlosberg facing felony and conspiracy charges that could carry a 45-year sentence for filming at the protest.Noted techcrunch: Edward Snowden noted Schlosberg's predicament on Friday with a tweet that said, "This reporter is being prosecuted for covering the North Dakota oil protests. For reference, I face a mere 30 years.'
Welcome to a brave new world indeed ….
This reporter is being prosecuted for covering the North Dakota oil protests. For reference, I face a mere 30 years. https://t.co/GzMbwCVV40

— Edward Snowden (@Snowden) October 14, 2016
The US is crossing a line in charging Amy Goodman for her coverage in North Dakota. https://t.co/WXZ6fgZ0qu

— Tim Pool (@Timcast) October 15, 2016
North Dakota we are watching

Suppressing & intimidating journalists is the action of Dictators#NoDAPL #AmyGoodman https://t.co/6e7pobLdSZ

— Mara McEwin (@maramcewin) October 16, 2016
America is rapidly becoming Anti-American. Journalist facing prison but CEO's never see a day in court. #oligarchy https://t.co/JQvH8ZjTei

— Arabs For Bernie (@ArabsForBernie) October 16, 2016