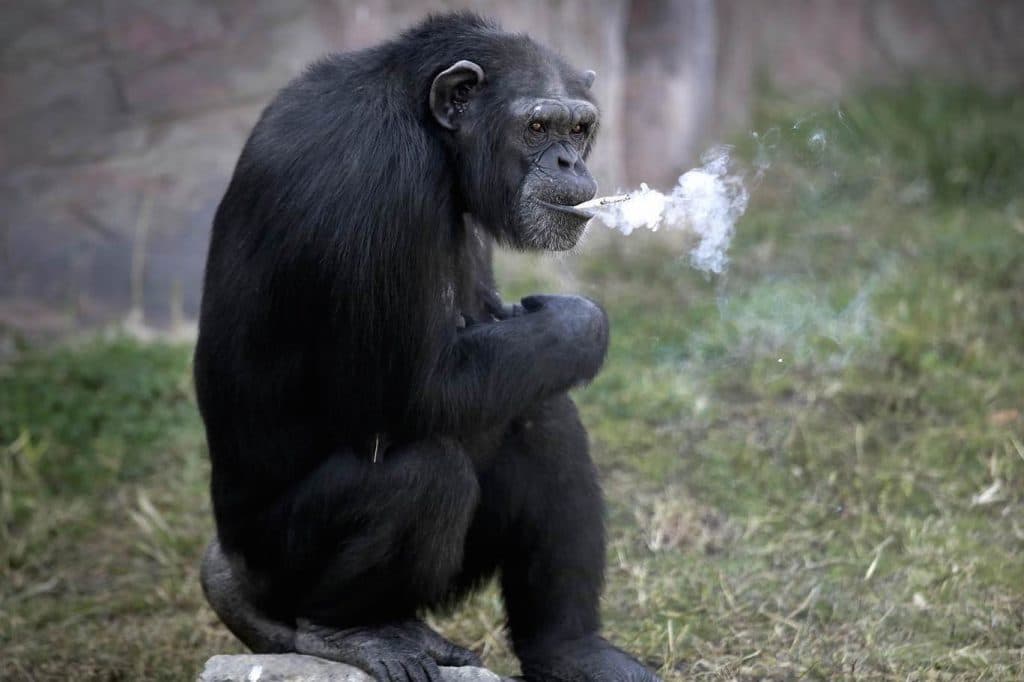 North Korean smoking chimpanzee, Azalea has caused a sensation as she continues to pack them in. But at what cost? 
Entering tabloid ennui with aplomb is North Korea's Azalea who has caused disconcert and wide curiosity courtesy of her unrelenting smoking habit. A chimpanzee that smokes you say? Yes, follow Azalea into her pen this way …
The good cheer comes with news that Pyongyang, North Korea officials have newly reopened the local zoo with officials showcasing the zoo's main attraction, 19 year old Azalea (Korean name 'Dalle'), the smoking chimpanzee.
The renovated zoo which has quickly become local's favorite to go leisure spot (can you guess why…?) since reopening in July has seen throngs coming to visit its star attraction.
While zoo officials might be pleased with booming attendance, some have conjectured at what price? A smoking chimpanzee wonder animal rights activists does little wonders for any living organism's health. Especially an animal held in captivity, away from its natural habitat.
Not to fear insist zoo officials: 'Azalea doesn't inhale.'
Notes the nypost: 'Thrown a lighter by a zoo trainer, the chimpanzee lights her own cigarettes. If a lighter isn't available, she can light up from lit cigarette if one is tossed her way.'
Indeed!
While some continue to wonder about zoo officials claims and wage disconcert over the chimp's health, zoo officials say that Azalea is slowly beginning to wean off her smoking habit, having cut back from 50 cigarettes a day (which is over 2 packs a day) to merely 20 cigarettes a day. A habit that might see an uptick as the thousand or so visitors continue flocking the new North Korea zoo and paying homage to its star attraction….
They'll be moving pianos and riding the Tour de France before you know it https://t.co/NanahgZOAz

— Anthony Giddings (@TurtleGidds) October 19, 2016
North Korean zoo's star attraction is a chain-smoking chimpanzee https://t.co/S0qXqzNf2K pic.twitter.com/oax1K4lk5s

— Donald J. Trump (@DTrumpWorld) October 19, 2016