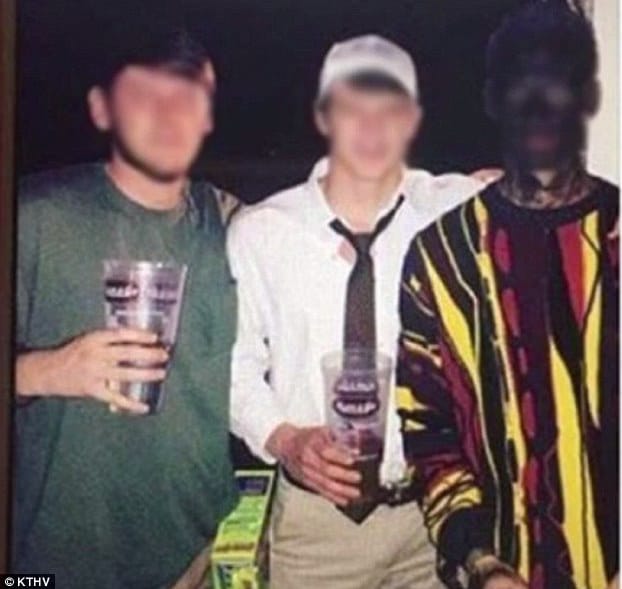 Brock Denton Bill Cosby Halloween blackface: How a University of Central Arkansas sophomore student found himself courting controversy.
It wasn't so funny after all….not this Halloween anyway.
Brock Denton a white University of Central Arkansas student has been expelled after a photo of the sophomore showing himself in blackface, apparently portraying black actor Bill Cosby.
Also suspended was the sophomore student's fraternity chapter after Denton posted a private photo on instagram of himself alongside two other white men thought to be members of the since suspended fraternity.
In the aftermath of the image making rounds, Denton told online he was 'scared for my life' after receiving death threats over the controversial costume.
According to student newspaper, The Echo, Denton's fraternity, Sigma Tau Gamma, held its Halloween party on Friday, where soon after the frat student posted the image.
Responding to the posting, university President Tom Courtway released a statement in which he said the picture contravened what the school stood for.
Told the school administrator: 'This picture is highly offensive and repugnant, and this representation goes against all we, at UCA believe in and stand for.'
Responded UCA's Students for the Propagation of Black Culture: 'On behalf of the Black student population, this is NOT acceptable & is HIGHLY offensive,'
The national Sigma Tau Gamma organization said it 'condemned' the blackface photo and that it had expelled Denton.
In a twitter post, the entity apologized for the 'inexcusable' incident while allowing for the 'healing process' to begin.
— Sig Tau UCA (@SigTauUCA) October 30, 2016
'Feels good to be a niggar' Paige Shoemaker KSU student kicked out after sending blackface snapchat photo
High school vice principal, Lionel Klotz blackface now fired.
White people dressing as blackface Trayvon Martin for Halloween is not loved.
According to a report via the dailymail, Charles Brock Denton, came to the party in a loud yellow, red, and black sweater, his face smeared with black face paint.
The fraternity says his costume was supposed to be 'Bill Cosby.'
At the time, the chapter said Denton was asked to wash his face when he arrived, with the sophomore student complying.
However, a photo was taken before he removed the paint which the sophomore student for reasons not necessarily understood posted on Instagram, with the caption, 'It was a bold night.'
After his expulsion, Denton begged for forgiveness in a lengthy Instagram post filled with syntax errors.
Wrote the student: 'I have been sent death threats, threats to burn my house down. I am scared for my life,' 
"I am the farthest thing from discrimination (sic), as a matter of fact I fight for equality everyday, I've been writing a book for the past two years on what it really means to be a good person.'
Not ending there, Brock Denton blamed social media for creating a 'corrupted society in regard to heated controversial topics such as this.'
Adding: 'Please except my apology not because of me but because of the sake of this great nation (sic).'
Denton later added in response to a comment that he had never heard of 'black face' before he dressed up. Do you suppose? Or was that Denton's neat attempt at side stepping that he knew he was being bold and offensive all along especially given historical context of racism?
Interestingly Denton has since deleted his Instagram page with the student declining to respond to media overtures.