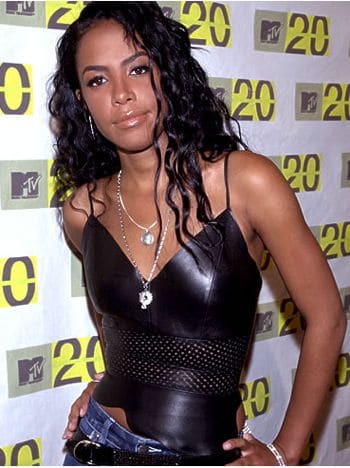 Exactly ten years ago today, Aaliyah died in 2001 at the height of her fame. At the time, she, not Beyonce, was the burgeoning queen of pop, with movie roles (and critical acclaim to match) already racked up, stellar album sales from hit singles and albums, excellent management, and Hollywood looks and glamor. But tragedy struck her down one fateful afternoon on an over packed Cessna, and the after-effects were felt throughout the entertainment industry. Some would say they are still being felt a decade later.
At the time of Aaliyah's death, Beyonce was not BEYONCE. She was still 'Beyonce of Destiny's Child' and the group had only been known nationally for three years. Although she was the glorified (and some then said overly so) lead singer of the group at the time, she had not yet made a clean break from the foursome, and she was still playing second fiddle to many other R&B stars at the time, including Monica and Brandy, who had already scored massive solo hit singles and albums.
Upon Aaliyah's death, every female that had any clout began jockeying for position to claim her audience, since Aaliyah was the only one ushering forth a futuristic sound, thanks in part to the production talents of Timbaland and Missy Elliot (who were, shockingly, not famous until they hooked up with Aaliyah in the first place, who became their muse).
In 2001, Beyonce had not wriggled free from "the other three girls" as they were (and still are) referred to. She had not yet embarked on a real acting career (Carmen: A Hip Hopera notwithstanding), and she was not a huge star. Known, celebrated to an extent with trophies, yes, but she was still Destiny's Child, that R&B group from Houston. Aaliyah wasAALIYAH, solo star who was big even with only a few albums under her belt. She was elusive, sweet but street; men and women, black and white loved her already at the young age of 22. The sky was the limit and the world was at her feet.
Aaliyah's movie projects previously had included (and to generally favorable reviews) Romeo Must Die, and Queen of the Damned. On the horizon were Matrix sequels, of which she had a major role and was shooting at the time of her death, a remake of Sparkle; discussions were also underway for Honey, and Dreamgirls (which starred Beyonce some half a decade later, coincidentally). So many are not without merit when they say that Beyonce got Aaliyah's hand-me downs? Through her death, did Beyonce's career come to life?
article continued next page.