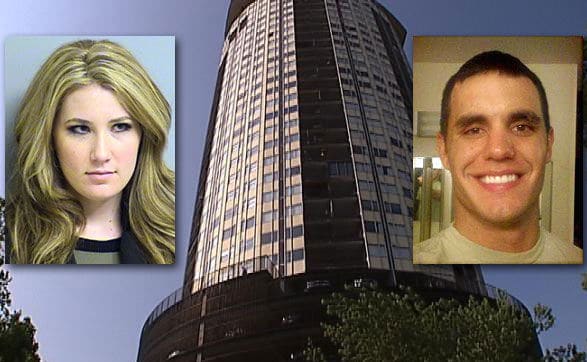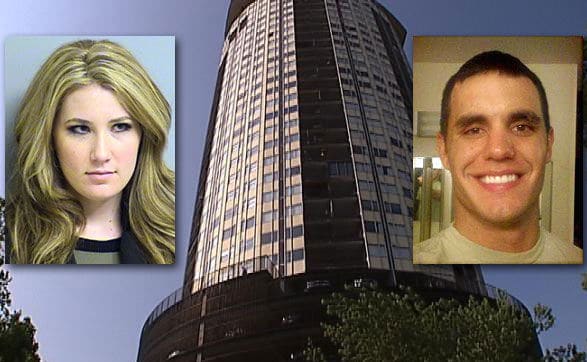 Amber Hilberling dead: How a conflicted Tulsa, Oklahoma wife hung herself on the eve of a new interview discussing her husband's death at her hands.
Amber Hilberling, the Tulsa, Oklahoma wife convicted of pushing her husband from their 25th floor apartment has been found dead in her prison cell.
Oklahoma Department of Corrections spokesperson Terri Watkins said Hilberling who had been convicted of second degree murder was found deceased Monday afternoon circa 5.33pm in her jail cell.
At the time the wife had been serving a 25 year jail sentence after being found guilty of pushing her US Air Force veteran husband, Joshua Hilberling to his death.
A report via News9 told of Hilberling being found hanging in her jail cell in an apparent suicide. 
At the time of her conviction, prosecutors alleged Amber Hilberling shoved her husband through the window after they'd argued over splitting up. 
Hilberling, who was 19 at the time and seven months pregnant with the couple's child, claimed that the death was an accident caused by 'unusually thin' windows in the couple's high-rise apartment.
During Amber Hilberling's trial in 2013, a report via newson6 tells of Joshua Hilberling's family testifying that on the eve of his murder, the Air Force veteran had packed his bags and was planning to leave his wife after enduring abuse at her hands.
Jurors were shown a copy of an emergency protective order the husband had obtained against his wife a month before his death, allegedly she had thrown a lamp at his head, leaving him needing stitches.
But for reasons not necessarily understood, the order was dismissed when the couple missed their court date.
Amber Hilberling had testified that on June 7, 2011, she pushed her husband in self-defense after he grabbed her by shoulders during a heated argument, but she said that she never intended for him to fall out the 25th-floor window.
His body was found crumpled on the roof of the garage. 
NewsOn6.com – Tulsa, OK – News, Weather, Video and Sports – KOTV.com |
While conceding that their relationship was marked with domestic abuse, a report via tulsaworld, describes how after the fatal fall, Amber Hilberling called herself a 'horrible person' while speaking with her grandmother in a police interrogation room.
At the time, the wife asked what kind of kind of person would push her husband out of a window.
A sobbing and pregnant Hilberling told her grandmother that her deceased husband's parents had been right in saying that 'if we stayed together, I'm going to kill him.' Unknown to her at the time, the exchange was caught on camera and would later be used by the prosecution and defense during the closing arguments of her trial.
Amber Hilberling had previously rejected plea deals from prosecutors and decided to take the case to trial, which concluded with a guilty verdict and a lengthy prison sentence, handed down in April 2013. 
Reacting to the death of his stepdaughter, Bryan Whitlock told KTUL that there was 'no way' Amber, who celebrated her birthday on October 1, would have killed herself.  
According to Whitlock, Hilberling was 'excited' about the prospect of telling her side of the story in a planned interview with KTUL, and she was also taking college courses and speaking daily to her young son, Levi. 
Others wonder if the wife's death was in spite of the upcoming interview, preempted by what had happened and having to revisit events that led to the shattering of two lives. Two people who at one point must have giddily anticipated a new life with each other along with that of an upcoming child.
On a Facebook page titled 'In Loving Memory of Josh Hilberling,' someone posted a status update Monday that read: 'We heard that Amber Hilberling hung herself in prison this evening. We know how it feels to lose a child. I wouldn't wish that on anyone. It's something no parent should have to experience. Condolences to those who loved her.'