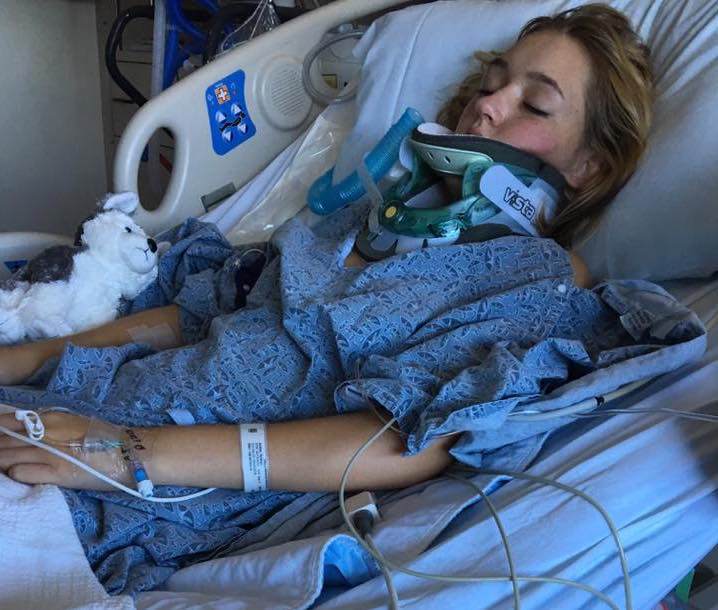 Ryleigh Ackles alcohol poisoning: How a mother's facebook posting sharing led to one teen's nearly fatal drinking episode going viral.
Ryleigh Ackles a 15 year old Gardner, Massachusetts teen is lucky to still be alive after going on a wild drinking binge which led to suffering acute alcohol poisoning.
Having told her mother that she was staying at friend's house for a 'sleepover' it wasn't until much later that evening that Melissa Aho received a text that her teen daughter was passed out and on the brink.
Wrote the mother on Facebook since deciding to share her daughter's misadventures and serve a warning to others, 'I opened the car too to see my daughter, lifeless and foaming at the mouth covered in vomit.'
Paramedics were forced to administer anti overdose medication Narcan, not once but four times to combat Raleigh Ackle's extent of alcohol poisoning.
A blood alcohol content testing according to FOX25 revealed Ryleigh Ackle's with a BAC of .28. Nearly four times the state level that incurs a DUI.
Told the mother as she watched her barely 95 pound daughter hooked up to a respirator after nearly literally drinking herself to death: 'I suffered 14 hours pleading and begging for my daughter's life, experiencing flashbacks from the moment she was born.'
Ryleigh eventually opened her eyes and began to recover slowly.
But the mom shared pictures of the teenager in the hospital to warn other parents of the dangers of alcohol.
'Please share this to prevent another child from going through this and another parent to endure what I have,' she wrote on Facebook. 'Don't ever think this couldn't happen to you because it is very real and it's everywhere!!!' 
Concluded the mom: 'Our pictures of her may be disturbing to some but our hopes are in sharing our pain we may be able to PREVENT AND SAVE ANOTHER CHILD!!! SHARE OUR STORY!!!"
Melissa Aho's post has since been shared a whopping 17,580 times since her August 30th posting.
Of note, studies says 6 people a day die from alcohol poisoning nationwide on average.
Still of question is what led to Ryleigh Ackles going on such an extreme drinking bender and to what extent teen pressure played in her alcohol poisoning.