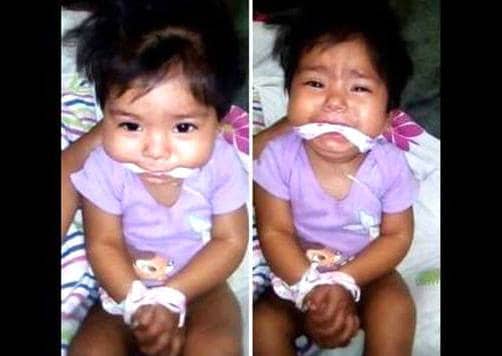 Mexican baby girl gagged facebook: What led to a caretaker and a mother posting images of child abuse on social media? Authorities remove child from home.
A nine month baby girl pictured being gagged and tied up has led to open outcry in Mexico, after the child's baby sitter posted the distressing images on facebook.
The incident led to authorities relinquishing the child from her mother and the girl's babysitter despite the women insisting that the images were 'just a game between friends'.
The images show the un-named child, from Torreon, Coahuila, appearing exceedingly distressed while wearing a purple Bambi T-shirt, with the baby screwing her face in confusion and fear as her hands were tied in front of her.
Notice of the disturbing images (and subsequently them going viral) came after they were posted on Facebook, leading to demands that the child's caretakers be reprimanded.
Local reports identified a woman by the name of Alexa Contreras Mendez, aka Angie originally publishing the disconcerting images. 
Prosecutors eventually tracked down the individual who took the pictures, with authorities saying she was a friend of the baby's mother who was taking care of the child while she was working.
Responded Yezka Garza Ramirez, head of the Prosecution for Children and Family: 'We started an investigation to find the place where the girl lives and we rescued her in order to ensure her integrity and restore her right to live without violence.'
Both women, the mother and the babysitter, were interviewed by Mexican authorities and said that it was just a game between friends.
Authorities in turn said it was a case of neglect before deciding to take the girl into their care.
Yezka Garza also asked citizens to report to authorities any cases where children's and teenagers' rights were violated so that authorities could intervene to protect them.
She reminded the public that in all 'jokes' or 'games' that involve children or teens, parents are responsible and could face serious sanctions.