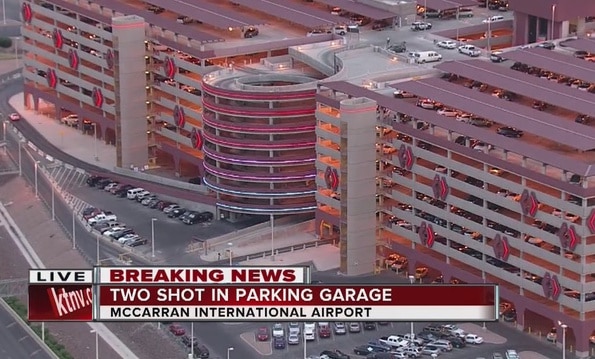 McCarran airport shooting: What led to a former boyfriend ambushing his ex girlfriend and her new partner at an airport long term parking depot?
An individual believed to the former boyfriend of a woman arriving at Las Vegas' International McCarran airport has been arrested after ambushing his ex girlfriend and her new lover as they walked to their airport's long term parking garage.
The victims tells a report via news3lv, whose names and ages have been withheld were returning home from a flight, when the shooter, whose identity has also been suppressed ambushed the pair, Monday evening at 6pm.
The McCarran airport shooting told authorities took place at Terminal 1 parking garage, on the sixth floor.
During a media briefing, Las Vegas Metropolitan Police Capt. Vincent Cannito told of both victims being shot and in a stable condition at a nearby hospital.
Offered Cannito: 'It is an ongoing investigation. We don't want to get into the details right now. We have options tact is out there out in the field right now that are following up a number leads. We don't want to compromise any of that.'
Officials stressed the McCarran airport shooting as a 'domestic violence incident'. Do you suppose?
The gunfire sparked a manhunt for the shooting suspect who police used to be in a relationship with the female victim, said Cannito.
The gunman fled the airport in a vehicle moments before a flurry of emergency vehicles flooded the airport's long-term parking garage. No incoming or outgoing flights at McCarran were impacted by the police investigation, airport officials said.
The man was arrested at the VA Medical Center just before midnight, according to the Las Vegas Review-Journal.
Not immediately understood (or is it?) is how the assailant knew the new couple were arriving at McCarran airport, and what led to the ex girlfriend presumably leaving the suspect….
Nevada law allows the open carrying of firearms and people can bring a gun to the airport as long as they are not trying to pass through the TSA checkpoint.
Active Shooter at #lasvegas McCarran #terror ? Criminal? pic.twitter.com/ZTLuZQaJzZ

— ira_victor (@ira_victor) September 20, 2016
Shooting happened on the sixth floor of the parking garage terminal one. @KTNV pic.twitter.com/4hIx33uqKd

— Mahsa Saeidi (@MahsaKTNV) September 20, 2016