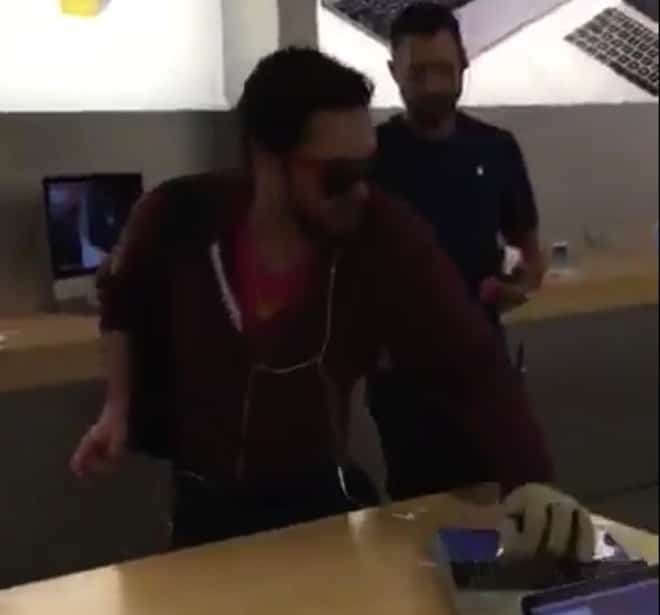 Man walks into French Apple store smashes iPhones: A video showing a disgruntled customer causing havoc has gone viral since being shared. 
An as of yet un-identified man has been filmed (see below) walking into a French Apple store where they 'calmly' smashed every iPhone on the premises.
The incident caught by a shopper and uploaded to youtube has since been widely shared on social media, shows the moment of what appears to have been a scorned customer waking in casually in to the store where they proceed to methodically and calmly smash every iPhone in sight with a metal ball.
Unperturbed by security (who appear to be awestruck and completely caught off guard) the man wearing a 3-4 day beard growth, dark sunglasses and a backpack sets about going from counter to counter with what appears to be a metal petanque ball causing his havoc.
During his rampage the un-identified man is heard 'muttering' in French, before a guard eventually confronts him.
Un mec détruit un Apple Store avec une boule de pétanque PARTIE 1 pic.twitter.com/XC9i8C9chH

— Qυεηтιη  (@Quentin_IOS) September 29, 2016
A report via the mirror notes it is 'unclear exactly' where the incident took place, with the incident likely happening earlier this week. Some Twitter users have suggested the incident taking place in Dijon.
The video proved a hit after being posted to Twitter on Thursday afternoon and has already received more than 10 600 retweets.
It is thought the incident may have come after the man had been upset with service he'd received from Apple and deciding to carry out the act of vandalism in protest.
Noted a post via applesinsider: 'The customer is evidently blaming Apple for not taking back a self-proclaimed defective product within a EU-mandated two-year warranty period. The specifics of his case are not clear at this time.'
The man was detained by mall security after his nearly 10-minute rampage, before ultimately being arrested by local police
An Apple spokesman declined to comment. Can you guess why?