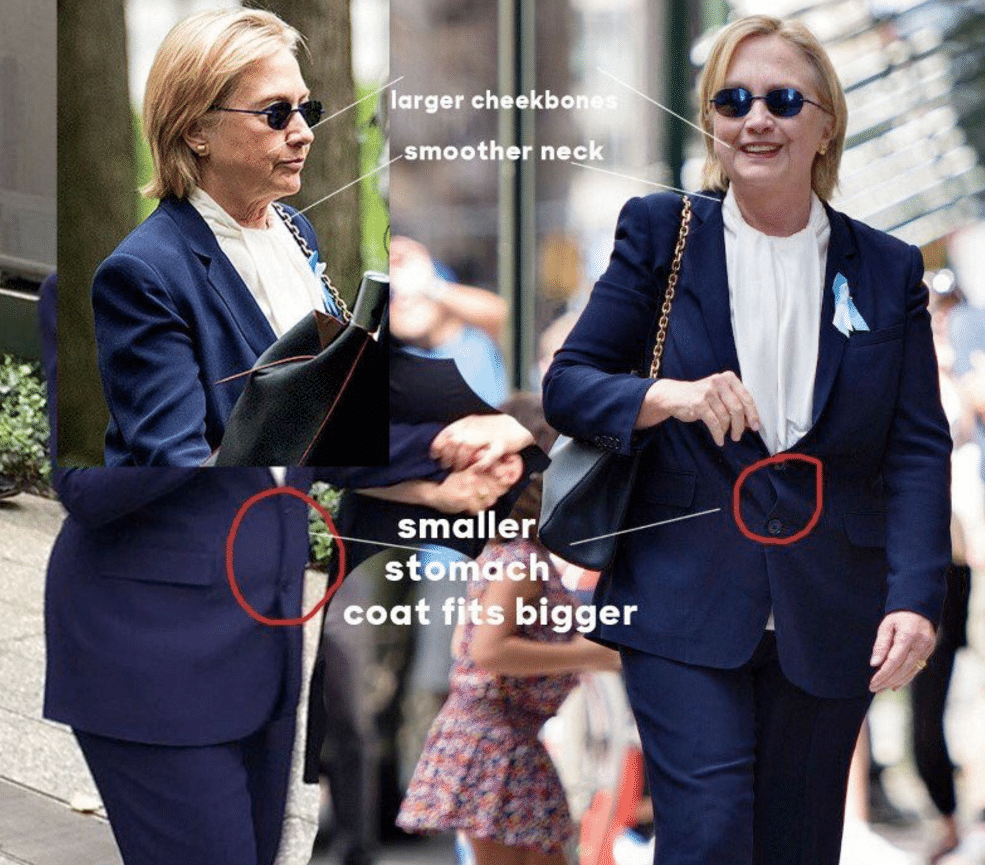 Hillary Clinton body double conspiracy theory goes viral on twitter. Do the pundits have it wrong or are they on to a cover up?
Along with speculation as to the health of Democratic presidential contender, Hillary Clinton, 68, conspiracy theorists have debated as to whether Hillary Clinton also has a body double.
The claims come after pundits expressed disbelief after Clinton came out on her own to greet the press outside of her daughter, Chelsea's Manhattan home shortly after collapsing at a 9/11 memorial gathering earlier in the day.
The visage of Clinton smiling and walking along the streets (without security detail surrounding her or her doctor) led to many calling foul. Many argued that a body double had been sent out in a bid to quell fears and circumvent speculation on Hillary Clinton's health. An issue which had been previously dismissed as conspiracy theory now taking center stage.
The 68-year-old presidential contender, who later announced she is suffering from pneumonia, insisted she did not faint but 'simply felt dizzy and stumbled.'
Upon sitting near an air conditioning and drinking a glass of water, Clinton told of 'immediately' beginning feeling better and feeling well enough to take a detour to visit her daughter Chelsea and her grandchildren.
However, critics say the woman who emerged from Chelsea's apartment was a lookalike and not the real deal.
#HillarysBodyDouble trended-a side by side comparison raises some uncomfortable conspiracy questions #USelections pic.twitter.com/pABe6TMkgu

— Monica Jasuja (@jasuja) September 12, 2016
Look at this picture! It's NOOOT Hillary! She was replaced!!!#ClintonCollapse pic.twitter.com/q8QiN49Y51

— Tennessee GOP (@TEN_GOP) September 11, 2016
Pundits have called attention to what they believe to be the difference in the details of Clinton taken on the morning of the 9/11 memorial gathering and images taken shortly after when she 'magically' reappeared looking a beaming picture of health.
This despite Clinton being coddled by her doctor, Dr Lisa Bardack, 52, while attending the memorial (even clandestinely having her pulse checked) and literally collapsing as she was waiting to be whisked away by her security personnel.
The differences argue pundits lie in the differences. Specifically the cheekbones, smooth versus wrinkled skin and body composition, the length of finger tips and the volume of Clinton's hair.
Tweeted one user, 'Hillary's INDEX finger is longer than her RING finger. This ISNT Hillary [sic],'
Wrote another, 'Body double before & after #ClintonCollapse? Just a theory, but nose looks very different.'
Others even compared Clinton's before and after weight, (along with the chunkiness of her earlobes) arguing that the Clinton that appeared shortly after collapsing appearing 'markedly' lighter and thinner than she had earlier in the day.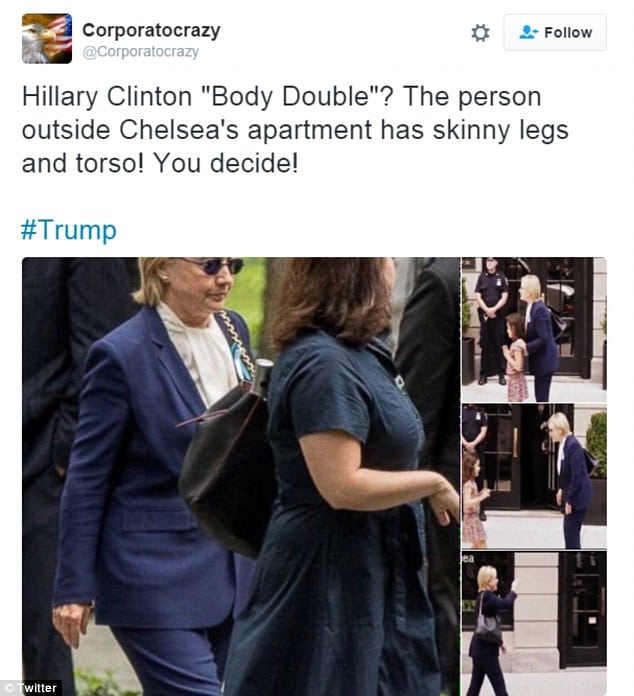 Does Hillary Clinton have a body double? https://t.co/mrBwchrsrq pic.twitter.com/mbev3ELzVf

— New York Post (@nypost) September 13, 2016
Was It Hillary Clinton's Body Double Teresa Barnwell Who We Saw After Clinton's Stroke/Seizure at the 9/11 Ceremony… pic.twitter.com/ogsMqP6KFr

— King Robbo (@realkingrobbo) September 12, 2016
One of the more popular Hillary Clinton body double conspiracy theories making the rounds is the claim that UK woman, Teresa Barnwell, 61 has been brought on by the Clinton team. A theory that the well known famous impersonator shot down, saying she was in Los Angeles during the time of the photos, while telling people to 'calm down.'
Meanwhile, Clinton since taking a number of days off from her campaign trail tweeted that she hopes to 'get this over and done with and get back on the trail as soon as possible.'
Adding: 'Thanks to everyone who's reached out with well wishes! I'm feeling fine and getting better.'
Told Clinton in a follow-up message, 'Like anyone who's ever been home sick from work, I'm just anxious to get back out there. See you on the trail soon.'
That though has done little to quell Hillary Clinton conspiracy theorists and body double pundits who insists that Clinton's health is in dire straits and that she'd been using a body double to cover up the extent of her 'grave afflictions.'  Time will tell ….
I believe #ClintonBodyDouble
Why? Came out Apt. -Looking & saying "feeling great" -yet cancelled California.#fraud pic.twitter.com/xJYOA0vgV0

— Manny Montenegrino (@manny_ottawa) September 12, 2016
Hillary Clinton "Body Double"? The person outside Chelsea's apartment has skinny legs and torso! You decide!#Trump pic.twitter.com/amopB3Jq1s

— Corporatocrazy (@Corporatocrazy) September 12, 2016
.@CNN now giving extensive attention to the theory that @HillaryClinton has a body double to hide her, what, death? Fun times.

— Jonathan Weisman (@jonathanweisman) September 13, 2016
"@Jakefallas: Is this @HillaryClinton ? #HILLARYSBODYDOUBLE pic.twitter.com/DgUgh4aoaC" Body double??? That's more like "Weekend at Bernie's"

— Nick DeBabylon (@NickDeBabylon) September 12, 2016