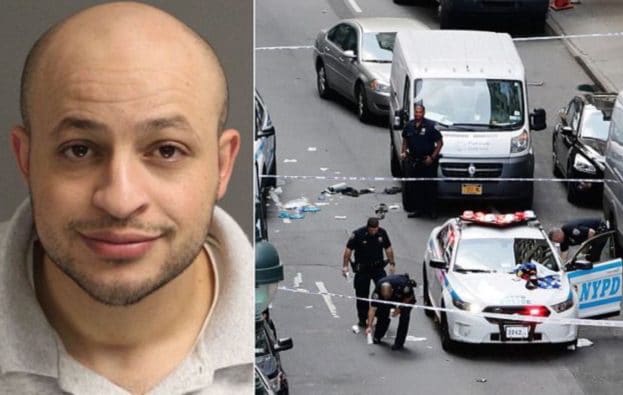 Akram Joudeh meat cleaver attack: A disturbed NYC homeless man living in his car goes on rampage after discovering his car impounded.
Akram Joudeh a 32 year old man is fighting for his life after being shot at 18 times at NYC's Penn Station district after attacking three NYPD cops with an eleven inch meat cleaver, Thursday morning rush-hour.
The incident comes after Joudeh, homeless and living from his car, becoming enraged upon coming across a boot clamp on his car.
At the time, the man had spent up to an hour to no avail trying to get rid of the clamp that transit authorities issued on his vehicle.
The clamp is used when a car is found in excess of outstanding tickets.
The device had been fitted on the wheel of Akram Joudeh's Nissan Altima which had been illegally parked on West 30th and Broadway.
At the time, Joudeh was observed trying to smash the clamp off with a hammer, with the man being warned by passerbys he risked police action.
Told Tusar Paul, 24 via the nypost: 'I saw him trying to break the boot,'
'He was doing it for about an hour. He was using a hammer. Other people were telling him to stop, that's illegal.'
By then, police responding to the commotion tried assuaging the man, with matters only escalating after Joudeh pulled out a meat cleaver from his waistband and started swinging before running off towards Seventh Avenue.
Refusing to drop his knife, cops tasered the man, but to no effect as Joudeh continued running west.
Near Seventh Avenue, Akron Joudeh climbed onto an NYPD squad car only to be tackled by Detective Brian O'Donnell O'Donnell, who sustained a 6-inch gash running from his temple to his jaw during the mayhem.
That's when Joudeh was shot at by police officers.
'They shot him up,' said one witness. 'He was hit five or six times. He was laid up on the sidewalk. It looked like he was dead.'
In total cops fired off 18 rounds off gunfire.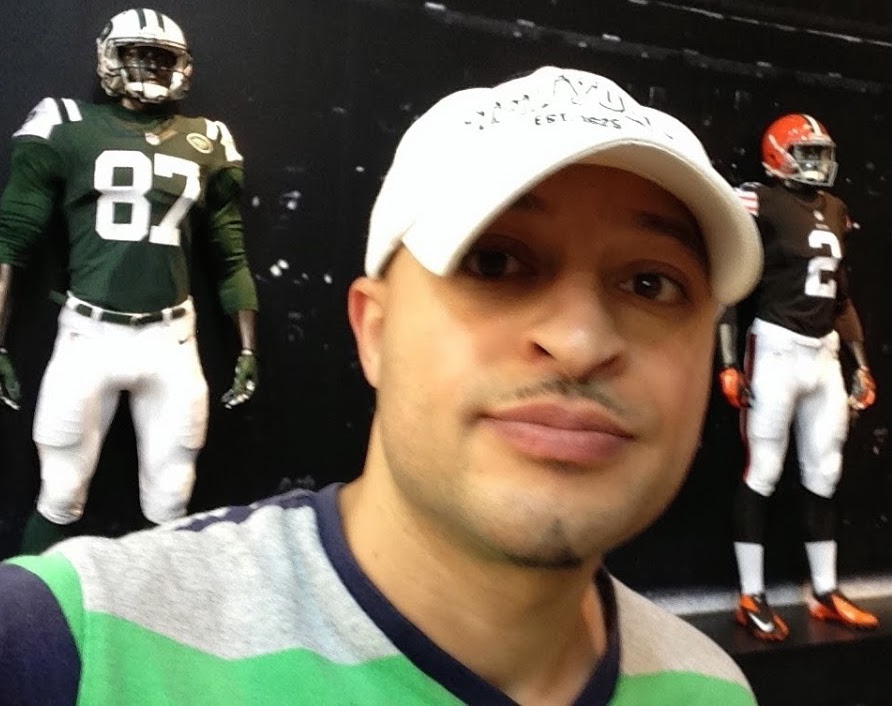 "32-year-old career criminal Akram Joudeh" – Man shot by cops after hatchet attack over parking boot https://t.co/HNh3Pmauag via @nypmetro

— Caz (@MissDBunker) September 15, 2016
Two other officers were also injured during the melee with all three cops taken to the hospital with minor injuries. They were released Wednesday night.
Joudeh, too, was taken to Bellevue, where he was listed in critical condition.
To date, many including this author wonder if cops went overboard firing off as many as 18 gunshots in the crowded area. Gunfire which NY Police Commissioner Bill Bratton said was warranted.
Witnesses described a chaotic scene.
Told Leroy Kelly, a 54-year-old security guard at Manhattan Mall: 'I saw a mob of people running for their lives, screaming coming from the street, and I let in as many people as I could and locked the door and tried to keep as many people safe as possible.'
#NYC – Akram Joudeh used this meat cleaver to attack an #NYPD police officer at #PennStation (DCPI) pic.twitter.com/SZ0CobPuLp

— R.E.A.L Human Rights (@realhumanrights) September 16, 2016
A report via the nydailynews describes Joudeh having a history of raging at police officers. In 2013, he was arrested and charged with criminal mischief for smashing a car with a wooden fence post.
'I thought it was a detective's car,' he allegedly told cops.
NBC 10.com said told of Joudeh having 15 prior arrests, 'including one on Aug. 27 after he was found carrying knives near a synagogue.'
Previous arrests included incidents related to larceny, criminal possession of stolen property, criminal mischief and unauthorized use of a vehicle.
Former neighbors called him unstable and dangerous, and noted his animosity toward the police.
'He was crazy and weird,' said JJ Williams of the drifter who lived near Joudeh's uncle's home in Elmhurst, Queens, where the suspect had temporarily taken up living before moving on.
Added Williams: 'I always knew something was wrong with him.'
Williams said that there were altercations at the home and that the cops had to get involved.
'Neighbors calling the police on him,' he said. 'He was like, 'F- -k the cops.' He don't like police,'
Adding: 'One day, they [cops] had to throw him on the floor. It's not the first time they ever came here and hauled him away.'
U/D Manhattan: West 32 St & Broadway, Perp shot by PD has been identified as Akram Joudeh from Queens. @Chulentup pic.twitter.com/Sda4bW3LqS

— NYC Scanner (@NYScanner) September 15, 2016
Fox Exclusive video obtained of man with butcher knife being shot by nypd in front of Manhattan mall. @FoxNews pic.twitter.com/Tdh2RRZ12I

— Bryan Llenas (@BryanLlenas) September 15, 2016
But people at the St. Francis of Assisi food pantry in Midtown, where Joudeh would visit, remembered him as mild-mannered despite his suffering from depression.
'He's a peacemaker. He had no trouble with anyone,' a homeless man said. 'He kept to himself.'
Another homeless person said Joudeh would 'stay to himself and sleep in the car.'
Adding, 'He seemed like he was going through something, like depression.'
In Midtown Manhattan to meet friend for Diner en Blanc & heard the shots near Penn Station. Stay safe #NYC pic.twitter.com/zGzJi8qK4x

— Don't Sit Home® (@dontsithome) September 15, 2016
UpDate: Man in pic, shot, was wielding meat clever, injured #NYPD Officers in #Manhattan.
Akram Joudeh from #Queens. pic.twitter.com/a8Ujbscn0U

— Raven*H⚓️U*Wolf (@RavenHUWolf) September 15, 2016