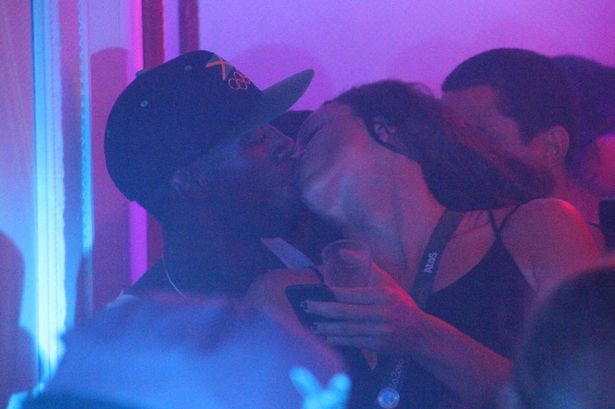 Usain Bolt kissing third Rio woman: A new batch of photos continue to incriminate the Olympic gold medal sprinter of being a cheating boyfriend. 
Olympic triple gold medal winner, Usain Bolt might have a lot of explaining to do to longterm girlfriend, Kasi Bennett after a new batch of photos were released Monday showing the Jamaican sprinter now making out with a third (unidentified) woman.
The new images come after Bolt purportedly having a one night fling with Jady Duarte, the widow of recently deceased drug king pin, Dina Terror. Images of the pair longingly looking into the camera have since gone world viral, with punters wondering the extent of the sprinter's cheating ways?
Dina Terror: Jady Duarte Usain Bolt fling is widow of drug lord
Jady Duarte photos: Did Usain Bolt cheat with Rio student?
Kasi Bennett photos: The rise of Usain Bolt's secret girlfriend.
The latest batch of images (oh dear …) according to the dailymail were taken prior to Bolt hooking up with Darte, after the sprinter arrived earlier Saturday evening at a nightclub in the Barra de Tijuca suburb of Rio where he'd gone to celebrate his 30th birthday.
According to sources, the Jamaican sprinter racked up a $1300 bar bill which he paid off on his own, but not before prying fans photographed the world class sprinter making out with a mystery brunette at the VIP section of the club.
The kissing episode comes after a video was posted showing the sprinter, 'vividly' twerking alongside another 'wild woman' of the night.
Usain Bolt.
Club Alin Rio, 2016.
After conquering the world with the triple triple…pic.twitter.com/1MHm8ZrTDb

— Ebuka Obi-Uchendu (@Ebuka) August 21, 2016
To date neither Bolt or Bennett have commented on the sprinter's extra-curricular activities and how that may affect their relationship or if in fact the pair may have an open relationship?
Nevertheless one person who has since 'allegedly' relented sharing the images of her and a risqué Bolt is Jady Duarte.
Purportedly awash in guilt and not 'fully' aware of the damage effect sharing the images would have, the sultry 20 year old Rio student and mother of two told local media she was 'dying of shame.'
Indeed ….
Quer saber ? Peguei mesmo!!!!!!!
– Bolt pic.twitter.com/21Trzhh5v7

— Jady Duarte (@JadyDuarte_) August 21, 2016