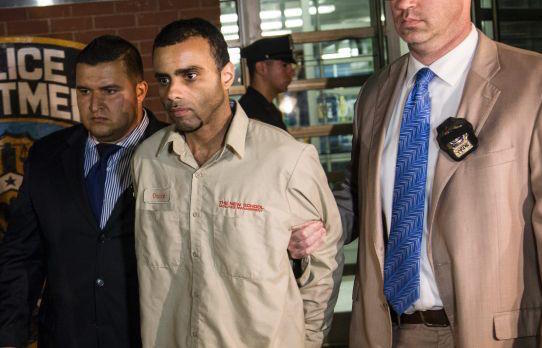 What led to Oscar Morel an East New York man targeting Queens imam, Maulama Akonjee and Thara Uddin? Hate crime? 
Authorities late Monday officially identified 35 year old East New York man Oscar Morel as the gunman responsible for the broad daylight shooting deaths of Queens Imam, Maulama Akonjee, 55, and associate, Thara Uddin, 65 over the weekend.
Awaiting overnight arraignment, a report via the nytimes tells of Oscar Morel facing two counts of second-degree murder and two counts of criminal possession of a weapon.
The charges come after Morel execution style shot both men at close range in the back of the head around 1:50 p.m, Saturday afternoon as they left a religious congregation.
Pursuant to shooting the pious men, who were leaving afternoon prayers at a local mosque, Oscar Morel fled in a black Chevy Trailblazer. Yet it would be Morel's badgering of a cyclist ten minutes from the murder scene which led to Morel being found out after an altercation with a bicyclist, who then took down the fleeing motorist's license plate number.
At the time, reports told of a man, since identified as Oscar Morel 'expressing words at an intersection,' with the bicyclist turing to ride away only to be followed by the driver and rammed.
Corroborating Oscar Morel's involvement in the brutal shooting was the discovery of a revolver and clothes at the man's basement apartment on Miller Avenue that matched what the shooter was caught on surveillance footage donning.
A careful appraisal of video (see below) at the Ozone Park, Queens area where the shooting occurred led to Chief of Detectives Robert Boyce confirming Morel's participation.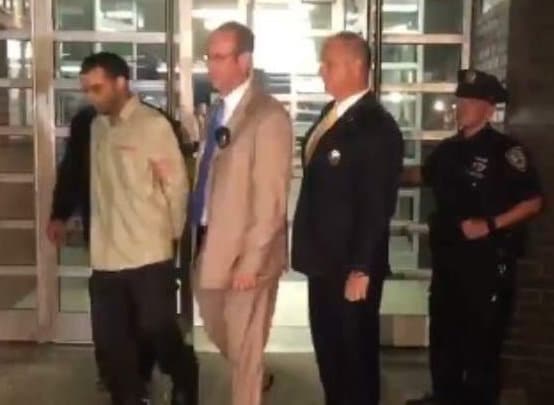 Told Boyce during a Monday evening press conference: 'We believe, because of the evidence we've acquired thus far, that we strongly believe this is the individual.'
Incredulously when detectives from the NYPD's Fugitive Task Force, according to a report via the nydailynews, approached Morel Sunday night, at 10pm, the man attempted using his trailblazer as a weapon again.
'He rammed the detectives' car several times in an effort to get away. He was placed under arrest without any further incident,' Boyce said.
Morel, a local school janitor, who has one prior arrest — for misdemeanor pot possession — admitted to having been in Ozone Park, a police source said. But he asked for a lawyer when cops queried him about the killings.
#OscarMorel Does this Imam killer look white… I can't wait for the @cnnbrk spin #NYC pic.twitter.com/qXUiLzeJ6Y

— DAMIEN DARKO (@raider_truth) August 16, 2016
accused double homicide suspect walked from #Queens #107pct @nypost pic.twitter.com/OqsRxa6Ov2

— Joe Marino (@joemarino_) August 16, 2016
Thank you @NYPD107Pct for your work! Oscar Morel charged with the murders of Imam and Associate ?: @chayesmatthew pic.twitter.com/s8azWIRHGf

— CAIR New York (@CAIRNewYork) August 16, 2016
According to police, Oscar Morel has no known links to Ozone Park or the Al-Furqan Jame Mosque, where Akonjee served as the imam. 
Initial reports suggested the double murders might be a robbery; however, Akonjee had $1,000 on him, and it was not taken, said Fox News.
The motive tell cops remained a mystery. To date authorities declined to speculate whether the suspect personally knew his victims and whether they were targeted because of their faith?
Reiterated Boyce: 'Right now, we can't explain why this person was there. He was there just prior to (the shooting). We have him on video about eight minutes prior to the homicide.'
Detectives were also working a theory that somebody hired Morel as a hit man, while others have pointed to recent skirmishes between the Muslim Bengali community and the Hispanic community, which Morel is part of, fermenting violence.
Tensions tell reports have come to the fore as the Bengali community continues to move into the traditionally Hispanic East New York border of Queens community. 
USA: Worried New York Muslims demand justice in imam killing https://t.co/oV7UYFAokQ #Queens pic.twitter.com/V7rwbm1sar pic.twitter.com/Te9YsH7yxp

— Global Public News (@gpn10000) August 15, 2016
Police identify NY Imam shooter as "Oscar Morel, 35" https://t.co/DmZrM5UVhd pic.twitter.com/oxcFzu0PGb

— TheLastRefuge (@TheLastRefuge2) August 16, 2016
#TNN :: NYPD: Oscar Morel held in killing of imam and aide https://t.co/rwUkvb4mDk

— The News Network (@TheNews_Network) August 16, 2016
Upon learning of the news, Fayez Uddin Akonjee, 28, the oldest of the Bangladesh imam's seven children, said he was relieved at the charges and expressed gratitude to the police. But in an interview in his native language, Bengali, he was still seething with anger.
'We want to know as victims why he killed my father,' he said. 'What was his motive behind killing my father? Whether he was hired or appointed by someone else to kill my father or did he himself plan and kill my father?'
Told the suspect's shocked brother, Alvin Morel upon learning of his Omar's alleged involvement: 'This is nothing like him. My brother is a decent person.'
Adding: 'I don't know what happened. I've been trying to reach him all day.'
A report via the nypost tells of Alvin Morel conceding that his brother bore resentment against the Muslim community at the time of the 9/11 attacks.
Told the brother: 'The only time we ever felt anything was 9/11,'
'We felt that same anger. We all had a hatred.'
Nevertheless the brother insisted his sibling no longer bore anger at Muslims, and his anger was only 'temporary' along with insisting that Oscar Morel 'definitely has no hate for the Muslims.'
'We're Catholic-school kids — we don't do this,' Alvin added. 'He's a good guy.'
Of note, Oscar Morel's landlord said he moved in about seven months ago and was a quiet tenant.
'He had a girlfriend, but he lives alone, he was always very nice. He told me he works cleaning in a school,' said Amado Baptista, 59.
'I don't understand how he could have done anything like this,' he said.
According to the nytimes, the imam came to the United States in 2011 before moving his family to New York a year later to provide a better education for his children.
Reflected Kobir Chowdhury, the president of Masjid Al-Aman, a nearby mosque in Brooklyn: 'He conveyed a message of peace and harmony and quietness with your neighbors despite their religion, culture and race.'
Maulama Akonjee's wife and two of his children have since told they will fly back with the Queens Imam's body to Bangladesh were they will bury the fallen man.
In the interim, the Bangladesh community have demanded increased protection from police as they now fear the wrath of anti-Muslim conjecture as a segment of the nation continues to rally against them.
Our first look at suspect Oscar Morel, being charged with murder of Imam Akonjee and assistant @fox5ny pic.twitter.com/DdNStFqOcB

— Arthur Chi'en (@Arthur_Chien) August 16, 2016
55 y/o Imam Maulama Akonjee was shot execution style while walking home from his mosque in Queens. pic.twitter.com/DKLJP2jd0L

— Stephanie Colombini (@Steph_Colombini) August 14, 2016
Hundreds pack prayer service for Imam Maulama Akonjee & Thara Uddin… gunned down in #Queens on Saturday #nbc4ny pic.twitter.com/0havbq5ZFl

— Steven Bognar (@Bogs4NY) August 15, 2016