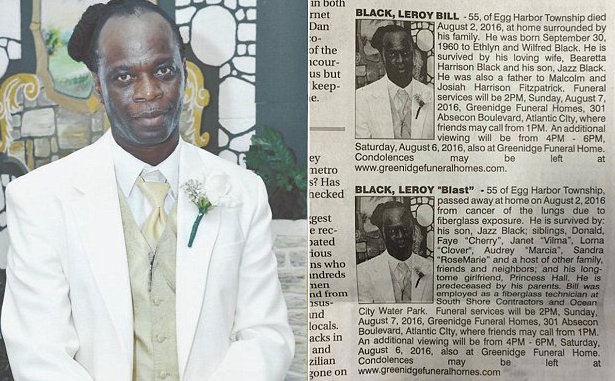 Leroy Bill Black dueling obituaries: One from long term wife and from loving girlfriend hint at the fractured dynamics of a three way arrangement. 
The passing death of 55 year old New Jersey man Leroy Bill Black has raised eyebrows after loved ones close to the man placed dueling obituaries in honor of the individual they both loved very much.
Appearing one below the other in funeral announcements in the Press of Atlantic City were competing obituaries. One from Leroy Bill Black's 'loving wife' and another one immediately below by his Leroy 'Blast' Black's 'longtime girlfriend.'
Eulogizing the passing of the Egg Harbor Township man was an obituary of surviving 'loving wife, Bearetta Harrison Black.'
And appearing directly below that obituary was the one courtesy of 'long time girlfriend, Princess Hall.' An obituary which the girlfriend declines to mention Leroy B. Black's wife.
According to the Philly Voice the dueling obituaries come after an employee of Greenidge Funeral Home telling that 'the wife wanted it one way, and the girlfriend wanted it another way.'
So at odds were the dueling obituaries, that the missives couldn't even agree on what to call Leroy.
On the wife's  version, he goes by the middle name 'Bill.'
The second lists him by his nickname 'Blast.' 
Black was a fiberglass technician at South Shore Contractors and Ocean City water Park. According to the competing obituaries, the husband and lover died at home Tuesday of lung cancer.
He is also survived by his son Jazz Black. Who thankfully has declined to post his own separate obituary.