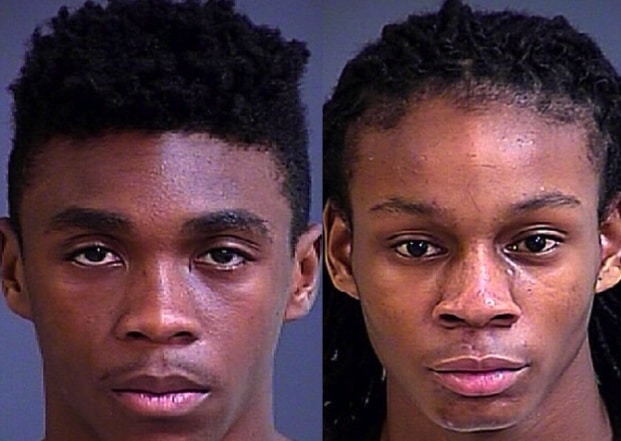 What led to Deon Frasier and Michael Dupree Tyler, two South Carolina teens, robbing and fatally shooting a Good Samaritan?
Deon Frasier and Michael Dupree Tyler, aged 17 and 19 respectively have been charged with murder after robbing and fatally shooting a good Samaritan who came to their aid.
The arraignment of the South Carolina teens comes after their victim, 45 year old North Charlton resident, Chadwich Garret stopped to assist Frasier and Tyler after their Dodge Durango SUV became stuck in a ditch, late Monday night, circa 11pm.
The teen's arrest at an apartment according to The Charleston Post and Courier came less than six miles from the intersection of Durant Ave and North Jimtown Dr where the duo became stuck.
Garret was pronounced dead on the scene by medical officials, a spokeswoman for the Charleston County Coroner's office said. Authorities believe the man's shooting death came after resisting the teens attempt to rob the Good Samaritan.
Although North Charlton police were able to happen upon the scene, a report via WCBD  told of attempts to revive the shot man proved frugal despite rushing him to hospital. That said, the fallen man was alive at the time of discovery, where he was able to describe his attackers.
Not immediately understood is the race of the shooting death victim and whether that may have played any part in Garret's shooting death?
Reacting to the death of Garret a family member told via the nydailynews: 'We're sad. Nobody is going to want to talk right now.'
Pursuant to the teens arrest, Deon Antonio Frasier was charged with murder and possession of a weapon during the commission of a violent crime, while Dupree-Tyler also faced murder charges.
Both Deon Frasier and Michael Dupree Tyler had been expected to be arraigned Tuesday afternoon.
Court records show Dupree-Tyler pled guilty to drug possession in 2015 and Frasier was out on a $10,000 bond for possession of a stolen vehicle at the time of Monday night's murder. 
Charleston County jail records showed eight prior bookings dating to July 2014 for Dupree-Tyler.
Not necessarily understood at present is what led to the two teens choosing to rob and murder the Good Samaritan who had come to their assistance.