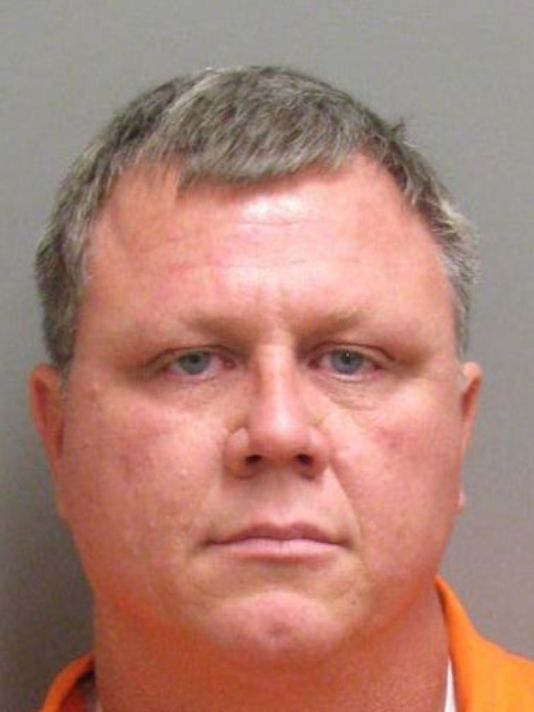 Jason Clark Alabama neighbor from hell. How one Dalraida, Montgomery resident came to terrorize a local community over the course of the last 7 years.
Jason Clark a 45 year old Dalraida, Alabama man pled guilty to two counts of aggravated assaults which saw the not so friendly neighbor subscribe to a series of egregious acts over the course over the last 7-8 last years where he single handedly terrorized/stalked an entire community.
The admission of anti social behavior has since led to Clark facing the potential of 20 years behind bars.
Confused? Don't be, let Jason show you how he shot at fellow neighbor homes, shone flashlights in the middle of the night into their homes, amassed an arsenal of fire arms, which he occasionally fired off towards neighbor's front doors, along with crushing glass in front of neighbor driveways.
Other 'fun' behavior included spraying fellow neighbor's gardens with chemicals (only for one neighbor, Joe Gross being forced to put his dog down after leaving the animal with nerve damage), running over another man along with recording neighbor's private phone calls. Before in turn replaying them on a loudspeaker. Naturally.
In short Jason Clark was the nuisance neighbor from hell, even forcing Joe Gross eventually donating his home to a church, just to get away.
According to a report via WSFA matters first took a turn for the worse when Clark put up an 'eyesore' fence that he painted orange and covered with 'no trespassing' signs.
In the ensuing years, neighbors described how Clark transformed his own home into a fortress covered with motion activated lights and security cameras which he used to spy on those around him.
He also used the lights and several laser pens to shine into people's homes in the middle of the night, as well as owning several bright, strobe torches that he used to shine into passing cars. 
But there's more. During trial, the not so friendly neighbor according to the montgomeryadvertiser admitted to amassing a huge stockpile of weapons including AR-15 rifles, shotguns and pistols, along with almost 40,000 rounds of ammunition. This despite being banned from owning firearms.
Sara Chandler, who was stalked by Clark, said he used the weapons to shoot at her front door and laundry room door.
Chandler says he also keyed her car, killed off her grass, followed her around, hurled abuse at her and threatened her to the point where she was afraid to go outside.
Why is yet to be necessarily understood save for Jason Clark's antisocial disposition towards neighbors and to the general world.
Other neighbors told of their former neighbor hiding on their property before jumping out at them as they came home from work to hurl obscenities at them. Sounds like fun to me?
And then there were the reports of Clark getting about town wearing a ghillie suit – used by military snipers and hunters as camouflage – along with mowing his grass dressed in all black while wearing a hockey mask. 
Perhaps antisocial might be too demure of a description?
One instance included one man, Tony Calhoun, who lives a few blocks from Clark's house, describing how Clark hit him with his mother's car.
For a time Clark was moved out of the neighborhood under a judge's order and put up in the grounds of a church, but threatened to kill a family walking on the property.
After that the church served him with an eviction notice, which in turn led to Clark retaliating by deliberately using up water and electricity and vandalizing property.
In the time it took church leaders to get rid of him, he used 275,000 gallons of water, broke lights and glass and scattered it around the grounds, along with painting obscene messages on their marquee. 
Jason Clark may have left the impression to neighbors he was not much of a church going man it seems.
Paul Biller, a block captain who was forced to put cameras and motion detectors on his house in order to protect himself against Clark, said: 'He threatened to kill me on more than one occasion. 
'He would shout obscenities at me as I was walking the streets to keep an eye on the crime situation.
'He would call my wife derogatory names and make sexual comments about my wife. It is satisfying to know that at least he is going to be locked up for a while and our neighborhood is a lot safer now.'
Originally slated to go to trial on two charges of aggravated stalking, Clark at the last moment admitted the crimes and is now facing up to 40 years in jail.
He may yet be jailed for longer, as there is still another charge of intimidating a witness pending against him. 
Offered District Attorney Daryl Bailey: 'For the last six or seven years, they have been terrorized by a domestic terrorist in this neighborhood. It's caused them all types of anguish. 
'Now, he's been put behind bars and hopefully will stay there for a long time. They can rest easily and sleep peacefully at night without fear of being harmed or being harassed in their own homes.
'I feel that everyone has breathed a collective sigh of relief now that this terrorist is off the streets.'
Which begs the question can future neighbors at prison expect to be on the receiving end of Jason Clark's existential crises? Or to be blunt, what led to one man taking on a whole town in pseudo combat and where in the end did it lead him? And couldn't it all have been so much easier if Jason Clark showed some empathy and regard, formerly to himself first ….?
A sentencing date has been set for Aug. 18.