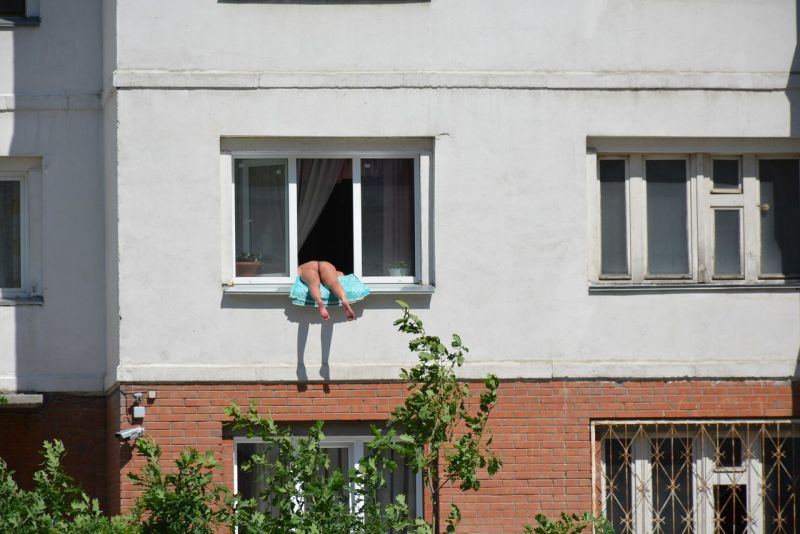 Novosibirsk sunbather causes disconcert as locals petition to have one woman reign in her vigorous display of suntanning. 
An unnamed female sunbather in the Russian city of Novosibirsk has won a petition to continue being allowed to hang her exposed butt and legs outside her second floor story window. To the chagrin of locals who insist the spectacle has tainted the town that is….
A report via meduza tells of incensed locals petitioning city officials to force the woman who lives on Kropotkin Street to curtail her daily practice of sunbathing in the buff, and tiny almost non existent thong (from 11am to 1pm thank you very much…) with her backside and legs hanging out her second story window for fear of the visual offense it may cause.
Signing the petition, the woman's neighbors (senior ladies) were hopeful that police would finally force the woman to cease her daily summer routine.
In their plea, neighbors told of the visual offense being rendered to their children playing at a nearby daycare center below (do you suppose?), while others cautioned against the tanning Novosibirsk sunbather even falling out of her window. If only.
According to wikipedia, Novosibirsk is the third most populous city in Russia after Moscow and St. Petersburg, located southwest of Siberia with notes telling that winter temperatures can go as low as  −35 °C (−31 °F), and summer temperatures as high as +30 °C (86 °F) to +35 °C (95 °F).
Information presumably the Novosibirsk sunbather has very carefully taken into account as she maps out her summer sunbathing retinue.
Noted the petition: '…established that this is not the first year that she's practiced such sunbathing and that her legs are not the only parts of her body that she hangs out of her window.'
Never mind winter is only a couple of months away, hopefully by then nerves will be soothed as the inhabitants of Novosibirsk get their very necessary share of waning summer sun rays. Indeed.